Juli 21, 2022
ORANJESTAD – Aruba Airport Authority N.V. (AAA) can report as follows on AUA Airport's performance for the 1st half of 2022; passenger flow numbers increased considerably in this 2nd quarter showing excellent recovery rates versus the same period in 2019. The total amount of revenue generating passengers (departing passengers) handled in the first half of 2022 was recorded at 577,143 which represents a recovery of 89% versus that same period of 2019.
2nd Quarter 2022
A total recovery of 101% was reported for the 2nd quarter of 2022 versus that same quarter in 2019. In April 2022, AUA Airport handled 110,983 departing passengers. This was 6% more than March of 2022. In May 2022 AUA Airport handled 101,570 which was 8% less than the month before. In June the numbers increased considerably to 105,788 which was an increase of 4% versus May 2022. During these second quarter of 2022 245,889 passengers (pax) travelled to the US, 4,896 pax to Canada, 23,679 pax to Europe, 13,025 pax to the Netherlands Antilles, and 30,831 pax to Latin America.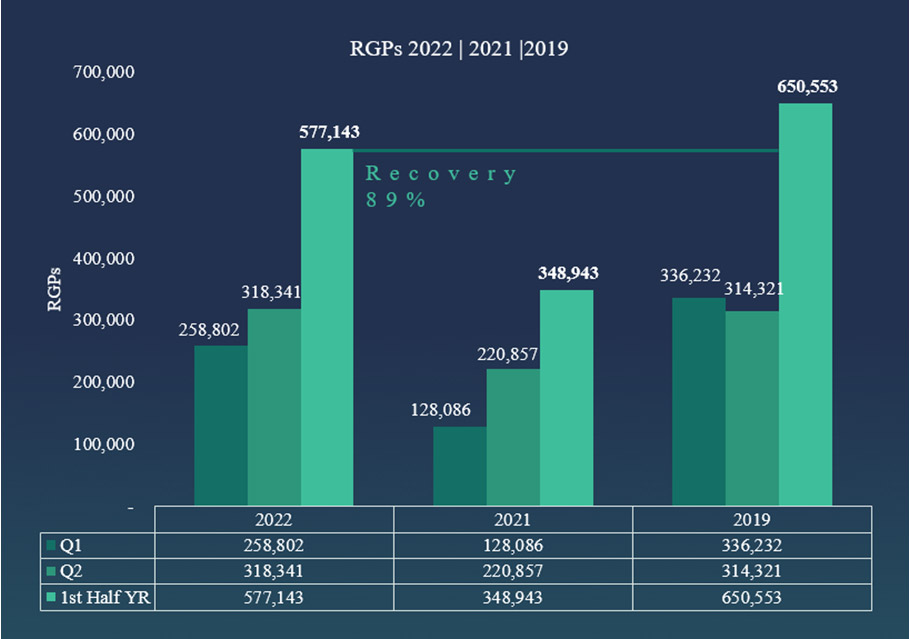 An average outbound passenger load factor (PLF) (number of seats of the total seats on board an aircraft that are occupied when departing from AUA Airport) for the US Market of 90%, 89% and 90% were reported for respectively the months of April, May, and June. The average PLF for all markets was respectively 86%, 86% and 89% during that same period. In the second quarter of 2022 we surpassed the year average outbound PLF for all markets of 2019.
During the past 3 months, AUA Airport averaged 32 flights per day, which is 3 flights less than the average of 35 daily flights during the same period in 2019.
During April, May, and June AUA Airport recovered respectively 101%, 104% and 99% of the amount of departing passengers that were handled in those same months in 2019. The recovery in total for the second quarter of 2022 amounted to 101% versus 2019, which is up 24% points versus the recovery enjoyed in the first quarter of 2021.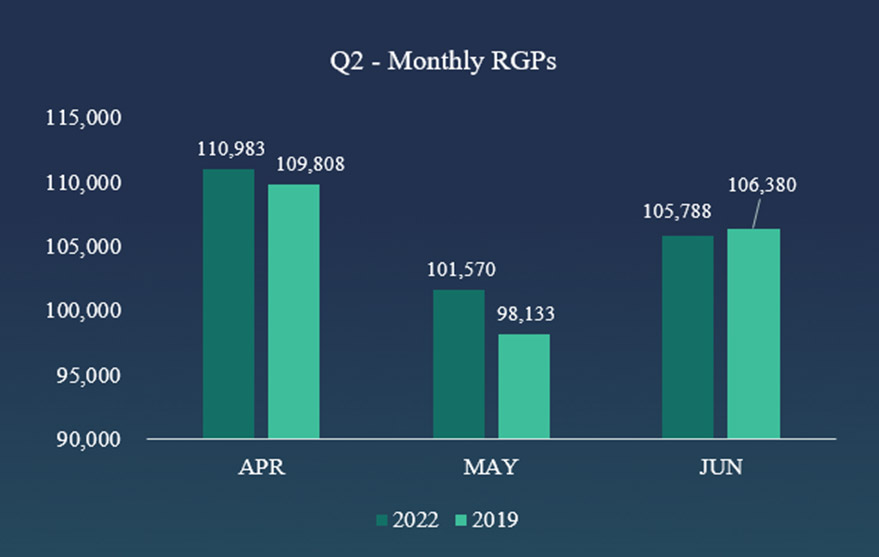 ---
Papiamento
89% di e total di pasahero cu a biaha for di Aruba den 2019 a wordo recupera den e prome mitar di aña 2022
Recuperacion di 101% den e di dos kwartaal di 2022 compara cu 2019
Oranjestad- Aruba Airport Authority N.V. (AAA) ta raporta riba Aeropuerto Internacional Reina Beatrix (AUA Airport) su prestacion pa cu e prome mitar di aña 2022; e cantidad di pasaheronan a aumenta considerablemente den e di dos kwartaal mustrando cifranan di recuperashon excelente compara cu e mesun periodo na 2019. E cantidad total di pasaheronan cu ta biaha for di Aruba cu ta genera entrada durante e prome mitar di 2022 tabata 577,143 cu ta representa un recuperacion total di 89% compara cu 2019.
Prome kwartaal di 2022
Un recuperacion total di 101% a wordo raporta pa e di dos kwartaal di 2022 compara cu mesun period na 2019. Den luna di April 2022 un total di 110,983 pasahero a biaha for di AUA Airport. Esaki tabata 6% mas cu luna di Maart 2022. Den Mei 2022 101,570 pasahero a biaha, loke ta 8% menos cu e luna anterior. Den Juni e cantidad a subi considerablemente te na 105,788 cu ta 4% mas cu Mei 2022. Durante e di dos kwartaal di 2022 un total di 245,889 pasahero a biaha pa Merca, 4,896 pa Canada, 23,679 pa Europa, 13,025 pa Anitllas Hulandes y 30,831 pa Latino America.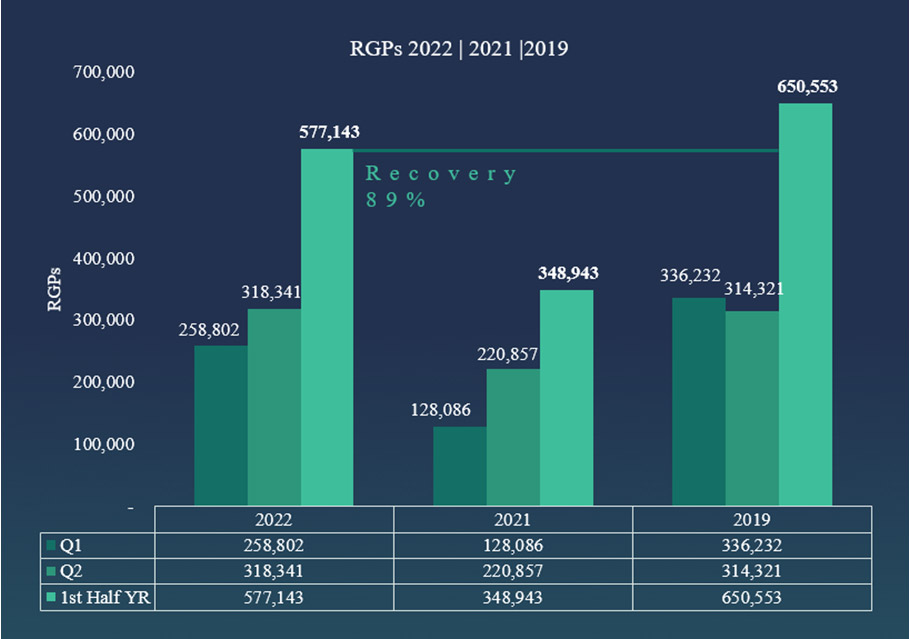 Un averahe di Passenger Load Factor (PLF) na salida (cantidad di asiento ocupa di e cantidad total di asiento disponibel abordo di un avion ora di sali for di Aruba) pa e mercado mericano di 90%, 89% y 90% a wordo raporta pa April, Mei y Juni respectivamente. E promedio di PLF pa tur mercado tawata 86%, 86% y 89% respectivamente durante e mesun periodo. Den e di dos kwartaal di 2022 nos a surpasa e averahe annual di PLF na salida pa tur mercado di 2019, cu ta 85%.
Durante e ultimo 3 lunanan AUA Airport tabatin un averahe di 32 buelo pa dia, compara cu un averahe di 35 buelo pa dia den mesun periodo di 2019, pues solamente un averahe di 3 vuelo pa dia menos.
Na April, Mei y Juni AUA Airport a recupera 101%, 104% y 99% respectivamente di e total di pasahero saliente compara cu e mesun lunanan den 2019.E recuperacion total pa cu e di dos kwartaal di 2022 a subi te na 101% compara cu 2019, cual ta un aumento di 24 punto procentual compara cu e recuperacion cu disfruta pa e mesun period na 2021.