March 16, 2023
ORANJESTAD - Aruba Airport Authority N.V., manager, and operator of Aeropuerto Internacional Reina Beatrix (Aruba Airport) continues to expand their gateways into Colombia. "We are extremely excited to announce that our airline partner Wingo has started the sale of their new direct flights to and from Cali, Colombia today. Wingo is an important and valuable partner for Aruba Airport, and we are very happy with this new, additional service out of Cali, opening yet another route to Colombia. We continue to expand our horizons in Colombia and are ready to facilitate our partner Wingo in this new venture, further diversifying our network in the Latin America market", said Barbara Brown, Chief Revenue Development & Communications Officer of AUA Airport.
Tickets sales as of March 16, 2023
The sale of the airfares for this new service is currently available on Wingo's website at www.wingo.com or through your local travel agent of your choice that provide the Wingo air service options. As of July 1, 2023, Wingo will operate two weekly flights directly to Cali Colombia and back on Wednesday and Saturdays with their aircraft B737-800 with 189 seats. These operations translate to approximately 1500 additional seats to and from Aruba for Wingo. With this additional service as of July 1, 2023, Wingo will now operate 7 flights per week out of Colombia, 3 from Bogota, 2 from Medellin and 2 from Cali.
About Wingo
On October 29, 2016, Aero República S.A. doing business as Wingo was found. The company is owned by the Copa Holdings. Wingo started operations to Aruba in December of 2016 as the first Low-Cost Carrier to serve Aruba out of Colombia. Offering the local market and tourists low fares, good vibes, and lots of flexibility. Wingo domestic Colombian operation also offers flights to cities in Colombia such as Armenia, Barranquilla, Bogota, Cali, Cartagena, Medellin, San Andres and Santa Marta. Wingo also operates regular service out of Colombia to Costa Rica, Cuba, Curacao, Dominican Republic, Ecuador, Guatemala, Mexico, Panama and Peru.
Wingo started operating its routes with Boeing 737-700's and changed their entire fleet two years ago. Nowadays they operate with 8 aircraft Boeing 737-8000 and each can carry up 189 passengers.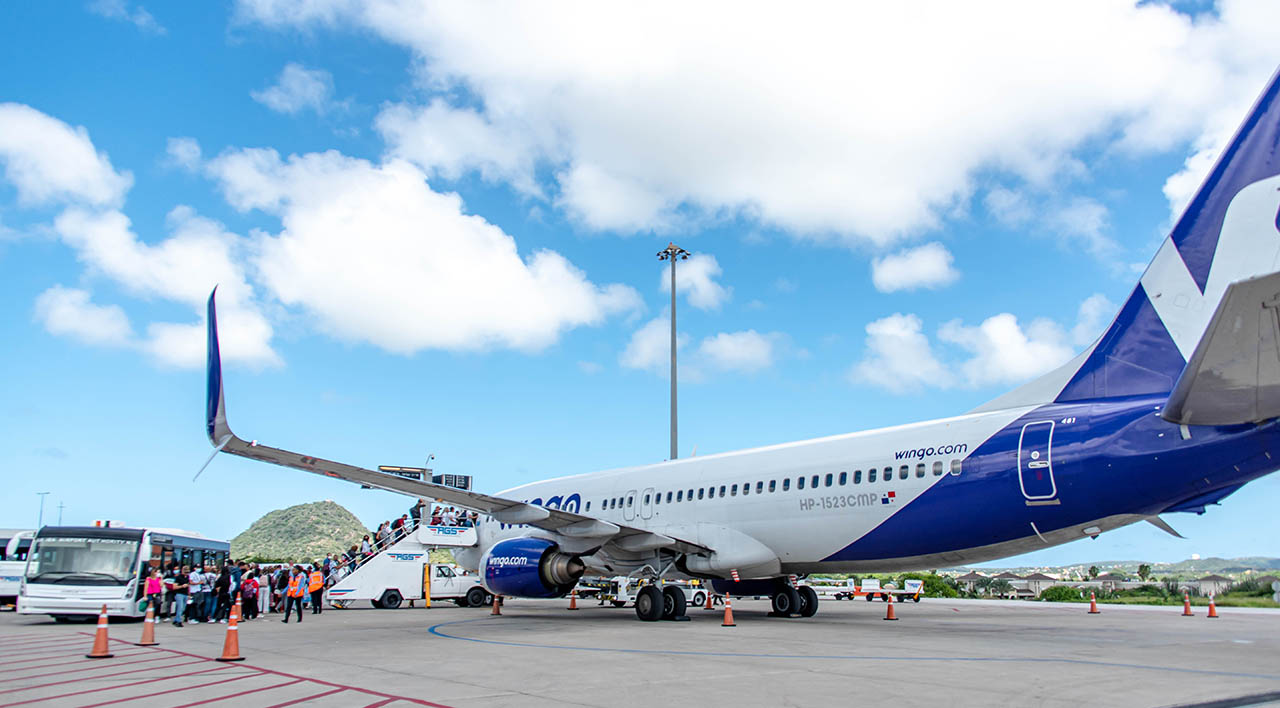 ---
Español
Wingo operará vuelos directos desde Cali a partir de julio de 2023
ORANJESTAD - Aruba Airport Authority N.V., administrador y operador del Aeropuerto Internacional Reina Beatrix (Aeropuerto de Aruba) continúa expandiendo sus puertas de entrada a Colombia. "Estamos muy emocionados de anunciar que nuestra aerolínea socia Wingo ha comenzado hoy la venta de sus nuevos vuelos directos desde y hacia Cali, Colombia. Wingo es un socio importante y valioso para el Aeropuerto de Aruba, y estamos muy contentos con este nuevo servicio adicional desde Cali, que abre otra ruta a Colombia. Continuamos expandiendo nuestros horizontes en Colombia y estamos listos para ayudar a nuestro socio Wingo en esta nueva empresa, diversificando aún más nuestra red en el mercado de América Latina", así lo subrayó Barbara Brown, Directora de Comunicaciones y Desarrollo de Ingresos (CRO) de la Autoridad Aeroportuaria de Aruba.
Venta de tickets a partir del 16 de marzo de 2023
La venta de los tickets aéreos para este nuevo servicio está actualmente disponible en el sitio web de Wingo en www.wingo.com o a través de su agente de viajes local de su elección que brinda las opciones de servicio aéreo de Wingo. A partir del 1 de julio de 2023, Wingo operará dos vuelos semanales directos a Cali Colombia y de regreso los miércoles y sábados con su avión B737-800 con 189 asientos. Estas operaciones se traducen en aproximadamente 1500 asientos adicionales desde y hacia Aruba para Wingo. Con este servicio adicional a partir del 1 de julio de 2023, Wingo ahora operará 7 vuelos por semana desde Colombia, 3 desde Bogotá, 2 desde Medellín y 2 desde Cali.
Acerca de Wingo
Se fundó Aero República S.A., que opera bajo el nombre comercial de Wingo el 19 de octubre de 2016. La compañía pertenece a Copa Holdings y comenzó a volar hacia Aruba en diciembre del 2016 como el primer transporte de bajo costo para servir a Aruba desde Colombia. Brindándole a los mercados locales y de placer una tarifa baja, un buen ambiente y mucha flexibilidad. Aparte de Aruba, cabe resaltar que Wingo también vuela a ciudades Colombianas como Armenia, Barranquilla, Bogotá, Cali, Cartagena, Medellín, San Andrés y Santa Marta. Tiene vuelos regulares para Costa Rica, Cuba, Curacao, República Dominicana, Ecuador, Guatemala, México, Panamá y Perú.
Wingo empezó a volar aviones 737-700 hace dos años ellos cambiaron todos sus aviones; hoy en día ellos vuelan aviones de marca Boeing, modelo 737-800; ellos tienen ocho de este tipo de aviones, que cargan no menos de 189 pasajeros.
---
Papiamento
Cuminsando na juli 2023
Wingo a cuminsa bende pasashi pa y for di Cali
ORANJESTAD - Aruba Airport Authority N.V., manehado y operado di Aeropuerto Internacional Reina Beatrix (Aruba Airport) ta sigui expande su rutanan den Colombia. "Nos ta enthusiasma pa anuncia cu awe nos aerolinea partner, Wingo, a cuminsa bende pasashi pa y for di nan destinacion nobo, Cali - Colombia. Wingo ta un partner importante y valioso pa e aeropuerto di Aruba. Nos ta contento cu e ruta y servicio nobo for di Cali, Colombia. Asina nos a habri un otro ruta den Colombia. Nos ta sigui expande nos horizonte den Colombia y nos ta cla pa facilita nos partner Wingo den esaki, diversificando nos red den e mercado di Latino America", asina Barbara Brown, Chief Revenue Development & Communications Officer na AUA Airport a duna di conoce.
Benta di pasashi desde dia 16 di maart 2023
E benta di pasashi pa e ruta nobo aki awor ta disponibel riba e website di Wingo, esta www.wingo.com, of via bo agencia di viahe preferi cu ta bende pasashi pa Wingo. Entrante dia 1 di juli 2023, Wingo lo cuminsa bula dos vuelo pa siman directamente pa y for di Cali, Colombia, riba diaranson y diasabra, cu nan avion B737-800 cu espacio pa acomoda 189 pasahero. E operacionnan aki ta traduci den aproximadamente 1500 stoel adicional pa y for di Aruba cu Wingo. Cu e servicio adicional aki desde dia 1 di juli 2023, awo Wingo lo opera shete vuelo pa siman for di Colombia, tres di Bogota, dos di Medellin y dos for di Cali.