ORANJESTAD – Aruba Airport Authority N. (AAA) hosted Minister Oduber's visit to the construction site of the Gateway 2030 project at the airport on the afternoon of February 16, 2023.
Before visiting the actual construction site in a safe and secure manner, Minister Oduber was provided with a presentation by AAA and PMO (project Management Office) staff involved with the Gateway 2030 project. Mr. Gilbert Rafael, Chief Development & Technology Officer at AAA accompanied by PMO staff Mr. Henny Balentin, Sr. Project Director, Mr. Gerard Turk, Resident Engineer, and Mr. Gerko Rijkers, representing the contractor ABC Project Venture provided the Minister with the latest insights and updates on the ongoing Phase1A of the project and the currently expected timeline for the project. Further phases of the project were also elaborated on and explanation on the building blocks of those phases were also provided.
After the presentations Minister Oduber was accompanied by Mr. Joost Meijs, AAA's CEO together with the project team to provide even more insights on the actual construction sight and the Minister could take a look at the latest construction works that have been performed and how the works are progressing.
"We are happy and proud to have been able to show Minister Oduber the latest developments with regard to the important Gateway 2030 project which is currently in its first phase. This phase is set to be completed by the 3rd quarter of 2024 and the next phase will be started this year still with mobilization", said Mr. Joost Meijs, CEO of AAA.
Phase1 A of the construction project encompasses mainly the expanded check-in building at the US side. This expanded area will then in the future become the main check-in terminal for all departures. This phase 1A also includes the development and installation of the baggage handling system and the new baggage make-up area. Phase 1B will include the expansion of the current gate 8 area and the addition of two new hold room areas which will be served by three contact gates and will also accommodate a remote boarding gate hold area and boarding gate areas.
The next phases of the project are currently also being evaluated and will include the further parts of the Gateway 2030 project such as a new concession area in the US side gate areas, new arrival facilities and further expansion of amenity areas within the departure terminal areas.
More site visits will surely follow to keep the Minister abreast of all the latest developments within the various phases of the Gateway 2030 project which is of the utmost importance to the tourism industry and the economy in general of Aruba.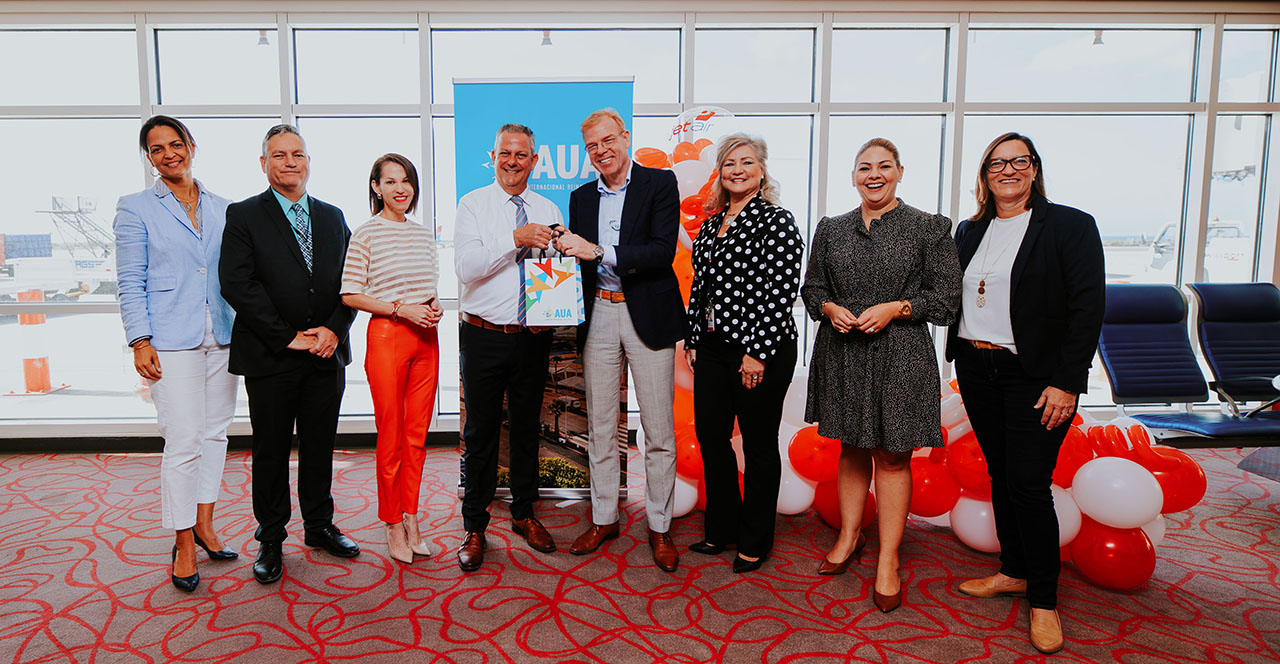 ---
Español
AAA organizó una actualización de Gateway 2030 y una visita al sitio para el Ministro Oduber
ORANJESTAD – La Autoridad Aeroportuaria de Aruba N. (AAA) acogió la visita del Ministro Oduber al sitio de construcción del proyecto Gateway 2030 en el aeropuerto en la tarde del 16 de febrero de 2023.
Antes de visitar el sitio de construcción real de manera segura, el Ministro Oduber recibió una presentación del personal de AAA y PMO (Oficina de Gestión de Proyectos) involucrado en el proyecto Gateway 2030. El Sr. Gilbert Rafael, director de desarrollo y tecnología de AAA, acompañado por el personal de la PMO, el Sr. Henny Balentin, director sénior de proyectos, el Sr. Gerard Turk, ingeniero residente y el Sr. Gerko Rijekrs, representante del contratista ABC Project Venture proporcionó al Ministro los últimos conocimientos y actualizaciones sobre la Fase 1A en curso del proyecto y el cronograma esperado actualmente para el proyecto. También se elaboraron otras fases del proyecto y se proporcionaron explicaciones sobre los componentes básicos de esas fases.
Después de las presentaciones, el Ministro Oduber estuvo acompañado por el Sr. Joost Meijs, CEO de AAA, junto con el equipo del proyecto para brindar aún más información sobre la vista real de la construcción y el Ministro Oduber pudo echar un vistazo a los últimos trabajos de construcción que se han realizado y cómo los trabajos están progresando.
"Estamos felices y orgullosos de haber podido mostrarle al Ministro los últimos avances con respecto al importante proyecto Gateway 2030 que actualmente se encuentra en su primera fase. Está previsto que esta fase se complete en el tercer trimestre de 2024 y la siguiente fase se iniciará este año aún con movilización", dijo el Sr. Joost Meijs, director ejecutivo de AAA.
La Fase 1 A del proyecto de construcción comprende principalmente la ampliación del edificio de facturación en el lado estadounidense. Esta área ampliada se convertirá en el futuro en la principal terminal de facturación para todas las salidas. Esta fase 1A también incluye el desarrollo e instalación del sistema de manipulación de equipajes y la nueva zona de preparación de equipajes. La Fase 1B incluirá la expansión del área actual de la puerta 8 y la adición de dos nuevas áreas de sala de espera que serán atendidas por tres puertas de contacto y también acomodarán un área de espera de la puerta de embarque remota y áreas de la puerta de embarque.
Las próximas fases del proyecto también se están evaluando actualmente e incluirán las partes adicionales del proyecto Gateway 2030, como una nueva área de concesión en las áreas de puertas laterales de EE. UU., nuevas instalaciones de llegada y una mayor expansión de las áreas de servicios dentro de las áreas de la terminal de salida.
Seguramente seguirán más visitas al sitio para mantener al Ministro al tanto de los últimos desarrollos dentro de las diversas fases del proyecto Gateway 2030, que es de suma importancia para la industria del turismo y la economía en general de Aruba.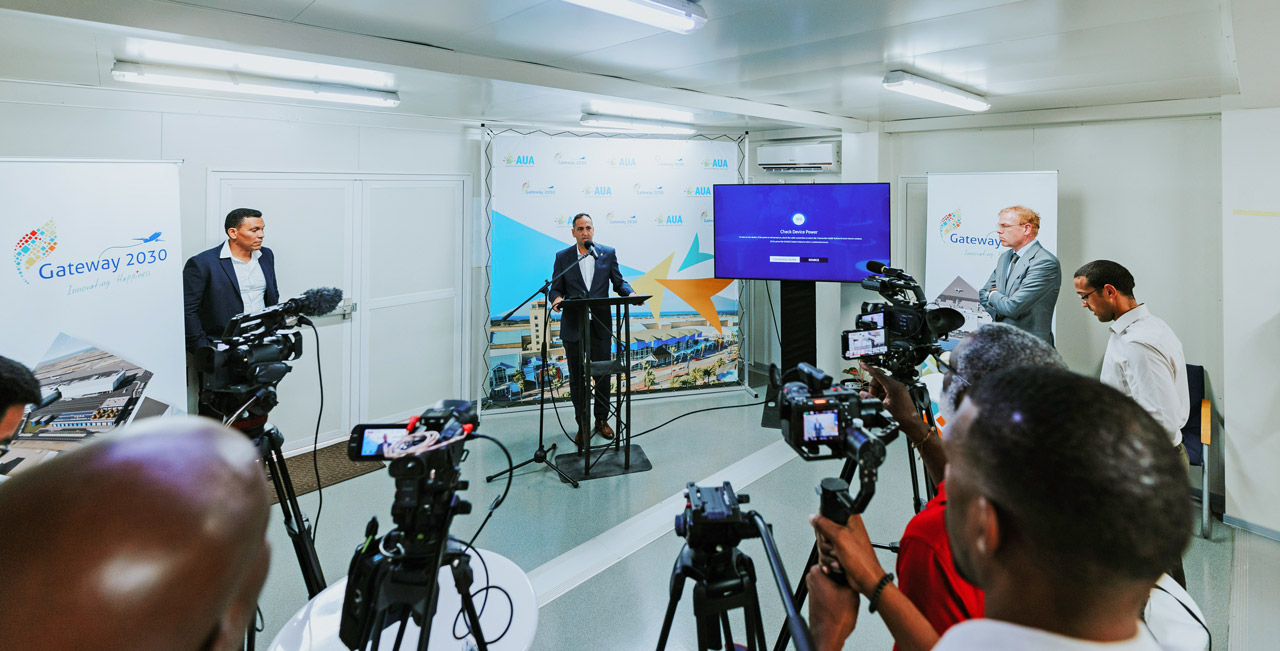 ---
Papiamento
AAA a ricibi Minister Oduber pa un bishita na e area di construccion di e proyecto Gateway 2030 di AAA
ORANJESTAD – Awetardi, Aruba Airport Authority N.V. (AAA) a yama Minister Oduber bonbini pa un inspeccion na e area di construccion di e proyecto Gateway 2030 na aeropuerto.
Prome cu a bishita e sitio di e proyecto den un forma safe y sigur pa tur bishitante, Minister Oduber a haña un presentashon di parti di e personal di AAA y e PMO (Project Management Office) cu ta envolvi den e proyecto di Gateway 2030. Sr. Gilbert Rafael, Chief Development & Technology Officer na AAA, accompaña pa PMO staff Sr. Henny Balentin, Sr. Project Director, Sr. Gerard Turk, Resident Engineer y Sr. Gerko Rijkers, representante di e contratista ABC Project Venture. E presentashon a inlcui e ultimo desaroyonan den e asina yama Fase 1A di e Proyecto y tambe riba e tempo cu ainda falta den e plannan actual pa keda cla cu e fase aki. Tambe a wordo elabora riba e otro fasenan di e proyecto y splicashon a wordo duna tocante e asina yama "blokinan" di construccion di e fasenan.
Despues di e presentashonnan Minister a wordo acompaña pa Sr. Joost Meijs, CEO di AAA hunto cu e staff di e equipo di proyecto pa duna un amplio splicashon tocante e construccion actual. Minister Oduber por a mira pa su mes kico ta e ultimo desaroyonan den e construccion y con esakinan lo progresa mas aleu.
"Nos ta sumamente contento y orguyoso di por a mustra Minister Oduber e recien desaroyonan cu ta relata na e proyecto importante cu ta Gateway 2030, cu actualmente ta den su prome fase. E fase aki ta ser premira di lo ta cla den e di 3 kwartaal di 2024 y e sigiuente fase lo cuminsa e aña aki cu mobilizacion", segun Mr. Joost Meijs, CEO di AAA.
Fase 1A di e construccion di e proyecto lo ensera primordialmente un check-in mas grandi y amplio na e banda mericano. E area mas grandi aki lo ser usa den futuro tambe come check-in area principal pa tur buelo cu lo sali for di AUA Airport. E fase 1A aki tambe ta inclui e desaroyo y construccion di un area di procesa maleta y un area di warda e maletanan prome cu nan wordo hiba avion. Fase 1B e ora ey lo ensera e ampliacion di gate number 8, dos extra area di espera cu lo tin 3 brug pa avion y tambe un area nobo pa e avionnan cu lo wordo sirbi dor di busnan pa hiba pasaheronan na e avionnan cu no lo para na un gate cu brug.
Actualmente e siguiente fasenan di e proyecto ta den revision y lo inlcui e otro partinan di e proyecto di Gateway 2030 manera un area nobo di tienda, facilidadnan renoba pa yegada y tambe mas areanan pa servicionan na e pasaheronan cu ta sali for the AUA Airport.
Lo sigi organiza mas bishita na e area di construccion den futuro pa mantene Minister na altura di e ultimo desaroyonan di e Proyecto di Gateway 2030 na AUA Airport cu ta di sumo importancia pa cu e desaoroyo sostenibel di Aruba su turismo y economia en general.