August 6, 2021
As part of AAA's sustainability goal:
AAA, Total Services, and Ecotech collaborate on efforts to achieve sustainable Waste Management for AUA Airport

ORANJESTAD - Aruba Airport Authority N.V. (AAA), the company that manages and operates Queen Beatrix International Airport (AUA Airport), has recently joined forces with its waste management suppliers Total Services and Ecotech to start several projects that would contribute to the sustainable management of airport waste.
"As a result of the increasing passenger number, AUA Airport is experiencing higher volumes of waste, but we have not been able to address this issue sustainably, due to the complexities of our operations," said AAA's Director Health, Safety and Sustainability, Mrs. Angeline Flemming. "This year, AAA chose the UN Sustainable Development Goals (SDG's) as one of our main strategic pillars, and we must now walk the talk and start taking action. But to make significant change happen, we need to partner up with our waste management suppliers," said Flemming.
In September, AAA, Ecotech, and Total Services, with the help of all the airport concessionaires, will start a pilot project for the separation of cartons. Carton can be broken down and recycled, thus conserving energy and natural resources while protecting the environment. Carton can be separated relatively quickly and taking cartons out of the waste compactors will also help reduce the amount of waste that cannot be recycled. This is the first and essential step to a further separation and waste reduction at AUA Airport, and AAA hopes other companies and entities will follow.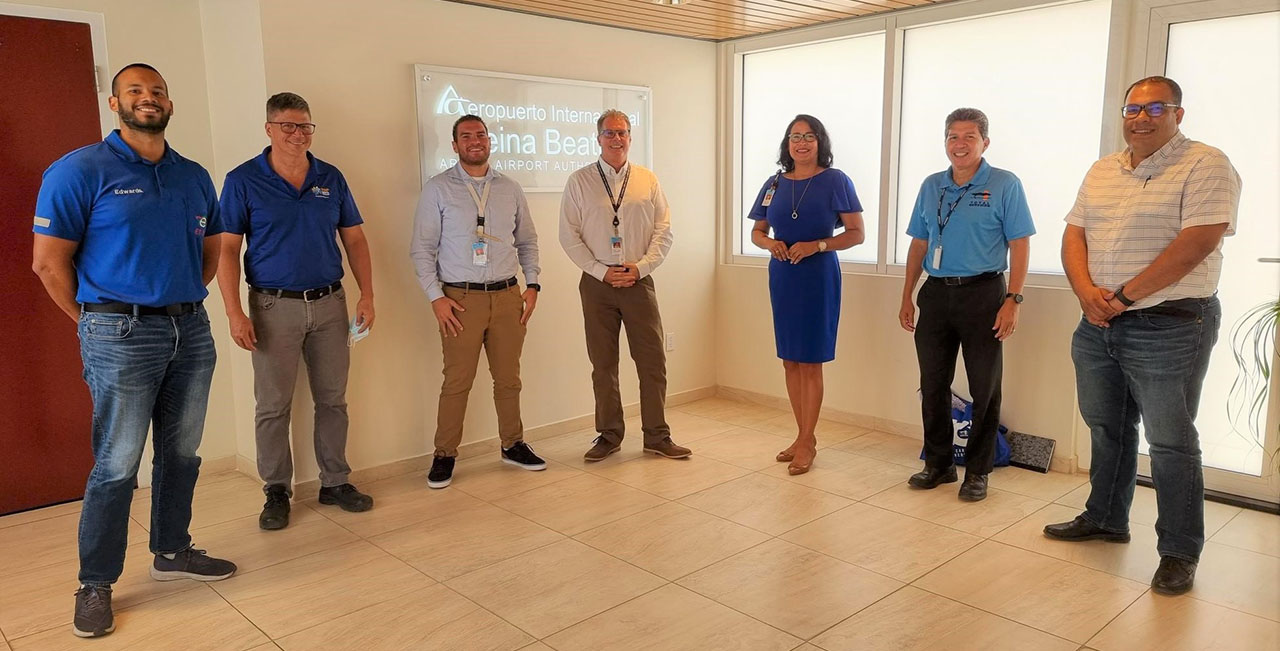 ---
Papiamento
Como parti di AAA su meta di sostenibilidad:
AAA, Total Services y Ecotech ta colabora riba esfuersonan di maneho sostenibel di desperdicio pa AUA Airport

ORANJESTAD - Aruba Airport Authority N.V. (AAA), e compania cu ta maneha y opera Aeropuerto Internacional Reina Beatrix (AUA Airport), recientemente a uni forsa cu su manehadornan di desperdicio Total Services y Ecotech pa cuminsa varios proyecto cu lo contribui na un maneho sostenibel di desperdicio na aeropuerto ("sustainable management of airport waste").
"Como resultado di e cantidad creciente di pasahero, AUA Airport tin un cantidad mas halto di desperdicio, pero te cu awor nos no por a atende e situacion aki di forma sostenibel, mirando e complexidad di nos operacionnan," asina AAA su Director Health, Safety and Sustainability, Sra. Angeline Flemming a duna di conose. "E aña aki, AAA a scohe e Sustainable Development Goals (SDG's) di Nacionnan Uni como un di e pilarnan strategico principal, y ta ora pa nos haci loke cu nos ta bisa y cuminsa tuma accion. Pero pa por haci un cambio significante, nos tin cu asocia cu nos proveedornan di maneho di desperdicio," segun Flemming.
Na September, AAA, Ecotech y Total Services, cu a ayudo di tur e concesionarionan di aeropuerto lo cuminsa cu un proyecto piloto pa e separacion di carton. Carton por wordo kibra y recicla, pues conservando energia y recursonan natural mientras cu ta proteha nos medio ambiente. Carton por wordo separa relativamente lihe y door di saca e cartonannan for di e machinnan "waste compactors" lo yuda reduci e cantidad di desperdicio cu no por wordo recicla tambe. Esaki ta e prome paso esencial pa por sigui separa y reduci desperdicio na AUA Airport, y AAA ta spera cu otro compania- y entidadnan tambe lo sigui e ehempel.