June 28, 2023
ORANJESTAD – Aruba is celebrating its 100th year of aviation on August 18, 2023. On that day in 1923 the first aircraft landed in Aruba in Paardenbaai, Oranjestad. Since then, the aviation industry in Aruba has significantly evolved, becoming an integral part of Aruba's economy.
To celebrate this historical milestone, Aruba Airport Authority N.V. (AAA) in collaboration with the Aruban Government, the Aruba Tourism Authority, the Department of Civil Aviation (DCA), Air Navigation Services Aruba N.V. (ANSA), and Agustin Vrolijk, are organizing various events leading up to August 18th.
One of the events is the Aruba Aviation Expo 2023, set to take flight this Sunday, July 2 at the Aruba Private Airport. This highly anticipated event commemorates 100 years of aviation excellence in Aruba and promises to be a great event for the entire Aruban community.
The Aruba Aviation Expo 2023 will bring together aviation enthusiasts and industry professionals for a day filled with exhilarating aircraft and equipment displays, interactive exhibits, and insightful discussions. Attendees can expect to explore aircraft technology, witness aircraft and equipment up close, experience flight simulators and engage in networking opportunities with industry leaders.
The Aruba Aviation Expo 2023 encourages participation from aviation enthusiasts of all ages. Whether you're a pilot, aviation professional, or simply fascinated by flight, this expo promises an unforgettable experience for everyone.
We would also like to invite all young artist and innovators of Aruba's elementary schools to participate in two exciting competitions: the Coloring Competition (Class 1 -3) and the Recycled Aircraft Competition (Class (4 – 6). These engaging activities are part of the grand celebration of 100 years of aviation and aim to foster creativity, environmental consciousness, and a love for aviation among young minds. To participate, students must follow the instructions provided in the coloring and sketch sheet received in the "Buki di Pret" package. The completed entries should be submitted at the Ban Serio Booth at the Aruba Aviation Expo on July 2, from 10 am to 4 pm. The Aruba Aviation Expo is a free event.
For more information, visit facebook.com/ArubaAirport.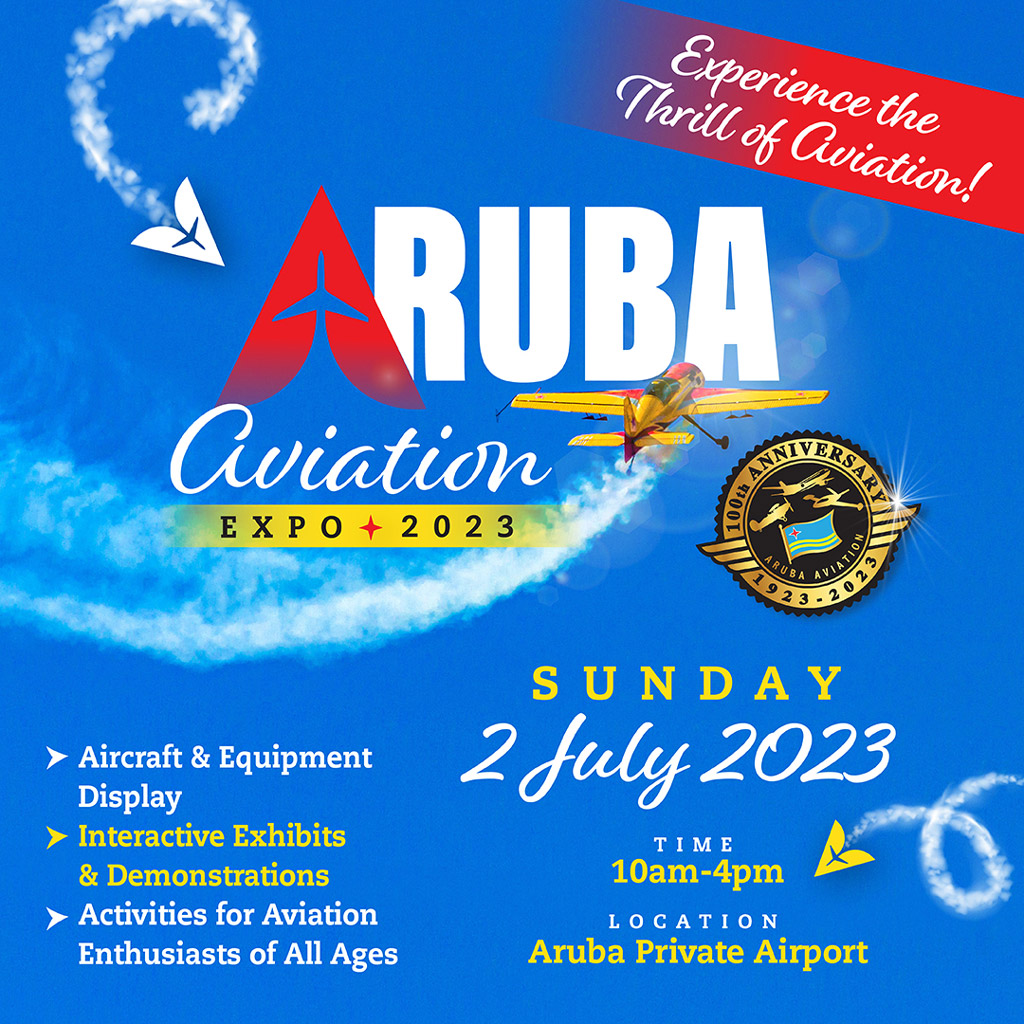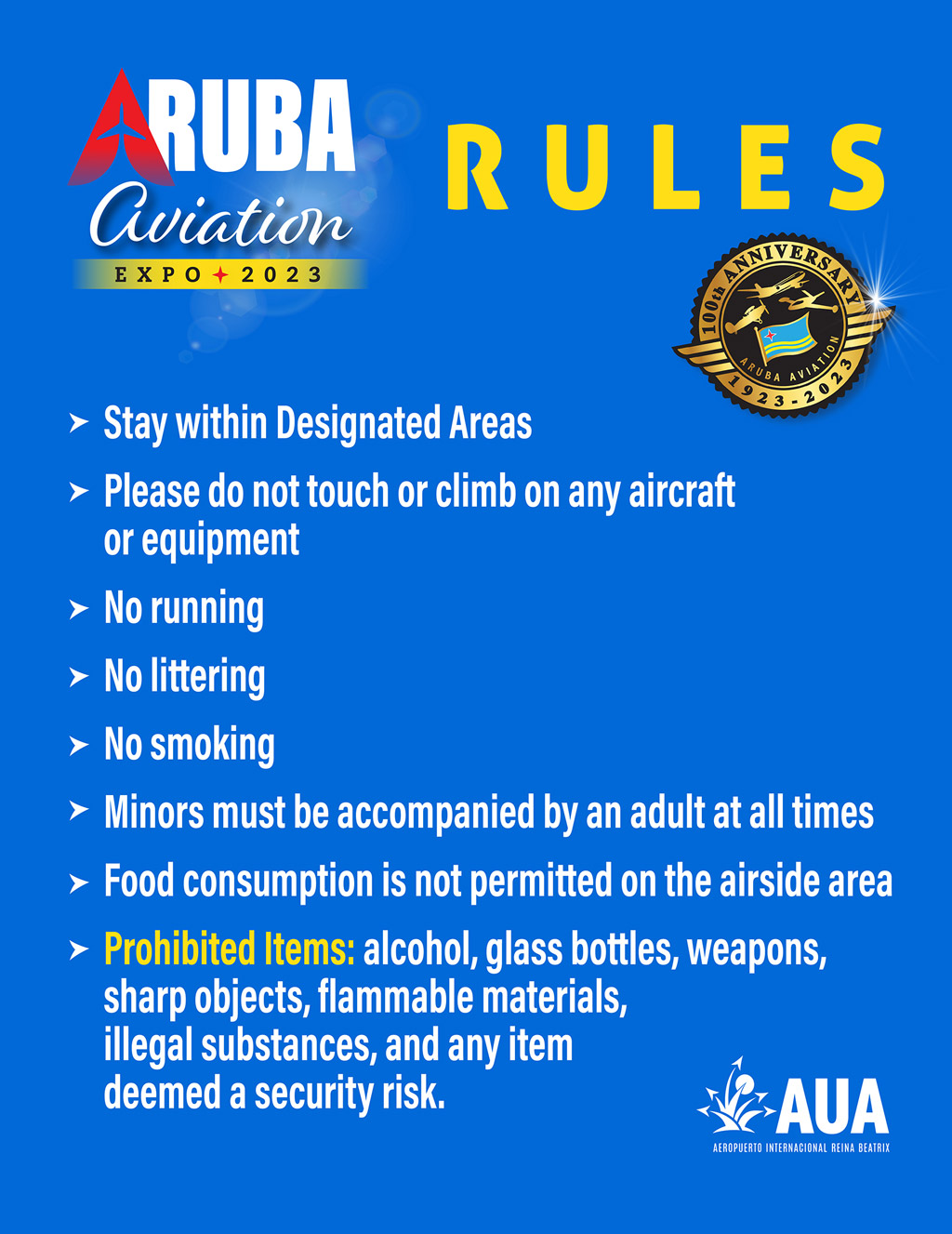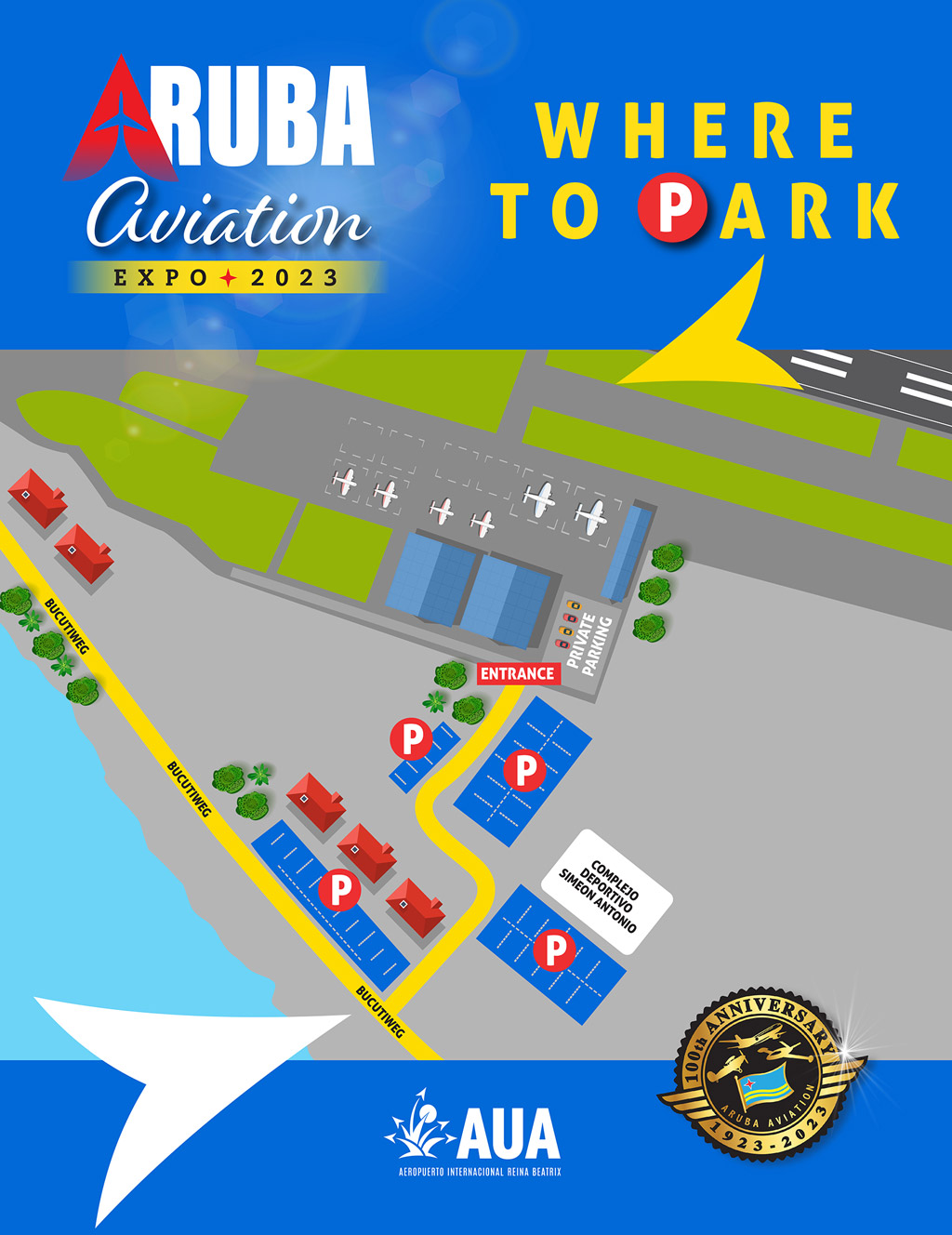 ---
Español
Exposición de Aviación Aruba 2023:
Celebración de un siglo de excelencia aeronáutica en Aruba
ORANJESTAD – Aruba estará celebrando su centenario de aviación el 18 de agosto de 2023. Ese día en el año 1923 aterrizó el primer avión en Aruba, en Paardenbaai, Oranjestad. Desde entonces, la industria de la aviación en Aruba ha evolucionado significativamente, convirtiéndose en una parte integral de la economía de Aruba.
Para celebrar este hito histórico, la Autoridad Aeroportuaria de Aruba N.V. (AAA), en colaboración con el Gobierno de Aruba, la Autoridad de Turismo de Aruba, el Departamento de Aviación Civil (DCA), los Servicios de Navegación Aérea de Aruba N.V. (ANSA), y Agustín Vrolijk, están organizando varios eventos hasta el 18 de agosto.
Uno de los eventos es la Aruba Aviation Expo 2023, que se celebrará este domingo 2 de julio en el Aeropuerto Privado de Aruba. Este evento tan esperado conmemora los 100 años de excelencia de la aviación en Aruba y promete ser un gran acontecimiento para toda la comunidad de Aruba.
Esta Exposición de la Aviación en Aruba 2023 reunirá a entusiastas de la aviación y profesionales de la industria durante un día lleno de emocionantes exhibiciones de aeronaves y equipos, , exhibiciones interactivas y discusiones interesantes. Los asistentes podrán explorar la tecnología aeronáutica, ver de cerca aeronaves y equipos, experimentar simuladores de vuelo y participar en oportunidades de establecer contactos con líderes de la industria.
La Aruba Aviation Expo 2023 alienta la participación de entusiastas de la aviación de todas las edades. Si usted es un piloto, un profesional de la aviación, o simplemente fascinado por el vuelo, esta expo promete una experiencia inolvidable para todos.
También nos gustaría invitar a todos los jóvenes artistas e innovadores de las escuelas primarias de Aruba a participar en dos emocionantes concursos: el Concurso de Colorear (Clase 1 -3) y el Concurso de Aviones Reciclados (Clase (4 - 6). Estas atractivas actividades forman parte de la gran celebración de los 100 años de aviación y pretenden fomentar la creatividad, la conciencia medioambiental y el amor por la aviación entre las mentes jóvenes. Para participar, los alumnos deben seguir las instrucciones proporcionadas en la hoja para colorear y dibujar, que reciben en el paquete "Buki di Pret". Los trabajos completados deberán presentarse en el stand de Ban Serio en la Aruba Aviation Expo el 2 de julio, desde las 10:00 am hasta las 4:00 pm. La entrada a Aruba Aviation Expo es completamente gratuita.
Para obtener más información, visite facebook.com/ArubaAirport.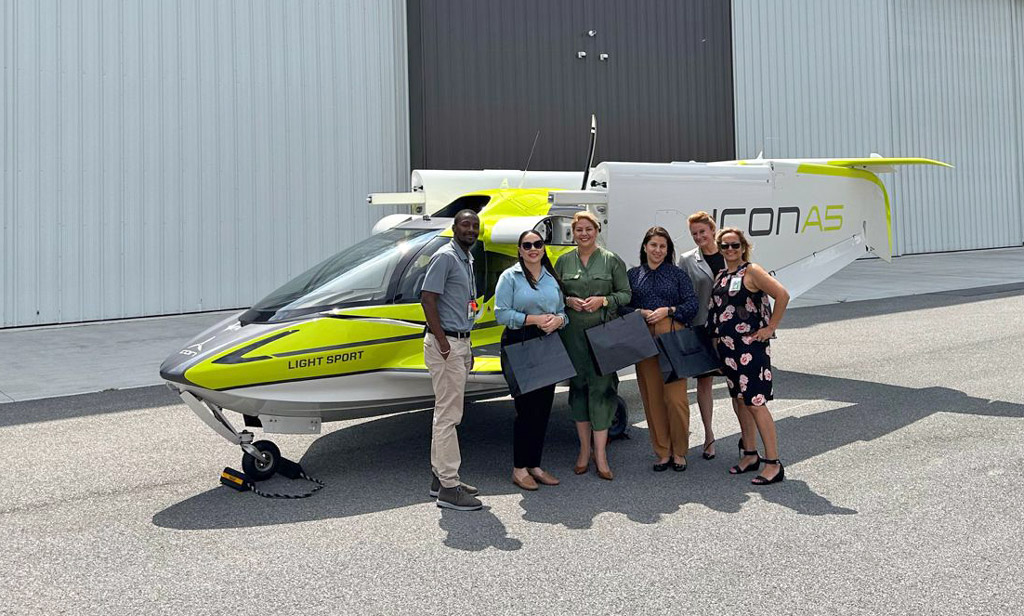 ---
Papiamento
Aruba Aviation Expo 2023:
Aruba ta celebra un siglo di excelencia den aviacion
ORANJESTAD – Dia 18 di augustus di e aña aki, Aruba ta celebra 100 aña di aviacion. Riba e mesun fecha aki pero na aña 1923, e prome avion a aterisa na Aruba den Paardenbaai, na Oranjestad. Desde e tempo ey, e industria di aviacion na Aruba a conoce un evolucion significativo y asina a bira un parti importante pa e economia di Aruba.
Pa celebra e echo historico aki, Aruba Airport Authority N.V. (AAA) den colaboracion cu Gobierno di Aruba, Aruba Tourism Authority, Department of Civil Aviation (DCA), Air Navigation Services Aruba N.V. (ANSA) y Agustin Vrolijk ta organisa varios evento como antesala pa e fecha di 18 di augustus.
Un di e eventonan ta e Aruba Aviation Expo 2023, programa pa diadomingo awo dia 2 di juli na aeropuerto priva. E evento tan spera aki ta conmemora 100 aña di excelencia di aviacion na Aruba y ta priminti di ta un gran evento pa comunidad di Aruba.
Aruba Aviation Expo 2023 ta reuni tur cu tin entusiasmo pa aviacion pero tambe e profesionalnan den e industria pa asina tin un dia yena exhibicion di avion y ekipo, exhibicion interactivo y discusionnan interesante. Tur cu atende e evento tin e oportunidad di explora e tecnologia aeronautico, ta testigo di con ta prepara e avionnan y e ekiponan, experencia flight simulators y participa den oportunidad pa network cu e lidernan den e industria.
Aruba Aviation Expo 2023 ta curasha e participacion di tur persona cu tin interes pa aviacion for di mucha te cu adulto. Sea bo ta un piloto, profesional den aviacion of ta simplemente encanta cu bula, e expo aki ta priminti di ta un experiencia inolvidabel.
Ademas AAA ta invita tur mucha artista y innovado di e scolnan basico di Aruba pa participa den e competencianan: Competencia di pinta (klas 1 te cu 3) y e competencia di avion recicla (klas 4 te cu 6). E actividadnan aki ta parti di e gran celebracion di e 100 aña di aviacion na Aruba y su obhetivo ta pa promove creatividad, e conciencia ambiental y e amor pa aviacion den nos muchanan. Pa participa e alumnonan mester sigui e instruccionnan den e papel ricibi den e pakete di "Buki di Pret". Mester entrega tur cos na e stand di Ban Serio na e Aruba Aviation Expo 2023 cu ta tumando luga diadomingo awo di 10or di mainta te cu 4or di atardi. Entrada pa e Aruba Aviation Expo ta completamente gratis.
Pa mas informashon bishita: facebook.com/ArubaAirport.