August 11, 2022
ORANJESTAD – It is with great pride and much pleasure that Aruba Airport Authority N.V. (AAA) can officially announce the addition to an existing European route out of the United Kingdom. Starting in March of 2023 we will be able to also welcome -British Airways with a twice weekly service out of London Gatwick airport next to our current partner TUI UK who operates seasonal service out of this gateway.
British Airways will fly to Aruba year-round, on Thursday and Sunday, with a stop in Antigua. The LGW-AUA flight will be operated on a 336-seat Boeing777-200ER, offering 32 Club seats, 52 World Traveller Plus and 252 economy seats.
AAA, whilst working closely on this with the Aruba Tourism Authority, has been in talks with British Airways since 2015 during various routes conferences and at their head quarters in London. During the past 10 months these talks, and subsequent negotiations intensified and have now crystalized in being able to announce this service today.
Flight details
Flight BA2157 Depart London Gatwick 10:00 – Arrive Antigua 13:35
Flight BA2157 Depart Antigua 14:35 – Arrive Aruba 16:30


Flight BA2156 Depart Aruba 18:30 – Arrive Antigua 20:15
Flight BA2156 Depart Antigua 21:15 – Arrive London Gatwick 10:15
At the moment our market in Europe is being served by KLM and TUIFly Netherlands both operating out of Amsterdam and also TUI Airways limited out of London Gatwick. Currently the European market share represents 8% of the total amount of passengers that are handled at AUA Airport with 44 flights in the month of July adding up to a total amount of seats of 16,443 for this month. KLM operates 7 flights each week, TUI NL 3 flights and TUI UK 1 flight, being a seasonal operation.
London Gatwick Airport (LGW) is a major international airport located near Crawley, West Sussex, England, approximately 29 miles (47 km) south of Central London. LGW has handled 6.9 million pax in 2021 and pre-covid handled over 46 million. Gatwick was the world's first airport to have a direct mainline train link with a dedicated railway station connecting to more stations than any other European airport station. Time by rail to central London is 30 minutes with trains running every three minutes.
British Airways is a global airline, bringing people, places and diverse cultures closer together for more than 100 years. Serving their community and planet is at the heart of everything they do and are venturing into exciting sustainability initiatives. At British Airways, they are on a journey to create a better, more sustainable future and call this their "BA Better World" initiative. British Airways operates one of the largest and the most modern fleets of any airline in the world with aircraft such as the B777-200ER used for the Aruba route, B777-300, Airbus 350-1000 and Airbus 280-800 and many more. Currently British Airways serves the following destinations in the Caribbean region: Antigua, Bahamas, Bermuda, Barbados, Cayman Islands, Dominican Republic, Jamaica, Grenada, St. Kitts, St. Lucia and Trinidad and Tobago. The total amount of flights operated weekly into the Caribbean are 70 with a total seat capacity of 21,083 seats.
Mr. Joost Meijs, Chief Executive Officer of AAA commented: Another milestone for the island's tourism industry with a direct year-round scheduled service between London Gatwick Airport and Aruba. The introduction of this direct service is a goal we have long been working towards and we are thrilled that our air service development efforts have borne fruit. In a highly competitive arena, it is essential to have a direct year-round scheduled service and easy connections from major markets. This is a real team effort, and I am convinced that it will become a success!
AAA is proud to also report that for this year a total of 777,826 outbound passengers were handled at AUA Airport whilst 101,791 of these passengers were from Europe. Europe represents a total market share of 14% of all the arriving passengers. Overall, when looking at all markets served by AUA Airport, a recovery of 91% has been enjoyed up to now versus 2019. In July alone a recovery of 99% was reached versus the same month in 2019. The current market share per airline for Europe is now 66% KLM, 21% TUI and 12% TUI UK.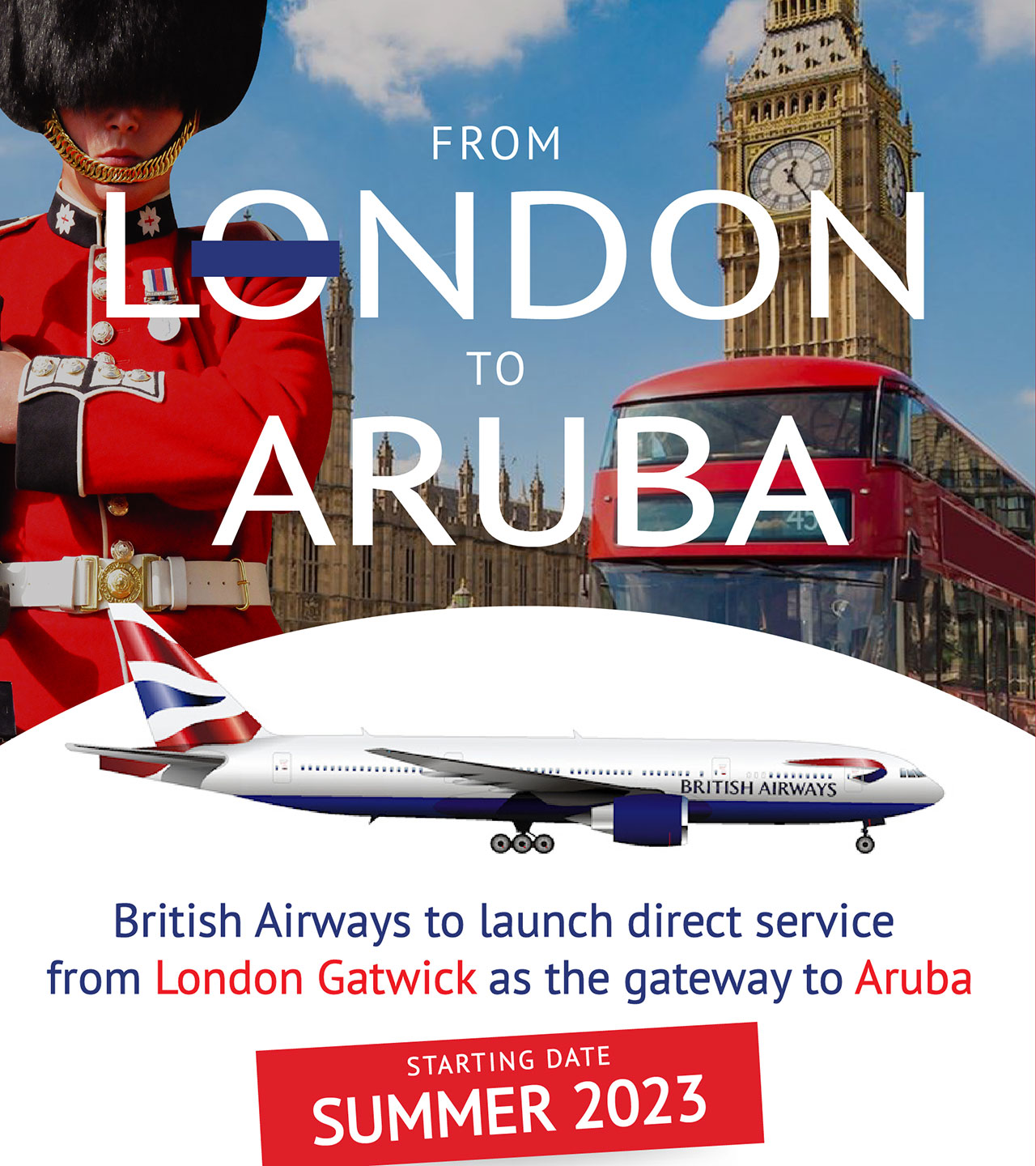 ---
Papiamento
Aruba ta e prome isla den Caribe Hulandes pa conta cu servicio regular di British Airways
Zomer 2023 ta cuminsa cu dos vuelo semanal
ORANJESTAD – Cu gran orguyo y hopi satisfaccion Aruba Airport Authority N.V. (AAA) por anuncia oficialmente un opcion mas riba e ruta Europeo existente for di Reino Uni. Cuminsando den zomer 2023 lo yama bonbini tambe na British Airways cu su servicio di dos vuelo pa siman for di aeropuerto London Gatwick Airport, banda di nos socio actual TUI UK cu ta opera un servicio temporal for di e punto di acceso aki.
British Airways lo bula pa Aruba durante henter aña riba Diahuebs y Diadomingo cu un stop na Antigua. E vuelo LGW-AUA lo wordo opera cu un Boeing 777-200ER equipa cu 336 asiento, brindando 32 asiento Club, 52 World Traveller Plus asiento y 252 asiento economy.
Aeropuerto di Aruba, den colaboracion cu Aruba Tourism Authority, ta den combersacion cu British Airways desde aña 2015 durante varios conferencia di ruta y na nan oficina principal na London. Durante e ultimo 10 luna, e reunionnan y negociacionnan posterior a intensifica y awor a cristalisa cu por anuncia e servicio aki.
Detayenan di e buelo
Buelo BA2157 Depart London Gatwick 10:00 – Arrive Antigua 13:35
Buelo BA2157 Depart Antigua 14:35 – Arrive Aruba 16:30


Buelo BA2156 Depart Aruba 18:30 – Arrive Antigua 20:15
Buelo BA2156 Depart Antigua 21:15 – Arrive London Gatwick 10:15
Na e momento aki e mercado di Europa ta conta cu servicio di KLM y TUIFly Netherlands, ambos operando for di Amsterdam y tambe TUI Airways cu servicio di temporada durante zomer so for di London Gatwick. Actualmente e mercado Europeo ta representa 14% (YTD July 2022) di e cantidad total di pasahero cu Aerouerto di Aruba ta procesa den 44 vuelo pa luna di juli cu a suma un total di 16.443 stoel. KLM ta opera shete vuelo y TUI NL tres vuelo pa siman, mientras cu TUI UK tin un vuelo operacional temporal.
London Gatwick Airport (LGW) ta un aeropuerto internacional grandi situa cerca di Crawley, West Sussex, Inglatera, aproximadamente 29 miya (47 km) pazuid di London central. LGW a maneha 6.9 miyon pasahero na aña 2021 y prome cu Covid a maneha riba 46 miyon. Gatwick tabata e prome aeropuerto pa tin un conexion di trein principal cu su mesun stacion conectando cu mas stacion di aeropuerto na Europa. Ta tuma 30 minuut pa yega centro di London den trein cu ta sali cada 3 minuut.
British Airways ta un aerolinea global, treciendo hende, luga y culturanan diverso mas cerca di otro pa mas cu 100 aña. Sirbi nan comunidad y nos planeta ta central den tur loke nan ta haci y ta adopta iniciativanan emocionante di sostenibilidad. Na British Airways nan ta na caminda pa crea un futuro mas sostenibel y ta yama esaki nan iniciativa "BA Better World". British Airways ta opera un di e flotanan mas grandi y moderno di cualkier aerolinea na mundo cu avionnan manera e B777-200ER uza den e ruta pa Aruba, e B777-300, e Airbus 350-1000, e Airbus 280-800 y hopi mas. Actualmente British Airways ta sirbi e siguiente destinonan den e region Caribense: Antigua, Bahamas, Bermuda, Barbados, Islanan Caiman, Republica Dominicana, Grenada, St. Kitts, St. Lucia y Trinidad & Tobago. Nan ta opera no menos di 70 vuelo semanal pa Caribe, cu un capacidad total di 21.083 stoel.
Oneworld ta un aliansa di aerolineanan di clase mundial, comprometi den provee un nivel di servicio halto y combiniente den no menos di 900 destinacion den mas cu 170 pais rond mundo. Pasaheronan ta gosa di un lista di previlegio y recompensa di tur aerolinea participante y sin lubida acceso na riba 620 sala VIP na aeropuerto. E aerolineanan miembro di e aliansa aki ta Alaska Airlines, American Airlines, British Airways, Cathay Pacific, Finnair, Iberia, Japan Airlines, Malaysia Airlines, Qantas, Qatar Airways, Royal Air Maroc, Royal Jordanian y SriLankan Airlines.
CEO di AAA, Joost Meijs, a comenta: Otro logro pa e industria turistico di nos isla cu un servicio permanente entre London Gatwick Airport y Aruba. E introduccion di e servicio directo aki ta un obhetivo cu nos a bin ta traha riba dje y ta encanta cu e esfuerso pa desaroyo di servicio ta duna resultado. Den un sector hopi competitivo, ta esencial pa tin un servicio directo durante henter aña y conexion facil for di mercadonan grandi. Esaki ta un trabou den ekipo y mi ta convenci cu e lo bira un exito!"
Aruba Airport ta orguyoso di por raporta cu e aña aki, di januari pa juli, a conta un total di 775,926 'outbound passenger', mientras cu e procesa un total di 106,791 pasahero for di Europa. Riba su mes Europa awendia ta representa 14% di tur e pasaheronan cu ta yega Aruba. Generalmente, si conta tur mercado hunto, e aeropuerto di Aruba a recupera di januari pa juli 2022 na 91% compara cu aña 2019. Luna di juli so por bisa cu Aruba a recupera 99% den comparacion cu tres aña pasa. E reparticion di mercado total di e areolineanan for di Europa awor ta KLM 66%, TUI NL 21% y TUI UK 12%.