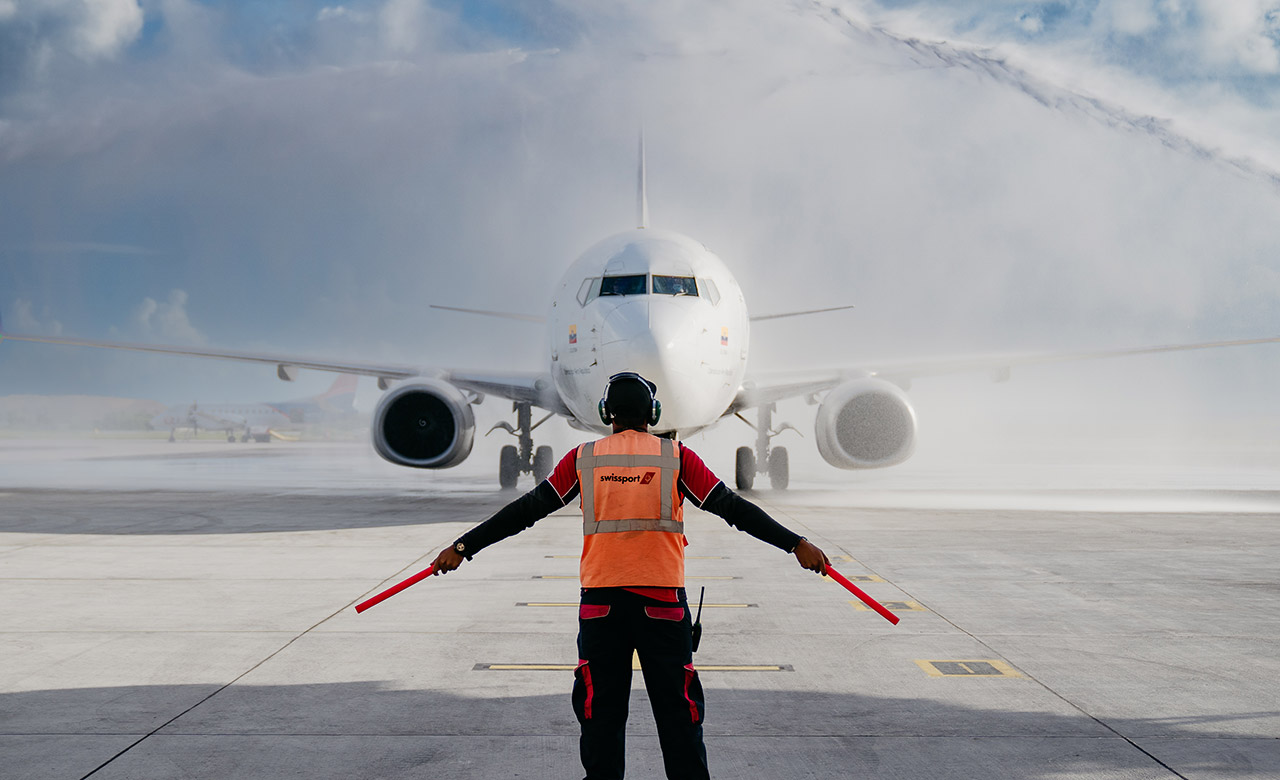 October 6, 2022
Wingo is an important and valuable partner for AUA Airport, and we are very happy with the additional service out of Medellin, opening yet another route to Colombia. "Wingo's slogan is - this is how you fly! -, for us at AUA Airport we can change the slogan now to - this is how you fly and expand horizons! - Congratulations Wingo", said Barbara Brown, Chief Commercial Officer of AUA Airport at the celebratory event held yesterday for the new direct service out of Medellin to Aruba.
The event took place Wednesday afternoon when the aircraft arrived in Aruba filled with tourists and was ready to return with local that prefer Medellin these days to vacation, shops or do a medical check-up. Present were the Minister of Tourism, Danguillaume Oduber, Minister of Transport, Mr. Ursell Arends, Wingo executives, and executives and representatives of the Aruba Tourism Authority and AUA Airport.
Twice a week
Since this week, Wingo, a Colombian airline, started its two weekly additional flights, this time out of Medellin. The flights will be performed on Wednesdays and Saturdays with their aircraft B737-800 with 189 seats. On Wednesday the aircraft departs at 2:18 PM to Medellin. The return flight leaves at 5:56 PM to Aruba. On Saturday the flight leaves at 0:08 form Medlin arriving in Aruba at 1:08 PM. The return flight at 1:46 PM from Aruba arrives in Medellin at 2:30 PM. These operations translate to approximately 1500 additional seats to and from Aruba for Wingo. With this additional service as of October 2022, Wingo will now operate 5 flights per week out of Colombia, 3 from Bogota and 2 form Medellin.
Demand for Medellin
Until recently the direct route to Medellin is offered by Sarpa Airlines, with three flights per week. This means that Aruba Airport now has 5 flights per week non stop to and from Medellin offering an total amount of 500 seats to and from Medellin every week.
About Wingo
On October 29, 2016, Aero República S.A. doing business as Wingo was found. The company is owned by the Copa Holdings. Wingo started operations to Aruba in December of 2016 as the first Low-Cost Carrier to serve Aruba out of Colombia. Offering the local market and tourists low fares, good vibes, and lots of flexibility. Wingo domestic Colombian operation also offers flights to cities in Colombia such as Armenia, Barranquilla, Bogota, Cali, Cartagena, Medellin, San Andres and Santa Marta. Wingo also operates regular service out of Colombia to Costa Rica, Cuba, Curacao, Dominican Republic, Ecuador, Guatemala, Mexico, Panama and Peru.
Wingo stared operating its routes with Boeing 737-700's and changed their entire fleet two years ago. Nowadays they operate with 8 aircraft Boeing 737-8000 and each can carry up 189 passengers.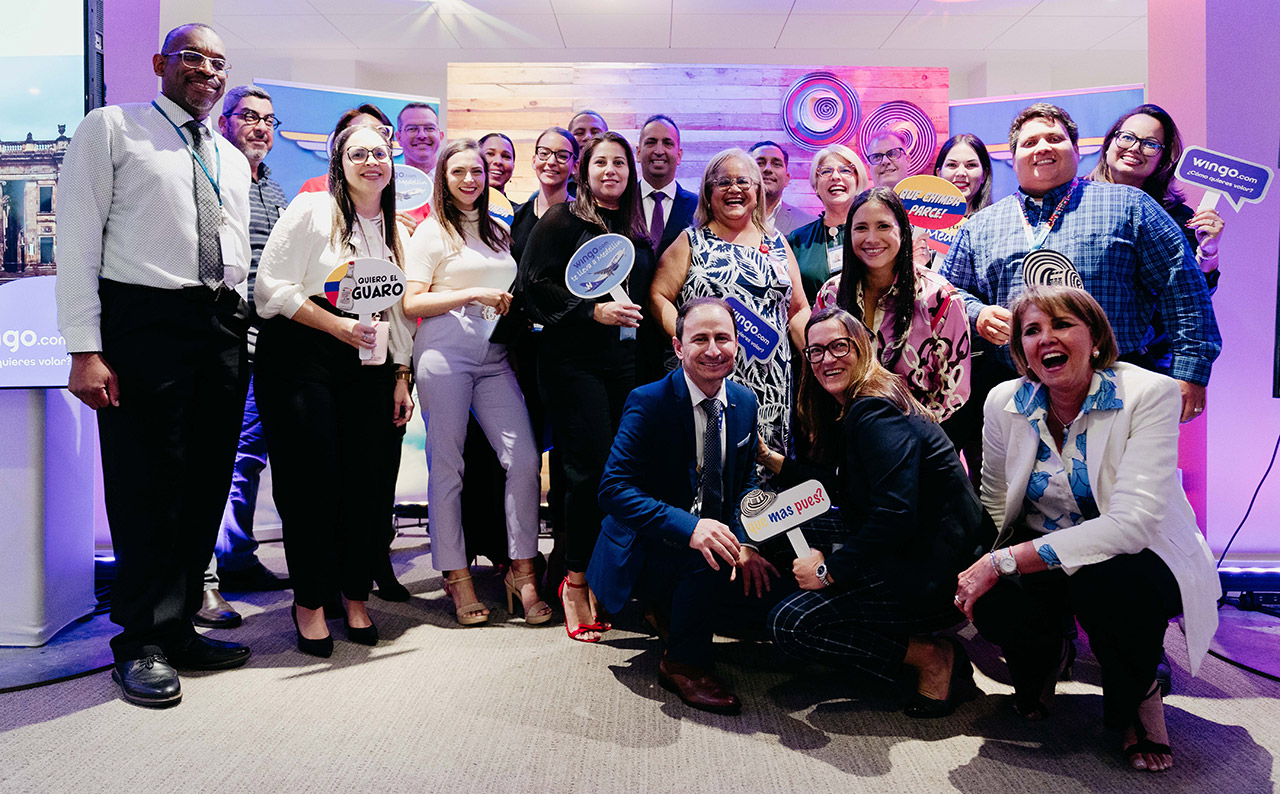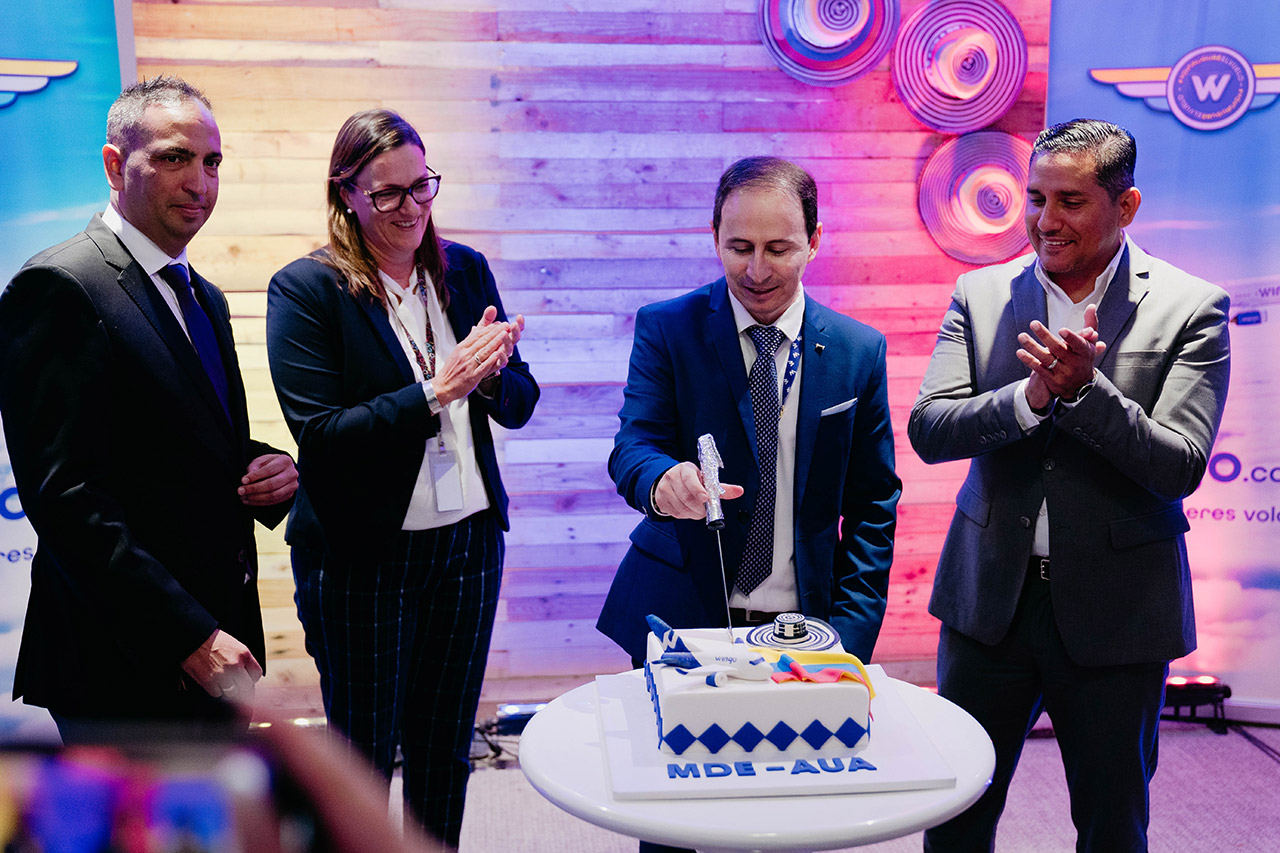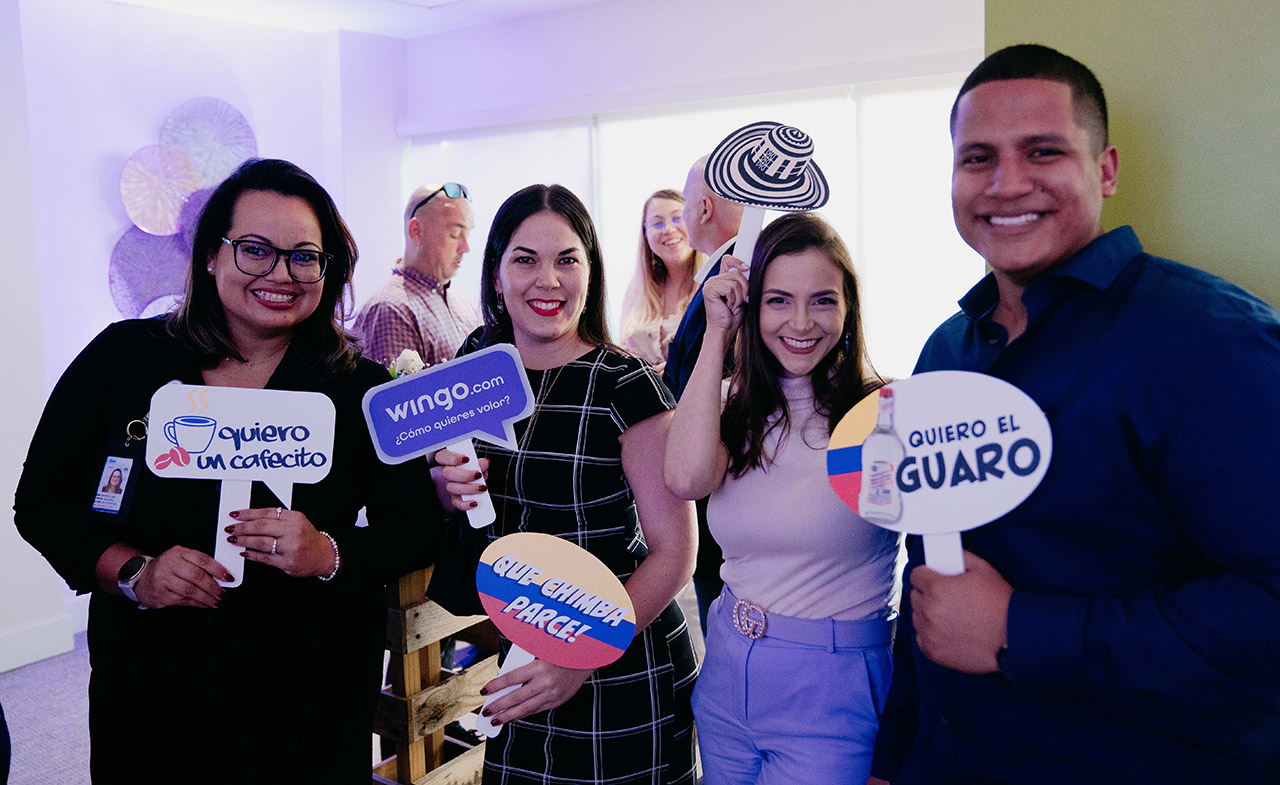 ---
Papiamento
Wingo ta sigui expande su halanan
AUA Airport a yama bonbini na mas vuelo for di Medellin
"Wingo ta un socio importante y valioso pa e aeropuerto di Aruba. Y nos ta contento cu e vuelo adicional pa y for di Medellin, como un porta nobo di entrada pa Colombia. E slogan di Wingo ta asi se vuela! Pa nos di Aruba Airport Authority, nos por cambia e slogan den Asi se vuela y se expande horizontes! Felicidades Wingo", asina Barbara Brown, Chief Commercial Officer di Aruba Airport Authority a bisa na ocacion di celebracion di e vuelo directo for di Medellin pa Aruba.
E evento a tuma luga diaranson atardi, ora e avion a yega Aruba yena di turista y tabata cla pa sali bek cu un cantidad di Arubiano cu ta prefera Medellin awendia pa pasa vakantie, haci compras of pa haci un check-up medico. Na aeropuerto tabata presente Minister di Turismo, Dangui Oduber, Minister di Transporte, Ursell Arends, gerencia di Wingo, gerencia di Aruba Airport Authority y representantenan di Aruba Tourism Authority.
Dos biaha pa siman
Desde e siman aki, e aeroliña Wingo di Colombia a start cu dos vuelo adicional pa siman, pero e biaha aki for di Medellin. E vuelonan lo ta riba diaranson y diasabra, cu nan avion B737-800 cu capacidad di 189 asiento. Riba diaranson e vuelo ta sali 2:18 pm for di Medellin. E buelo di regreso ta sali 5:56 pm for di Aruba. Riba diasabra e vuelo ta sali 10:08 am for di Medellin, yegando Aruba 1:08 pm. E vuelo di regreso ta sali 1:46 pm for di Aruba y yega Medellin pa 2:30 pm. Esaki ta traduci den aproximadamente 1500 asiento adicional pa/for di Aruba. Cu e servicio adicional desde october 2022, Wingo ta opera awo en total cinco (5) vuelo semanal for di Colombia, cu ta tres (3) for di Bogota y dos (2) for di Medellin.
Medellin ta den demanda
Te cu recien, e ruta directo pa Medellin ta wordo ofreci solamente door di Sarpa Airlines, cu tres vuelo semanal. Esaki ta nifica cu Aeropuerto Internacional Reina Beatrix (AUA Airport) awor tin 5 vuelo semanal nonstop pa/for di Medellin, cu ta yega na 500 asiento pa y for di Medellin tur siman.
Tocante Wingo
A funda Aero República S.A., cu ta opera bou di e nomber comercial Wingo, desde 19 di october 2016. E compania ta pertenece na Copa Holdings. El a cuminsa bula pa Aruba na december 2016 como e prome Low-Cost Carrier pa sirbi Aruba for di Colombia. Brindando mercadonan local y di placer tarifa abou, bon ambiente y hopi flexibilidad. Separa di Aruba, ta bon pa bisa cu Wingo ta bula tambe pa ciudadnan Colombiano, manera Armenia, Barranquilla, Bogota, Cali, Cartagena, Medellin, San Andres y Santa Marta. Ta bula vuelonan regular pa Costa Rica, Cuba, Corsou, Republica Dominicana, Ecuador, Guatemala, Mexico, Panama y Peru.
Wingo a cuminsa bula avionnan 737-700 pero dos aña pasa a cambia tur nan avionnan. Awendia nan ta bula avionnan marca Boeing, modelo 737-800. Nan tin ocho di e avionnan aki, cu ta carga no menos di 189 pasahero.