Exemplifying the close relationship between KLM and Aruba Airport.

October 10, 2021
During its relationship of close to 50 years between Aruba Airport and KLM, this is the first time that a historic house in Aruba was chosen as model for the miniature house collection of KLM. This is reason for a grand celebration as annually 850.000 of these miniature houses are gifted to KLM passengers that choose Business Class service on board international flights of KLM. Aruba Airport is very pleased that KLM is celebrating its 103rd birthday by honoring the relationship with Aruba in this special way and also announces the start of the celebratory period ahead where 100 years of aviation will be celebrated in Aruba in August of 2023.
The miniature house of KLM
Since 1952 the Dutch carrier KLM started gifting the renown KLM Blue Delft Miniature houses to its business class passengers. Originally these houses were created to honor the historic homes along the canals of Amsterdam. Each year another historical house of the Netherlands is chosen for the collection. Inside the miniature house passengers will find Bols Genever. Up to now the collection consisted of miniature house numbers 1 through 102 but as of October 7, 2022, house number 103 was added in the form of a replica of house Ecury in Aruba!
Aruba Airport: Congratulations KLM!
"We are honored to have been able to co-host the reveal of the miniature house number 103 of the Delft Blue house collection of KLM", said Joost Meijs, CEO of Aruba Airport during his speech at the celebratory event to celebrate the103rd birthday of this Dutch company. KLM organized a celebration together with Aruba Airport Authority N.V., The Aruba Tourism Authority, and the Foundation Monument Fund Aruba, in the center of Aruba's capital Oranjestad, in front of the monument that now stands as model for one of the miniature houses of KLM's collection which are gifted to business class passengers on all international flights.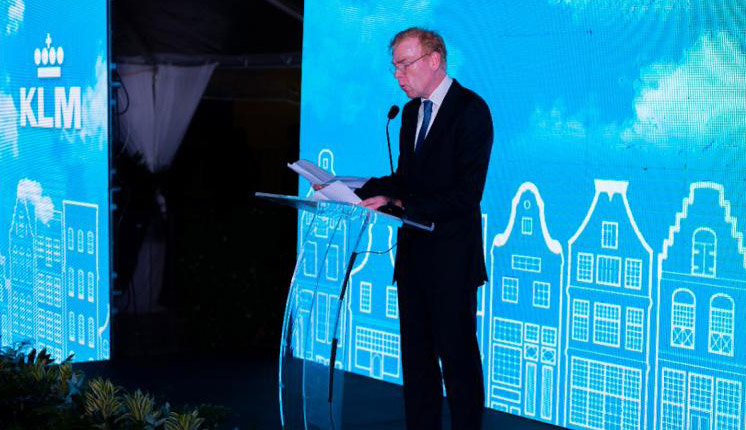 Guiding the sustainable journey
"We will continue to develop and shape the future of our aviation industry using the latest and most modern technologies. We will continue to follow the sustainability efforts on our path that arise not only in electric flight between the Dutch Caribbean islands, but also in developing our airport operations into the most sustainable one in the region in the years to come. Aruba Airport is committed to provide airport operations that are safe for future generations. We have started working on various trajectories of sustainability reaching various sustainability certifications within the aviation industry. Our ambition is not only a dream but will become a reality in the years to come", according to Joost Meijs.
100 years of aviation in Aruba
As proudly announced by CEO of Aruba Airport during the event: "Our celebration of 100 years of aviation in Aruba next year could not have started better with the gift of KLM, adding a miniature house of Aruba in their collection. We are very happy with the choice made by KLM to model the Ecury home being one of our local heritage sites. This house will give the Aruban touch to the grand collection of miniature houses of KLM but will also promote and protect our cultural heritage in support of Aruba's culture and sustainable development."
"For us at Aruba Airport this celebration comes at the right moment because we are about to reach an impressive milestone: 100 years of aviation in Aruba! To be exact, on the 18th of August 2023 Aruba will celebrate that 100 years ago the first flight arrived in Aruba. Ever since that day aviation has transformed the future of Aruba and KLM has played and continues to play an important role in that development".
The Historic house
This time around KLM choose the house of the Ecury family in Aruba as model for their miniature house number 103. This is a house that pertains to the Archeological Museum of Aruba. Noteworthy is that this house is located close to the area where the first aircraft landed in Aruba almost 100 years ago, namely the Paardenbaai port. From this house their son Nicasio "Dundun" Ecury formed their business imperium in Aruba. His son Boy Ecury studied in the Netherlands and became a war hero forming part of the resistance during World War II and was shot in 1944. Since 2009 the Ecury house forms part of the Archeological Museum of Aruba. The house itself dates from 1929 with various elements and details of the classic Caribbean style. The architect of the house was Dada Picus and created a unique, majestic, and harmonious building.
Long relationship between KLM and Aruba
The KLM-Fokker F.XVIII aircraft with three engines, known by its name "Snip", flew to Curacao for the first time in December of 1934. It took a total of 7 days to get to Curacao, departing out of Amsterdam on to Marseille, Alicante, Casablanca, Porto Praia, Paramaribo (Surinam), La Guaria and finally Curacao. This first transatlantic flight of KLM was technically only possible by making these various stops. On December the 23 in 1934 the Snip landed for the first time in Aruba. On the 18th of January 1953 it commenced its regular flights between Curacao and Aruba under the name of KLM West-Indisch Bedrijf (WIB). On the 11th of February 1974 the direct flights started between the Netherlands and Aruba and nowadays still operates daily to Aruba.
100 years of aviation in Aruba
Next year one hundred years of Aviation in Aruba will be celebrated. The Aruba Airport has managed to connect our island with various destinations around the world the past one hundred years through hard work and dedication. With it vision for and management of the airport, Aruba Airport has contributed to the economic development of Aruba into one of the most strong and resilient in the Caribbean region. It is good to note that KLM has played an important role during these past hundred years of aviation in Aruba. During the coming months Aruba Airport will be giving more shape to the celebration of these 100 years of aviation which will take place during the months ahead in 2023 leading up to the celebratory date itself.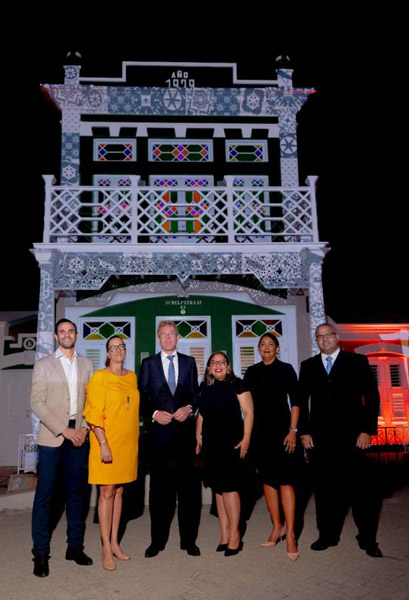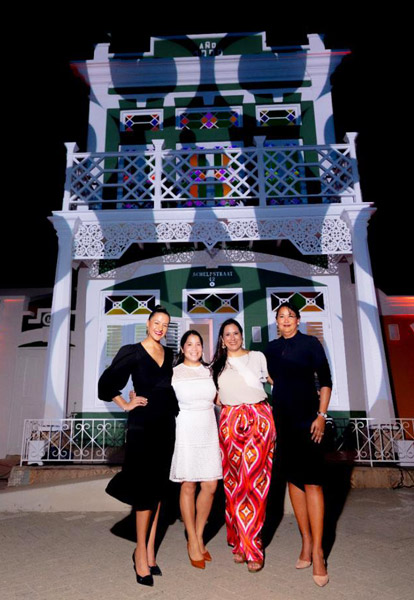 ---
Papiamento
Demostrando e relacion estrecho entre KLM y Aruba Airport:
KLM a dedica cas miniatura #103 na "Cas Ecury"
Den un relacion di casi 50 aña sigui entre Aruba Airport y KLM, esaki ta prome biaha cu ta scoge un cas antiguo di Aruba, como modelo pa e casnan miniatura di KLM. Ta motibo grandi pa celebra pasobra anualmente ta regala 850.000 cas n'e pasaheronan cu ta bula Business Class den vuelonan intercontinental di KLM. Aeropuerto di Aruba ta contento cu, di e forma aki, ta honra e relacion cu Aruba y ta duna inicio na celebracion di 100 aña di aviacion na Aruba, cu ta core casi paralelo cu e celebracion di 103 aña di existencia di KLM.
E casnan miniatura di KLM
Desde aña 1952 a cuminsa regala "KLM Blue Delft Miniature Houses" na pasaheronan cu ta bula den Business-Class cu e aerolinea Hulandes. Originalmente e casnan aki ta como honor na e casnan antiguo banda di e canalnan den Amsterdam. Cada pasa tanto tempo sa scoge un otro cas historico di Hulanda. Den e cas tin Bols Genever. Te cu awo, ta existi cas 1 te 102 y desde awe, cas 103 ta disponibel, como cas Ecury di Aruba!
AAA: Pabien KLM!
"Nos ta honra di ta co-anfrition pa desvelo di e cas number 103 di Delft Blue House di KLM", asina Joost Meijs, CEO di Aruba Airport a bisa den su discurso durante e evento pa celebra e di 103 aniversario di e compania di Hulanda. KLM a organisa un celebracion, hunto cu Aruba Airport Authority, Aruba Tourism Authority y Stichting Monumenten Fonds Aruba, den centro di ciudad, dilanti un monumento cu awor lo bira cas modelo riba tur vuelo di KLM, den nan seccion di Business Class.
Canando e trayecto sostenibel
"Nos lo sigui desaroya y duna forma na futuro di nos aviacion, uzando lo ultimo den tecnologia moderno. Nos lo sigui e caminda di esfuerso sostenibel, no solamente den operacion di avion di coriente entre e islanan, pero tambe den realisa henter nos operacion na aeropuerto den esun mas sostenibel den nos region, den e añanan nos dilanti. Lo ofrece operacion di aeropuerto sigur pa e futuro generacionnan. Nos a cuminsa encamina varios trayecto di sostenibilidad, logrando diferente certificacion di sostenibilidad den industria di aviacion. Nos ambicion no ta solamente un soño, pero cu lo bira un realidad den e añanan nos dilanti", di acuerdo cu Joost Meijs.
Shen aña di aviacion na Aruba
E director di Aruba Airport Authority tabata masha orguyoso di anuncia mesora cu "Nos celebracion di shen aña di aviacion na Aruba otro aña, no por a cuminsa miho, cu e regalo aki di KLM, añadiendo un cas miniatura di Aruba den nan coleccion. Nos ta hopi contento cu e escogencia di KLM pa uza e cas di famia Ecury como un di nos patrimonionan nacional. E cas aki lo duna un sabor Rubiano na e coleccion grandi di casnan miniatura di KLM, pero tambe pa promove y proteha nos patrimonio cultural y como un aporte na cultura y desaroyo sostenibel pa nos isla".
"Pa nos di Aruba Airport, e celebracion aki ta bin na un bon momento pasobra nos ta den alcansa un logro impresionante; 100 aña di aviacion na Aruba! Pa ta exacto, dia 18 di augustus 2023, Aruba ta recorda cu shen aña pasa e prome avion a baha na Aruba, pa colmo un KLM. Desde e dia ey aviacion a transforma e futuro di Aruba y KLM a hunga y ta hungando un rol importante den esey".
E cas historico
E biaha aki KLM a scoge cas di famia Ecury na Aruba, como nan cas number 103. Ta trata aki di un cas cu ta pertenece na Museo Arkeologico di Aruba. Ta bon pa bisa, cu e cas aki ta situa cerca di unda e prome avion a baha na Aruba casi 100 aña pasa, esta den waf di Paardenbaai. For di e cas aki, nan yiu Nicasio "Dundun" Ecury a forma su imperio di negoshi. Su yiu Boy Ecury a bay studia na Hulanda y a bira un heroe di guera, ora a fusil'e na 1944. Desde aña 2009 a haci e cas parti di Museo Arkeologico di Aruba. E cas mes ta di aña 1929 cu varios elemento y panorama clasico y Caribense. E arkitecto tabata Dada Picus, a crea, den un forma unico y statico, un compleho harmonioso.
Relacion largo entre KLM y Aruba
E avion KLM-Fokker F.XVIII di tres motor, conoci bou di e nomber "Snip" a bula pa Corsou, pa prome biaha na december 1934. El a dura shete dia pa yega, saliendo for di Amsterdam pa Marseille, Alicante, Casablanca, Porto Praia, Paramaribo (Surnam), La Guaria y finalmente yegando Corsou. E prome vuelo transatlantico aki di KLM tabata posibel tecnicamente, solamente door di haci varios escala. Dia 23 di december 1934, Snip a haci su prome "touch down" na Aruba. Dia 19 di januari 1935 a start cu vuelo regular entre Corsou y Aruba, bou di e nomber di KLM West-Indisch Bedrijf (WIB). Dia 11 di februari 1974, a start cu un vuelo regular y direct entre Hulanda y Aruba, cu awendia ta yega diariamente riba nos isla.
Shen aña di aviacion na Aruba
Otro aña ta celebra 100 aña di aviacion riba Aruba. Door di trabou duro di Aruba Airport Authority, a logra pa den e ultimo shen añanan, ta conecta nos isla cu hopi destinacion rond mundo. Cu e vision y maneho aki, a logra desaroya economia di Aruba den un di esunnan di mas fuerte y resiliente den Caribe. Ta bon pa menciona cu KLM a hunga un rol importante den e ultimo shen añanan di aviacion na Aruba. Durante e siguiente lunanan, Aruba Airport lo duna mas forma na e celebracion di 100 aña di aviacion, cu ta tuma luga durante henter aña 2023.