June 14, 2022
ORANJESTAD – Aruba Airport Authority N.V. (AAA) is excited to share news on its fastest-growing market: Latin America.
Latin American airlines Wingo and Sarpa recently informed about their plans to add additional flights to their weekly itinerary starting June 7th for Wingo and June 21st for Sarpa.
Queen Beatrix International Airport (AUA Airport) currently has a total of 4 Latin American Airlines (Avianca, Copa Airlines, Wingo, and Sarpa) who offer direct service to Colombia (Bogota, Medellin, and Barranquilla) and Panama. As a destination Aruba has in total 20 weekly flights from the Latin American region of which 13 are weekly flights from Colombia alone (vs. 16 weekly flights in 2019). The Latin American market accounts for 8% market share of AUA Airport's total traffic distribution.
As of Tuesday, June 7, 2022, Wingo offers 3 weekly direct service from Bogota, which means an addition of 1 weekly flight to its previous 2 weekly flights on Thursdays and Sundays. Wingo added a Tuesday operation. Copa's low-cost subsidiary uses a 737-800 aircraft with 186 seats on this additional flight, which translates into a 50% increase in weekly seat capacity (from 372 to 558 seats).
After starting commercial service to Aruba in January 2022 (2 weekly service on Wednesdays and Sundays), Sarpa is ready to offer an additional service also as of Tuesday, June 21, 2022, to Aruba. This will mean 3 weekly direct service on the Medellin - Aruba route on board the 50-seater Embraer 145 aircraft. These operations will be adapted to operate on Tuesdays, Thursdays, and Sundays.
"With these additional flights secured for AUA Airport, both the Latin American and local market will benefit greatly. Avianca also added 2 weekly service for the period May 22nd until June 19th , 2022, showing continued confidence in our destination. We actively and continuously seek to attract new service to AUA Airport and the response from our airline partners is an acknowledgement that our efforts are aimed in the right direction. We are thankful and celebrate each service addition with a cheerful spirit!" said Air Service Development Manager Jo-Anne Arends on behalf of the entire AAA team.
For more information and to book any of these flights please visit www.wingo.com and www.sarpa.com.co.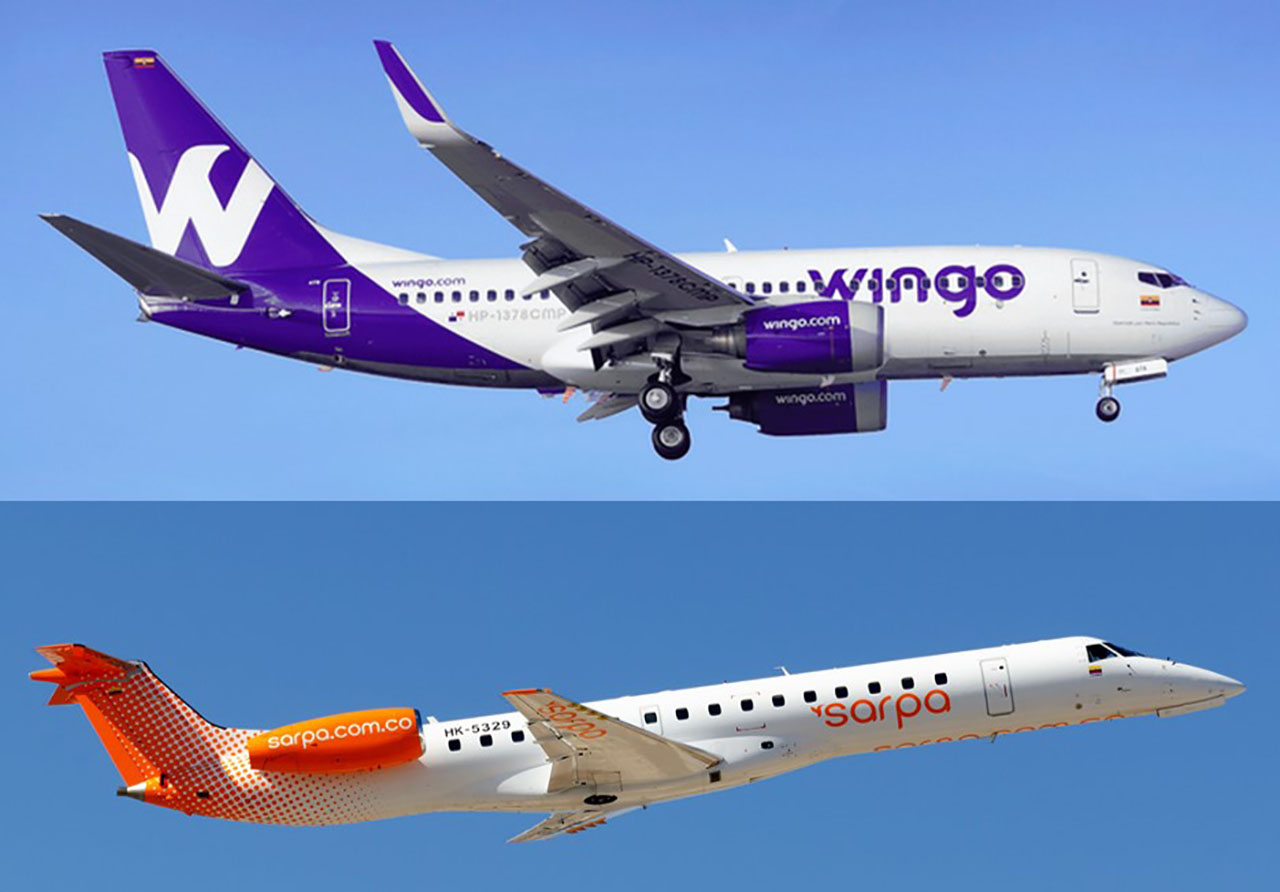 ---
Papiamento
Aerolineanan Latino Americano ta reconfirma confianza den Aruba:
Wingo y Sarpa ta agrega tercer frecuencia semanal den Juni 2022
ORANJESTAD – Aruba Airport Authority N.V. (AAA) ta contento pa comparti informacion tocante su mercado cu mas liher ta creciendo: Latino America.
Aerolineanan Latino Americano Wingo y Sarpa recientemente a informa tocante nan plannan pa agrega buelonan adicional na nan itinerarionan semanal cuminsando 7 di Juni pa Wingo y 21 di Juni pa Sarpa.
Aeropuerto Internacional Reina Beatrix (AUA Airport) actualmente tin un total di 4 aerolinea Latino Americano (Avianca, Copa Airlines, Wingo y Sarpa) cu ta ofrece servicio directo pa Colombia (Bogota, Medellin y Barranquilla) y Panama. Como destinacion Aruba tin 20 buelo semanal for di e region Latino Americano di cual 13 ta buelo semanal for di Colombia so (compara cu 16 buelo semanal na 2019). E mercado Latino Americano ta conta pa 8% di market share di AUA Airport su distribucion total di trafico.
Desde diamars 7 di Juni, 2022, Wingo ta ofrese 3 servicio directo semanal for di Bogota, cu ta nifica un buelo extra semanal na su 2 buelonan programa riba Diahuebs y Diadomingo. Wingo awo a agrega un buelo riba diamars. Copa su subsidiario "low-cost" ta usa e avion tipo 737-800 cu 186 buelo pa e buelo adicional aki, cu ta traduci den un auemnto di 50% den e capacidad di asiento semanal (for di 372 pa 558 asiento).
Despues di cuminsa cu servicio comercial pa Aruba na Januari 2022 (2 servicio semanal riba Diaranson y Diadomingo), Sarpa ta cla pa ofrece servicio adicional tambe desde Diamars, 21 di Juni 2022 pa Aruba. Esaki lo nifica un tercer buelo directo semanal riba e ruta Medellin - Aruba abordo di e avion Embraer 145 di 50 asiento. E operacionnan aki lo wordo adapta pa opera riba Diamars, Diahuebs y Diadomingo.
"Cu e buelonan adicional aki sigura pa AUA Airport, tanto e mercadonan Latino Americano y esun local lo beneficia grandemente. Avianca tambe a agrega 2 servicio semanal pa e periodo di 22 di Mei pa 19 di Juni, 2022, demostrando e confianza continuo den nos destinacion. Nos semper ta activamente y continuamente en busca pa atrae servicio nobo pa AUA Airport y e contesta for di nos aerolineanan partner ta un reconocimento cu nos esfuersonan ta den e direccion corecto. Nos ta agradecido y ta celebra tur servicio nobo cu hopi smaak!" asina Air Service Development Manager Jo-Anne Arends a bisa den nomber di e ekipo completo di AAA.
Pa mas informacion y pa reserva pasashi pa cualkier di e buelonan aki por bishita www.wingo.com y www.sarpa.com.co.