Aruba Airport Achieves Remarkable Milestones at Routes World 2023
ORANJESTAD – Aruba Airport Authority N.V. (AAA), represented by Barbara Brown, Chief Revenue Development & Communications Officer, and Jo-Anne Meaux-Arends, Aviation Business Development Executive, attended the 28th edition of Routes World in Istanbul. Routes World is a key event in the global aviation industry, bringing together over 2,500 decision-makers from airlines, airports, and aviation stakeholders, as reported by Routes Online.
During the conference, Aruba Airport held more than 20 meetings with both established and emerging airlines, as well as key airports like Bello Horizonte and Guarulhos Airport. The meetings resulted in the establishment of exciting new partnerships with industry leaders such as Flair Airlines, Air France, Edelweiss Air AG, and Breeze. As Aruba has experienced an increased demand, particularly from the US, Canada, and Latin America market, attending such a conference solidifies its position further as a high-yield market and preferred destination for airlines seeking to expand.
Aruba Airport also addressed capacity challenges in Europe, including at Schiphol, and discussed airlift plans for 2024-2026. These plans include significant expansion projects at AUA, the island's room inventory developments, and introduction of new services and additional flight frequencies. Notable highlights include:
Southwest is set to increase its summer 2024 flight frequency on the Baltimore (BWI) – Aruba (AUA) route. The service will transition from 2 weekly flights to 5 weekly flights, using a Boeing 737 and 738 aircraft, offering approximately 143 seats per flight. This expansion is expected to generate approximately 429 additional weekly seats to Aruba from Baltimore. Southwest has already made substantial strides at Aruba Airport, with an earlier increase in flight frequency from Orlando (MCO) to daily service earlier this year.
Delta Air Lines has confirmed the addition of a second service at JFK for the winter season and plans to upgrade its aircraft from a B757 to an A320 neo in response to growing demand.
Copa Airlines, which currently operates daily flights to Panama (PTY), plans to double its flights in 2024, demonstrating a strong commitment to expansion.
Canadian Airlines are dedicated to enhancing direct service to the island during the summer months, offering passengers more travel options.
Wingo is expected to establish a fourth gateway in 2024, further enhancing connectivity and accessibility to Latin America.
These developments mark an exciting phase of growth and enhanced travel options for Aruba Airport, as it positions itself to offer travelers exceptional experiences and further strengthens its prominent position in the global aviation industry.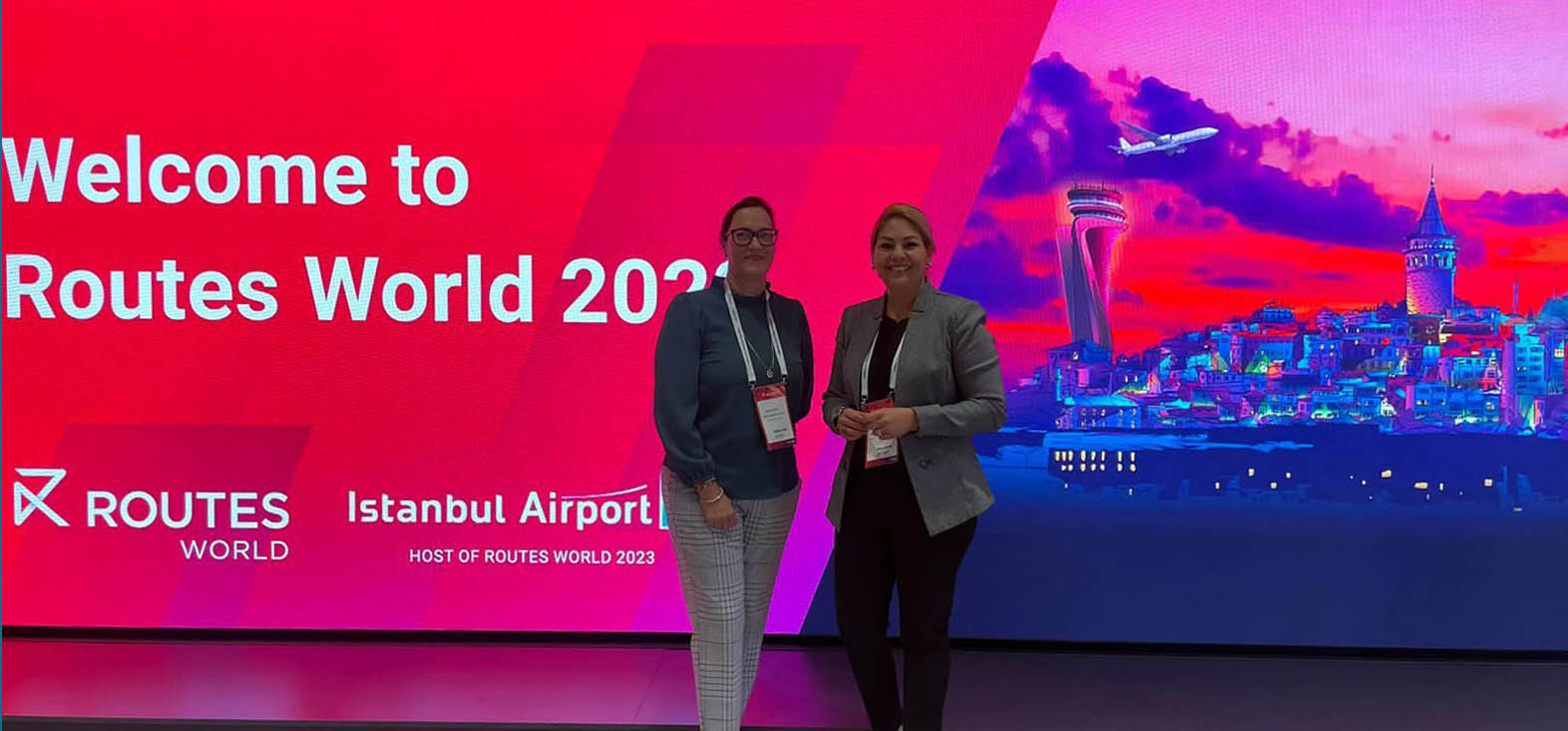 ---
Español
El Aeropuerto de Aruba alcanza hitos notables en Routes World 2023
ORANJESTAD – La Autoridad Aeroportuaria de Aruba N.V. (AAA), representada por Barbara Brown, directora de desarrollo de ingresos y comunicaciones, y Jo-Anne Meaux-Arends, ejecutiva de desarrollo de negocios de aviación, asistieron a la 28ª edición de Routes World en Estambul. Routes World es un evento clave en la industria de la aviación global, que reúne a más de 2500 responsables de compañías aéreas, aeropuertos y partes interesadas en la aviación, según informó Routes Online.
Durante la conferencia, el Aeropuerto de Aruba celebró más de 20 reuniones con aerolíneas tanto establecidas como emergentes, así como con aeropuertos clave como Bello Horizonte y el Aeropuerto de Guarulhos. Las reuniones dieron como resultado el establecimiento de nuevas e interesantes asociaciones con líderes de la industria como Flair Airlines, Air France, Edelweiss Air AG y Breeze. Dado que Aruba ha experimentado una mayor demanda, particularmente del mercado de EE. UU., Canadá y América Latina, asistir a una conferencia de este tipo consolida aún más su posición como mercado de alto rendimiento y destino preferido para las aerolíneas que buscan expandirse.
El aeropuerto de Aruba también abordó los retos de capacidad en Europa, incluido Schiphol, y habló de los planes de transporte aéreo para 2024-2026. Estos planes incluyen importantes proyectos de expansión en el AUA, el desarrollo del inventario de habitaciones de la isla y la introducción de nuevos servicios y frecuencias de vuelo adicionales. Entre los aspectos más destacados incluyen:
Southwest aumentará su frecuencia de vuelos en el verano de 2024 en la ruta Baltimore (BWI) – Aruba (AUA). El servicio pasará de 2 vuelos semanales a 5 vuelos semanales, utilizando aviones Boeing 737 y 738, ofreciendo aproximadamente 143 asientos por vuelo. Se espera que esta expansión genere aproximadamente 429 asientos semanales adicionales a Aruba desde Baltimore. Southwest ya ha logrado avances sustanciales en el aeropuerto de Aruba, con un aumento anterior en la frecuencia de vuelos desde Orlando (MCO) al servicio diario a principios de este año.
Delta Air Lines ha confirmado la incorporación de un segundo servicio en JFK para la temporada de invierno y planea actualizar su avión de un B757 a un A320 neo en respuesta a la creciente demanda.
Copa Airlines, que actualmente opera vuelos diarios a Panamá (PTY), tiene previsto duplicar sus vuelos en 2024, lo que demuestra una fuerte apuesta por la expansión.
Canadian Airlines se ha dedicado a mejorar el servicio directo a la isla durante los meses de verano, ofreciendo a los pasajeros más opciones de viaje.
Se espera que Wingo establezca una cuarta puerta de enlace en 2024, mejorando aún más la conectividad y la accesibilidad a Latinoamérica.
Estos desarrollos marcan una fase emocionante de crecimiento y mejores opciones de viaje para el Aeropuerto de Aruba, ya que se posiciona para ofrecer a los viajeros experiencias excepcionales y fortalece aún más su posición destacada en la industria de la aviación global.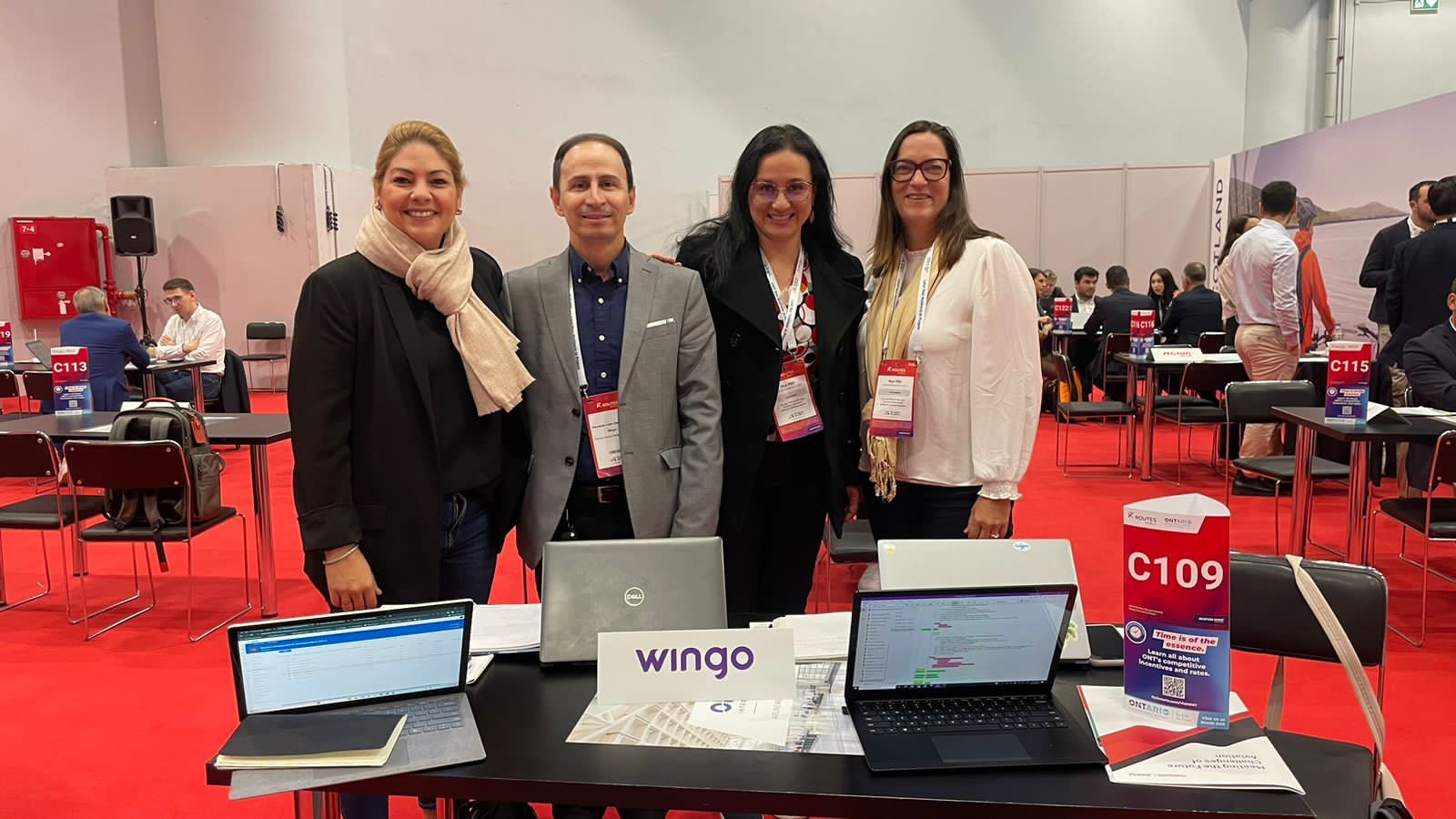 ---
Papiamento
Aeropuerto di Aruba cu logro remarcabel durante Routes World 2023
Aruba Airport Authority N.V. (AAA) den representacion di Barbara Brown, Chief Revenue Development & Communications Officer y Jo-Anne Meaux-Arends, Aviation Business Development Executive, a atende e di 28 edicion di Routes World na Istanbul. Routes World ta un evento clave den industria global di aviacion, treciendo mas di 2.500 profesional den e industria di aviacion, aeropuerto y stakeholders di aviacion, segun Routes Online mes a informa.
Durante e conferencia, Aeropuerto di Aruba a tene mas di 20 reunion cu aerolineanan estableci caba como tambe esunnan cu ta cuminsando. Tambe cu diferente aeropuerto clave manera Bello Horizonte y Guarulhos Airport.
Como resultado di e reunionnan aki, a establece diferente asociacion cu lidernan den e industria manera Flair Airlines, Air France, Edelweiss Air AG y Breeze. Mirando cu Aruba ta experenciando mas demanda, particularmente for di e mercado di Merca, Canada y Latino America, asisti na un conferencia di e tipo aki ta fortalece e posicion di Aeropuerto di Aruba como un mercado di gran productividad y destinacion preferi pa e aerolineanan cu ta en busca di un expansion.
Ademas, Aeropuerto di Aruba a aborda e retonan di capacidad na Europa, incluyendo Schiphol y a combersa riba e plannan di transporte aereo pa 2024-2026. E plannan aki ta inclui varios proyecto importante di expansion na Aruba, desaroyo di e inventario di cambernan na Aruba y introduccion di servicio nobo y mas frecuencia di vuelo.
E aspectonan cu mas a destaca a inclui:
Southwest lo aumenta frecuencia di vuelo den zomer 2024 pa e ruta di Baltimore (BWI) - Aruba (AUA). E servicio lo bay di 2 vuelo pa siman pa 5 vuelo pa siman, haciendo uzo di avion Boeing 737 y 738, ofreciendo aproximadamente 143 asiento pa vuelo. Ta spera cu e expansion aki lo genera aproximadamente 429 asiento semanal adicional pa Aruba for di Baltimore. Ya caba Southwest a logra avance substancial na Aeropuerto di Aruba, cu un aumento anterior den e frecuencia di vuelo desde Orlando (MCO) na servicio diario na comienso di e aña aki.
Delta Air Lines a confirma e incorporacion di un di dos servicio for di JFK (New York) pa e temporada di winter y tin plan pa actualisa su avion di un B757 pa un A320-neo debi na e demanda cu ta creciendo.
Copa Airlines, cu actualmente ta opera vuelo diario pa Panama (PTY), tin planea pa dobel e vuelonan aki pa 2024, demostrando un compromiso cu expansion.
Canadian Airlines ta dedica na mehora e servicio directo na nos isla durante e lunanan di zomer, ofreciendo su pasaheronan mas opcion di biahe.
Ta spera cu Wingo lo por establece un di cuater destinacion pa 2024, mehorando ainda mas e conexion y accesibilidad pa Latino America.
E desaroyonan aki ta marca un fase emocionante di crecemento y miho opcion di biahe pa Aeropuerto di Aruba, ya cu e ta den un posicion pa ofrece e biaheronan un experiencia excepcional y fortalece ainda mas su posicion den e industria di aviacion global.