Februari 17, 2023
ORANJESTAD – Aruba Airport started the weekend with a celebration of yet another inaugural flight – this time nonstop service operated by Jetair from Bonaire.
"We are excited to be able to expand our network to and from Aruba by means of an additional operation directly for Bonaire. February the 17th marked the first direct service from Bonaire after a departure from Curacao through Bonaire this early morning. Besides operations to and from Curacao in a fast and comfortable manner, Jetair now also offers this service to and from Bonaire each week on Wednesdays and Fridays. Furthermore, Jetair also offers seamless connections from Aruba to and from Kingston on Mondays and to and from Sint Maarten on Fridays. We are excited to offer this new service to Aruba and we hope to see you on board soon," expressed Jetair's CEO Mr. Robert Maas.
As mentioned by Mr. Maas, Jetair is scheduled to provide non-stop service from Bonaire to Aruba twice a week. Jetair will use an F70 aircraft, with a capacity of 80 seats. The airline's scheduled arrival and departure times compliment leisure and business traffic in both directions:
Wednesdays - The aircraft will depart from Aruba at 7:10 PM, arriving in Bonaire at 8:00 PM, and departing back to Curacao at 8:45 PM.
Fridays - The aircraft will depart from Bonaire at 8:25 AM, arriving in Aruba at 9:15 AM, and departing back to Curacao at 10:00 AM.
Jetair is a Curacao based airline offering interisland service between Aruba, Curacao and now also Bonaire, with wide connection possibilities to other Caribbean destinations such as Paramaribo, Kingston, St. Domingo, St. Maarten, and Port-Au-Prince. "We are very excited to welcome Jetair's new nonstop service to and from Bonaire expanding the available options even further for inter-island traffic and thus connectivity between the Dutch Kingdom islands. The latter is high on our agenda also to further stimulate the traffic between the ABC islands. We wish the airline much success with this new route," said AAA's CEO Mr. Joost Meijs.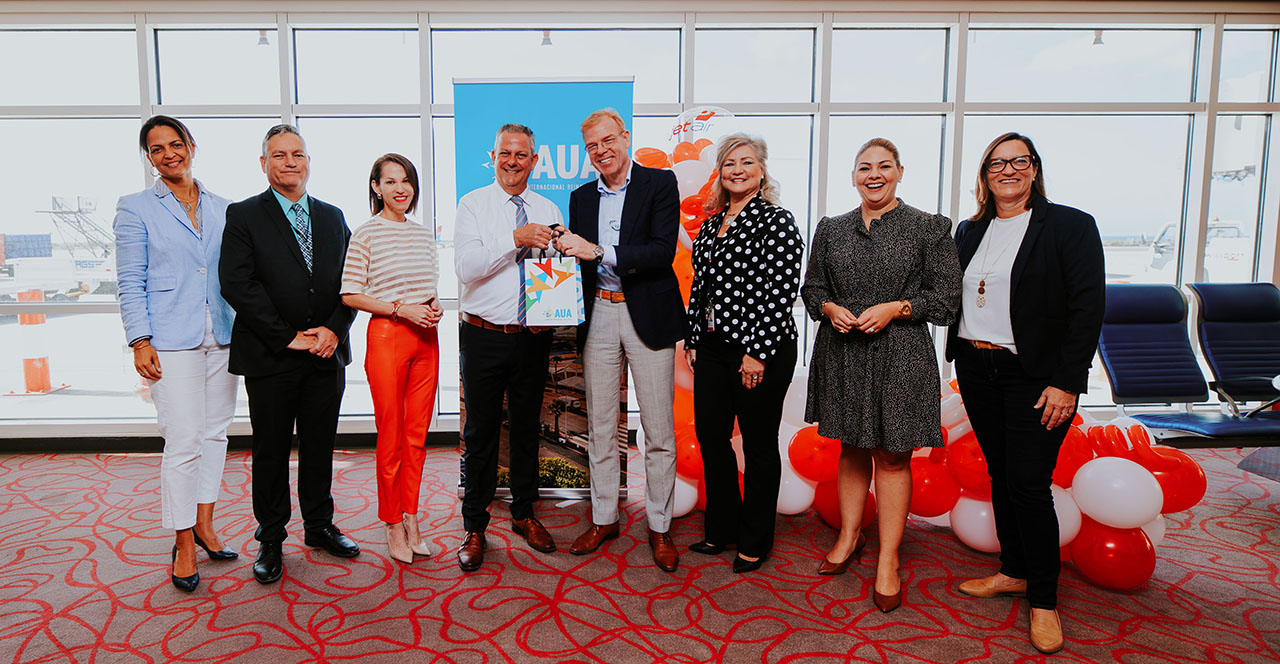 ---
Español
El aeropuerto AUA dio la bienvenida al vuelo inaugural de Jetair desde Bonaire
ORANJESTAD – El aeropuerto de Aruba comenzó el fin de semana con la celebración de otro vuelo inaugural, esta vez un servicio sin escalas operado por Jetair desde Bonaire.
"Estamos emocionados de poder expandir nuestra red hacia y desde Aruba por medio de una operación adicional directamente para Bonaire. El 17 de febrero marcó el primer servicio directo desde Bonaire después de una salida de Curazao a través de Bonaire esta mañana temprano. Además de las operaciones hacia y desde Curacao de manera rápida y cómoda, Jetair ahora también ofrece este servicio desde y hacia Bonaire cada semana los miércoles y viernes.Además, Jetair también ofrece conexiones fluidas desde Aruba hacia y desde Kingston los lunes y hacia y desde Sint Maarten los viernes. Estamos emocionados de ofrecer este nuevo servicio a Aruba y esperamos verlo pronto a bordo", expresó el director ejecutivo de Jetair, el Sr. Robert Maas.
Como mencionó el Sr. Maas, Jetair está programado para brindar un servicio sin escalas desde Bonaire a Aruba dos veces por semana. Jetair utilizará un avión F70, con una capacidad de 80 asientos. Los horarios de llegada y salida programados de la aerolínea complementan el tráfico de ocio y de negocios en ambas direcciones:
Miércoles: el avión partirá de Aruba a las 7:10 p. m., llegará a Bonaire a las 8:00 p. m. y regresará a Curazao a las 8:45 p. m.
Viernes: el avión partirá de Bonaire a las 8:25 a. m., llegará a Aruba a las 9:15 a. m. y regresará a Curazao a las 10:00 a. m.
Jetair es una aerolínea con sede en Curazao que ofrece servicio interinsular entre Aruba, Curazao y ahora también Bonaire, con amplias posibilidades de conexión a otros destinos del Caribe como Paramaribo, Kingston, St. Domingo, St. Maarten y Port-Au-Prince. "Estamos muy emocionados de dar la bienvenida al nuevo servicio sin escalas de Jetair desde y hacia Bonaire, ampliando aún más las opciones disponibles para el tráfico entre islas y, por lo tanto, la conectividad entre las islas del Reino Holandés. Este último ocupa un lugar destacado en nuestra agenda también para estimular aún más el tráfico entre las islas ABC. Deseamos mucho éxito a la aerolínea con esta nueva ruta", dijo el director ejecutivo de AAA, el Sr. Joost Meijs.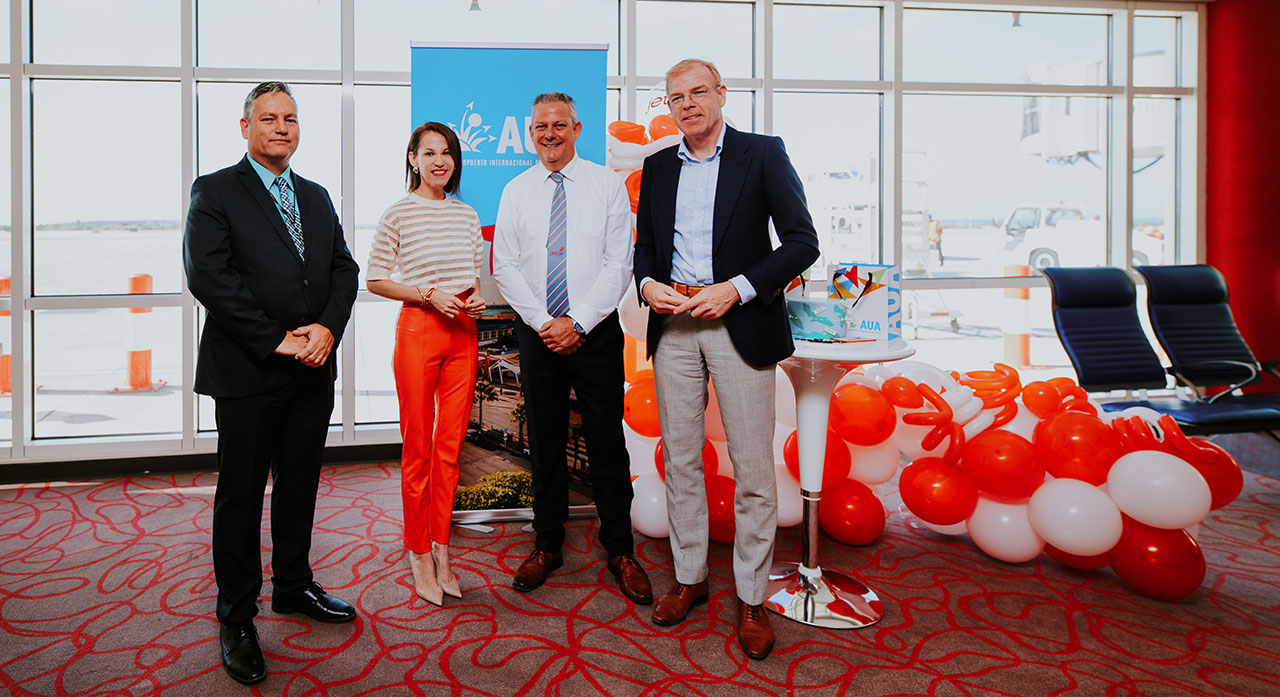 ---
Papiamento
AUA Airport a yama bonbini na Jetair su buelo inaugural for di Boneiro
ORANJESTAD – AUA Airport a cuminsa e weekend aki cu un celebracion di un buelo inaugural mas – e biaha aki un buelo directo cu Jetair for di Boneiro.
"Nos ta sumamente contento di por a expande nos rutanan den Caribe pa y desde Aruba cu un operacion adicional for di Boneiro. 17 di februari ta marca e prome dia cu nos servicio directo for di Boneiro despues di a sali mainta trempan for di Corsow. Banda di e operacionnan di y pa Corsow den un manera liher y comfortabel, Jetair awo lo trece e servicio aki pa y desde Boneiro tur siman riba diaranson y diabierna. Adicionalmente, Jetair ta ofrese coneccionnan facil for di Aruba pa Kingston riba dialuna y tambe pa Sint Maarten riba diabierna. Nos ta ansioso di por ofrese e servicio nobo aki pa Aruba y nos ta spera di mira bo pronto abordo," asina Jetair su CEO Sr. Robert Maas a expresa.
Manera Sr. Maas a menciona, Jetair ta programa pa brinda servicio non-stop for di Boneiro pa Aruba dos biaha pa siman. Jetair lo usa un avion F70, cu e capacidad di 80 asiento. E aerolinea su schedule di yegada y salida ta complimenta e trafico di biahamento pa placer y pa negoshi den ambos direccion:
Diaranson – E avion lo sali for di Aruba 7:10 PM, yegando Boneiro 8:00 PM, y saliendo bek pa Corsow 8:45 PM.
Diabierna – E avion lo sali for di Boneiro 8:25 AM, yegando Aruba 9:15 AM, y saliendo bek pa Corsow 10:00 AM.
Jetair ta un aerolinea cu base na Corsow cu lo ofrese servicio entre e islanan Aruba, Corsow, y awo tambe Boneiro cu posibilidad amplio pa conecta cu otro destinacionnan den Caribe, manera Paramaribo, Kingston, Santo Domingo, Sint Maarten, y Port-Au-Prince. "Nos ta feliz di por yama Jetair como un di nos partnernan bonbini atrobe cu e servicio nobo non-stop di Bonairo. Asina aki nos ta ampliando e opcionnan disponible pa cu trafico aéreo entre e islnan den Reino Hulandes. Esaki tin un luga importante den nos agenda pa stimula ainda mas e trafico meymey di e islanan ABC. Nos ta desea e aerolinea un trayectoria fructifero cu e servicio nobo aki," asina AAA su CEO, Joost Meijs a bisa.