January 10, 2023
ORANJESTAD – Aruba Airport Authority N.V. (AAA) is happy to report the AUA Airport's passenger traffic performance for the year 2022; passenger flow numbers increased considerably in the last three quarters of the year showing excellent recovery rates versus the same period in 2019. The total amount of revenue generating passengers (departing passengers) handled in 2022 was recorded at 1,207,587 which represents a recovery of 95% versus 2019. The departing passenger number in 2022 increased with 38% when comparing this to 2021.
Recovery per quarter in 2022
For each quarter in 2022 the passenger traffic numbers per market performed as follows: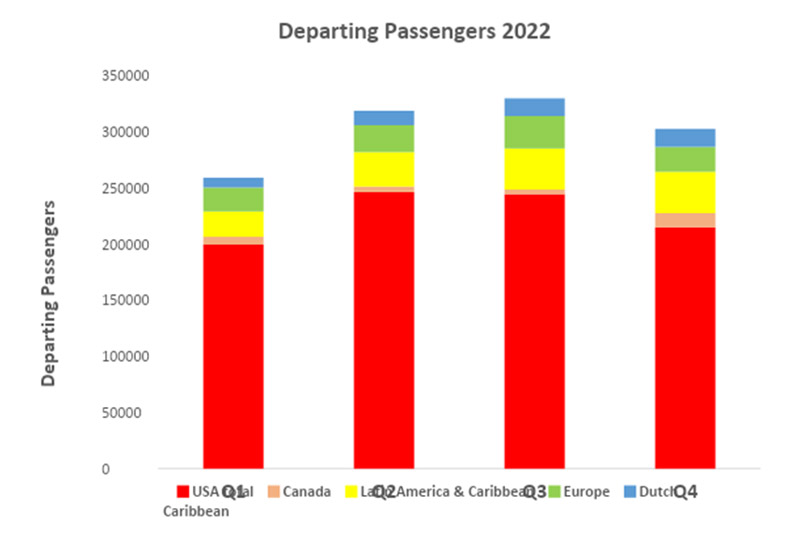 During the first quarter of 2022, 77% of departing passengers were recovered versus the year 2019. The remaining quarters of 2022 showed a recovery versus the same period in 2019 of respectively 101%, 102% and 103%.
Diversifying the US and NON-US markets further in 2022
Whilst the US Market represented a total of 81% of the total departing passengers in 2021, this decreased to 75% at the end of 2022. This is in line with the strategy set forth by AUA airport to diversify the markets served from and to AUA airport as much as possible. This resulted in an increase in the market share of the NON-US Market from 19% in 2021 to 25% in 2022.
New routes and additional frequencies 2022
In the year 2022 several airlines either started new operations to AUA Airport or amped up their frequencies. Airlines like Jet Air Caribbean and Arajet commenced operations with direct service out of Curacao and Santo Domingo with twice weekly service. Southwest started their new route with direct operations out of Orlando in the USA and Wingo commenced its successful operations out of Medellin Colombia and added frequencies to and from Bogota in Colombia. Sunclass Airlines restarted their operations out of Stockholm, and Air Canada restarted their operations out of Toronto Canada.
Flight departure and load factors 2022
The total amount of aircraft movements for 2022 stands at 11,597 which is 22% more than the amount of flight departures reported in 2021 and a recovery of 87% versus the number of movements in 2019 for departing flights. An average load factor of 85% was reported in 2019 and for 2022 an average load factor of 83% was reached.
Outlook 2023
For the year 2023 the AUA airport is expecting to receive approximately 13% more compared to 2022. The NON-US market share is expected to increase further in the year 2023 with new airlift opportunities being explored from those markets. A new route out of Europe with British Airways will be launched in March of 2023 and more new opportunities are being explored and developed stemming from the Latin American market. AUA Airport is confident that the year 2023 will be another successful year for the number of passengers and aircraft movements that will be handled.
About AUA Airport
AUA Airport is one of the busiest airports in the Caribbean region, with 24 different airlines operating into Aruba contributing to processing over 2.4 million passengers per year and providing air service to 26 destinations worldwide. AUA Airport is operationally solid where over 95% of all visitors are leisure guests: 77% from the United States & Canada, 10% from Latin America, 8% from Europe, and 4% from Dutch Caribbean, year to date, December 2022. AUA Airport attributes this to the island's stable economic and political climate, hospitable and multilingual population, and safe environment. AUA Airport undergoes continuous upgrades to maintain its position as one of the region's most innovative airports.
Learn more about what's happening at AUA Airport by visiting www.airportaruba.com and connect with AUA Airport on Twitter.com/Aruba_Airport, Facebook.com/ArubaAirport, Instagram.com/arubaairport/ and Linkedin.com/ArubaAirport.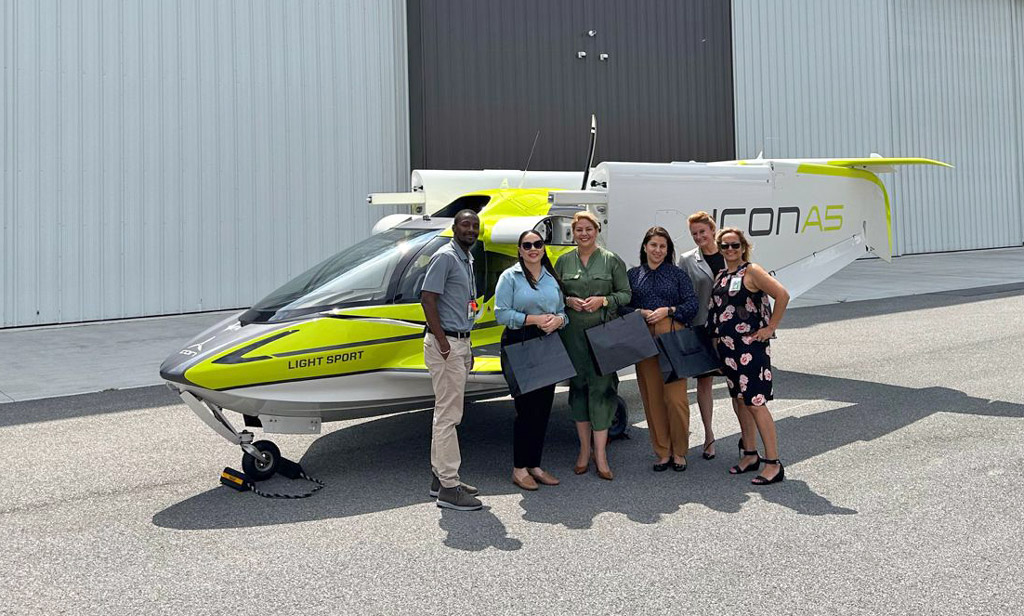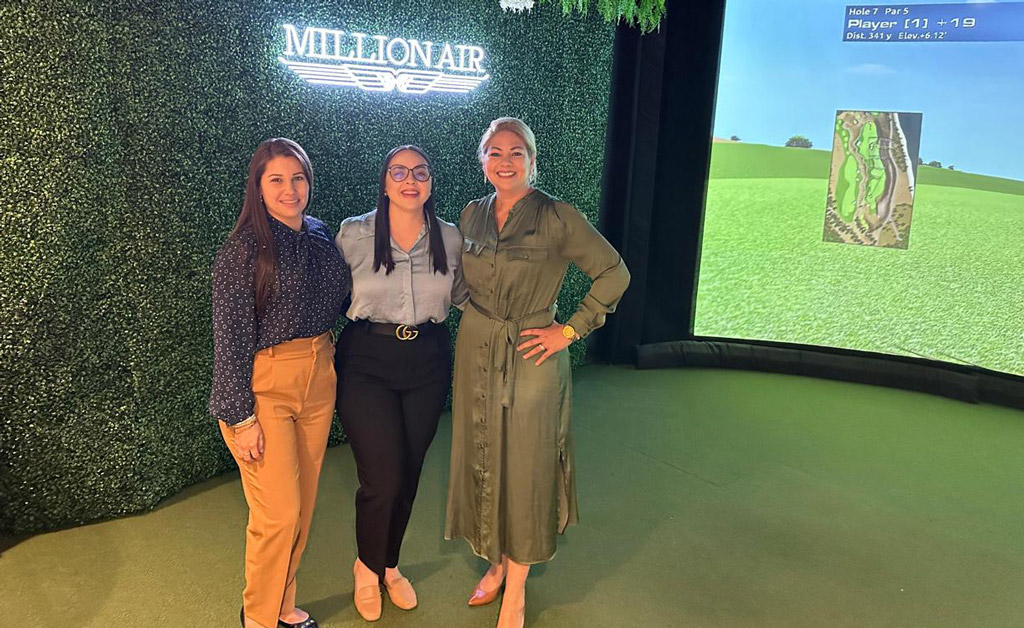 ---
Español
Aeropuerto de Aruba- Revisión del tráfico de pasajeros 2022
Se alcanzó una recuperación casi total de las cifras de tráfico de 2019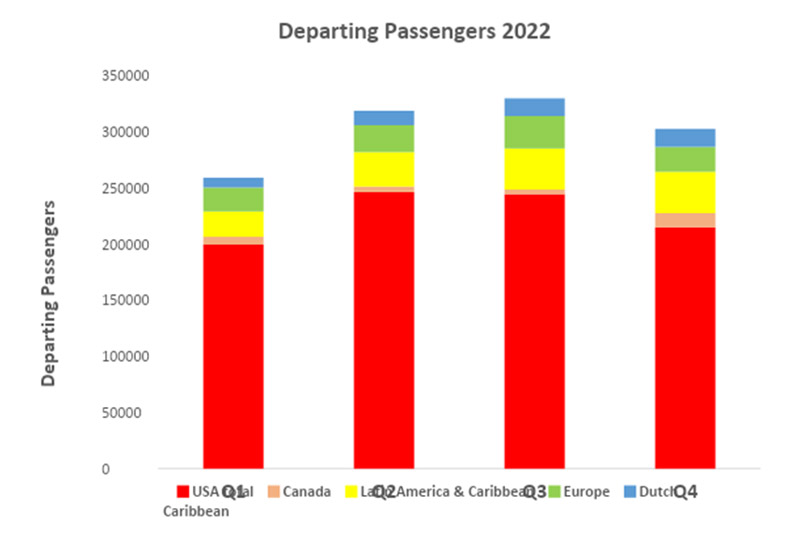 ORANJESTAD - Aruba: Aruba Airport Authority N.V. (AAA) se complace en informar el desempeño del tráfico de pasajeros del Aeropuerto AUA para el año 2022; las cifras de flujo de pasajeros aumentaron considerablemente en los últimos tres trimestres del año mostrando excelentes tasas de recuperación en comparación con el mismo período en 2019. La cantidad total de pasajeros generadores de ingresos (pasajeros que salen) manejados en 2022 se registró en 1,207,587, lo que representa una recuperación del 95% en comparación con 2019. El número de pasajeros que salieron en 2022 aumentó en un 38% en comparación con 2021.
Recuperación por trimestre en 2022
Para cada trimestre de 2022, las cifras de tráfico de pasajeros por mercado se comportaron de la siguiente manera:
Durante el primer trimestre de 2022 se recuperó el 77% de los pasajeros de salida respecto al año 2019. Los restantes trimestres de 2022 mostraron una recuperación respecto al mismo periodo de 2019 de respectivamente 101%, 102% y 103%.
Diversificando los mercados de EE. UU. y fuera de EE. UU. en 2022
Si bien el mercado de EE. UU. representó un total del 81 % del total de pasajeros que salieron en 2021, disminuyó al 75 % a fines de 2022. Esto es de acuerdo con la estrategia establecida por el Aeropuerto de Aruba, para así diversificar los mercados desde y hacia el Aeropuerto de Aruba lo más tanto posible. Como resultado de esto se dio un aumento en la participación del mercado NO Americano que en el 2021 fue de un 19% para un 25% en el 2022.
Nuevas rutas y frecuencias adicionales 2022
En el año 2022, varias aerolíneas iniciaron nuevas operaciones en el aeropuerto AUA o ampliaron sus frecuencias. Aerolíneas como Jet Air Caribbean y Arajet iniciaron operaciones con servicio directo desde Curazao y Santo Domingo con servicio dos veces por semana. Southwest comenzó su nueva ruta con operaciones directas desde Orlando en los EE. UU. y Wingo comenzó sus operaciones exitosas desde Medellín Colombia y agregó frecuencias hacia y desde Bogotá en Colombia. Sunclass Airlines reinició sus operaciones desde Estocolmo y Air Canada reinició sus operaciones desde Toronto, Canadá.
Salida de vuelo y factores de carga durante el 2022
El total de movimientos de aeronaves para 2022 se sitúa en 11.597, un 22% más que la cantidad de salidas de vuelos reportadas en 2021 y una recuperación del 87% frente a la cantidad de movimientos en 2019 para vuelos de salida. En 2019 se reportó un factor de carga promedio del 85% y para el 2022 se alcanzó un factor de carga promedio del 83%.
Perspectivas para 2023
Para el año 2023, el Aeropuerto de Aruba espera recibir aproximadamente un 13 % más en comparación con 2022. Se espera que la participación de mercado fuera de los EE. UU. aumente aún más en el año 2023 con la exploración de nuevas oportunidades de transporte aéreo desde esos mercados. Se lanzará una nueva ruta fuera de Europa con British Airways en marzo de 2023 y se están explorando y desarrollando más oportunidades nuevas procedentes del mercado latinoamericano. El Aeropuerto de Aruba confía en que el año 2023 será otro año exitoso por la cantidad de pasajeros y movimientos de aeronaves que se manejarán.
Información sobre el Aeropuerto de Aruba
El Aeropuerto de Aruba es uno de los aeropuertos más concurridos de la región del Caribe, con 24 aerolíneas diferentes operando en Aruba que contribuyen al procesamiento de más de 2,4 millones de pasajeros por año y brindan servicio aéreo a 26 destinos en todo el mundo. El Aeropuerto de Aruba es operativamente muy estable, donde más del 95 % de todos los visitantes vienen a vacacionar: de los cuales el 77 % es de los Estados Unidos y Canadá, 10 % de América Latina, 8 % de Europa y 4 % del Caribe holandés, hasta la fecha, diciembre de 2022.
El Aeropuerto de Aruba reconoce que esto es la economía estable, al clima económico y político estable de la isla, a la población hospitalaria y diversificada, y a la seguridad general de nuestra isla. El Aeropuerto de Aruba seguirá expandiéndose y mejorando las facilidades para mantener su posición como uno de los aeropuertos mas innovadores en la región.
Para conocer un poco más de lo que esta pasando con el Aeropuerto de Aruba podrá visitar www.airportaruba.com y también conectarse con el Aeropuerto de Aruba a través de Twitter.com/Aruba_Airport, Facebook.com/ArubaAirport, Instagram.com/arubaairport/ y Linkedin.com/ArubaAirport.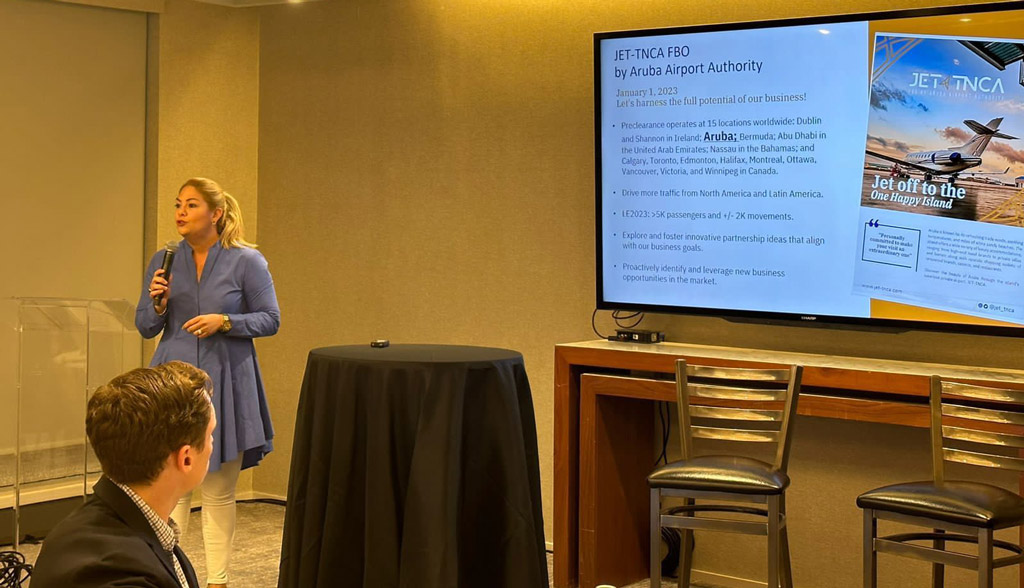 ---
Papiamento
Aeropuerto di Aruba- Trafico di pasahero durante 2022
A logra recupera practicamente tur cifra di 2019
ORANJESTAD - Aruba: Aruba Airport Authority N.V. (AAA) tin e placer di informa tocante e rendimento di trafico di pasahero na aeropuerto pa aña 2022. E cifranan di fluho di pasahero a conoce un aumento considerabel den e ultimo tres trimester di e aña, demostrando un evaluacion excelente den recuperacion den comparacion cu e mesun periodo pero di aña 2019. E cantidad total di pasahero cu ta genera ganashi (pasahero cu ta sali) registra den 2022 tabata un total di 1,207,587, esaki ta representa un recuperacion di 95% den comparacion cu 2019. E cantidad di pasahero cu a sali durante aña 2022 a aumenta cu un 38% si compar'e cu aña 2021.
Recuperacion pa trimester den 2022
Pa cada trimester di aña 2022, e cifranan di trafico di pasahero, segun mercado, a bay di e siguiente manera: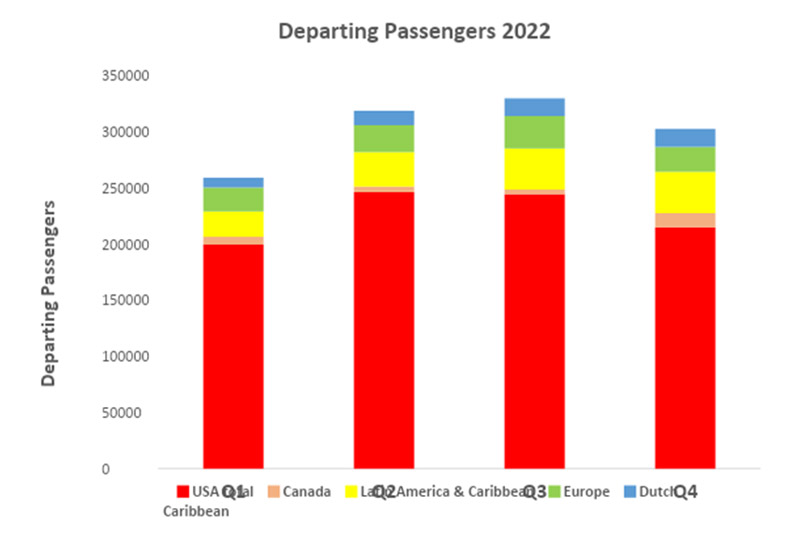 Durante e prome trimester di 2022 a logra recupera un 77% di e pasaheronan di salida considerando aña 2019. E trimesternan restante di 2022 a demostra un recuperacion compara cu e mesun periodo di 2019 corespondiente na 101%, 102% y 103%.
Diversificando mercado di Merca y pafo di Merca den 2022This
Aunke cu e mercado procedente di Merca a representa un total di 81% pasahero cu a sali durante 2021, e cifra a baha na 75% na final di aña 2022. Esaki ta di acuerdo cu e strategia estableci pa Aeropuerto di Aruba, p'asina diversifica e mercadonan desde y pa Aeropuerto di Aruba mas tanto cu ta posibel. Como resultado esaki a duna un aumento den e participacion di mercado no Mericano cu den 2021 tabata na 19% pa un 25% na 2022.
Ruta nobo y frecuencia adicional den 2022
Durante aña 2022, diferente aerolinea a inicia cu nan vuelo na Aeropuerto di Aruba of nan a amplia nan frecuencia di vuelo. Aerolinea manera Jet Air Caribbean y Arajet a cuminsa bula cu un servicio directo desde Corsou y Santo Domingo, cu dos vuelo pa siman. Southwest a cuminsa cu su ruta nobo door di ehecuta vuelo directo desde Orlando y Wingo exitosamente a inicia cu su vuelonan desde Medellin, Colombia y a agrega frecuencia desde y pa Bogota, Colombia. Sunclass Airlines a reinicia su vuelonan desde Stockholm y Air Canada a reinicia su vuelonan desde Toronto, Canada.
Salida di vuelo y factor di carga durante 2022
E total di movecion di avion pa 2022 ta na 11.597, cu ta 22% mas cu e cantidad di salida di vuelo raporta den 2021 y un recuperacion di 87% compara cu e cantidad di movecion den 2019 pa e vuelonan di salida. Na 2019 a raporta un factor di carga promedio di 85% y pa 2022 a logra un factor di carga promedio di 83%.
Perspectiva pa 2023
P'e aña 'ki Aeropuerto di Aruba ta spera di por yama bonbini na aproximadamente un 13% mas compara cu aña 2022. Ta spera cu e participacion di e mercado no Mericano lo aumenta ainda mas durante e aña aki, caminda lo explora diferente oportunidad nobo di transporte aereo di e mercadonan ey. Lo lansa un ruta nobo pafo di Europa cu British Airways na maart 2023, ta explorando y desaroyando mas oportunidad nobo procedente fo'i e mercado Latino Americano. Aeropuerto di Aruba tin confiansa cu den 2023 lo ta un otro aña exitoso pa loke ta trata cantidad di pasahero y movecionnan di aeronave cu lo maneha.
Tocante AUA Airport
AUA Airport ta un di e aeropuertonan mas ocupa den region Caribe cu mas di 24 diferente aerolinea operando pa Aruba contribuyendo na mas cu 2.5 miyon pasahero pa aña (prome cu COVID) y cu buelonan pa 26 diferente destinacion rond di mundo. AUA Airport ta opera stabiel cu mas di 95% di su bishitantenan cu ta bin pa vakantie di cual 77% ta for di Merca y Canada, 10% for di Latino America, 8% for di Europa y 4% for di Antia Hulandes te cu november 2022.
AUA Airport ta reconoce cu esaki ta danki na e economia stabiel, clima politico, hospitalidad, populacion diversifica y siguridad general di nos isla. AUA Airport ta sigui expande y mehora su facilidadnan pa mantene su posicion como un di e aeropuertonan mas innovado den region.
Conoce mas di loke ta pasando na AUA Airport ydor di bishita www.airportaruba.com y connecta cu AUA airport riba Twitter.com/Aruba_Airport, Facebook.com/ArubaAirport, Instagram.com/arubaairport/ and Linkedin.com/ArubaAirport.