January 26, 2022
Dutch Caribbean Cooperation of Airports (DCCA) organizes the first international "Sustainable Air Transportation Event" in Aruba in November 2022
ORANJESTAD - One of the key elements of the cooperation Agreement signed in April 2021 by the Chief Executive Officers and Managing Directors of all six commercial Airports[1] within the Dutch Caribbean pertaining to the Kingdom of the Netherlands, is to collaborate towards sustainable, stable, and affordable air connections between the Dutch Caribbean airports.
In light of above goal, Aruba Airport Authority N.V. on behalf of DCCA will be organizing an international one-week "Sustainable Air Transportation Event" in Aruba in November 2022. During that week, DCCA aims to present future focused alternative air transportation options to improve interisland connectivity between the Dutch Caribbean Islands. The objective will be to get the public acquainted with currently available solutions and to start discussing the various options for sustainable aviation with representatives of companies, partners in aviation, education institutions, research institutions, governments, consultants, investors and with all of those who are generally interested in this subject.
For this event, together with Royal Netherlands Aerospace Centre (NLR), DCCA will be bringing in the NLR two-seater electric aircraft from Europe, which will be executing test flights from Aruba Airport. A group of regional students and interested local companies will get the opportunity to work on the preparations, assembly, and disassembly of the aircraft whilst the local community will also have an opportunity to visit the aircraft and receive explanation on its operation, benefits, and challenges. DCCA is also in contact with the authorities to streamline visions within the Kingdom, bring in knowledge and define how to support DCCA's initiative.
During the event several topics will be addressed in seminars and workshops, such as:
Current research and future technology developments worldwide, related to sustainable aviation: electric and other alternatives to fossil fuel-based aviation
Business opportunities and challenges for Airports and Airlines when becoming more sustainable
Possibilities of a "public transport" approach in connecting the islands
CEO of Aruba Airport Authority N.V., Mr. Joost Meijs, indicated that DCCA looks forward to the November 2022 event and the active support and participation of several Dutch Caribbean and international stakeholders.. "An improved, sustainable and affordable interisland connectivity network will stimulate island hopping tourism, labor markets, healthcare services and enhance social networks".
Should your organization have an interest in collaborating on ideas, participation, or other suggestions for the November 2022 event, please contact DCCA Advisor, Mrs. Angeline Flemming at [email protected]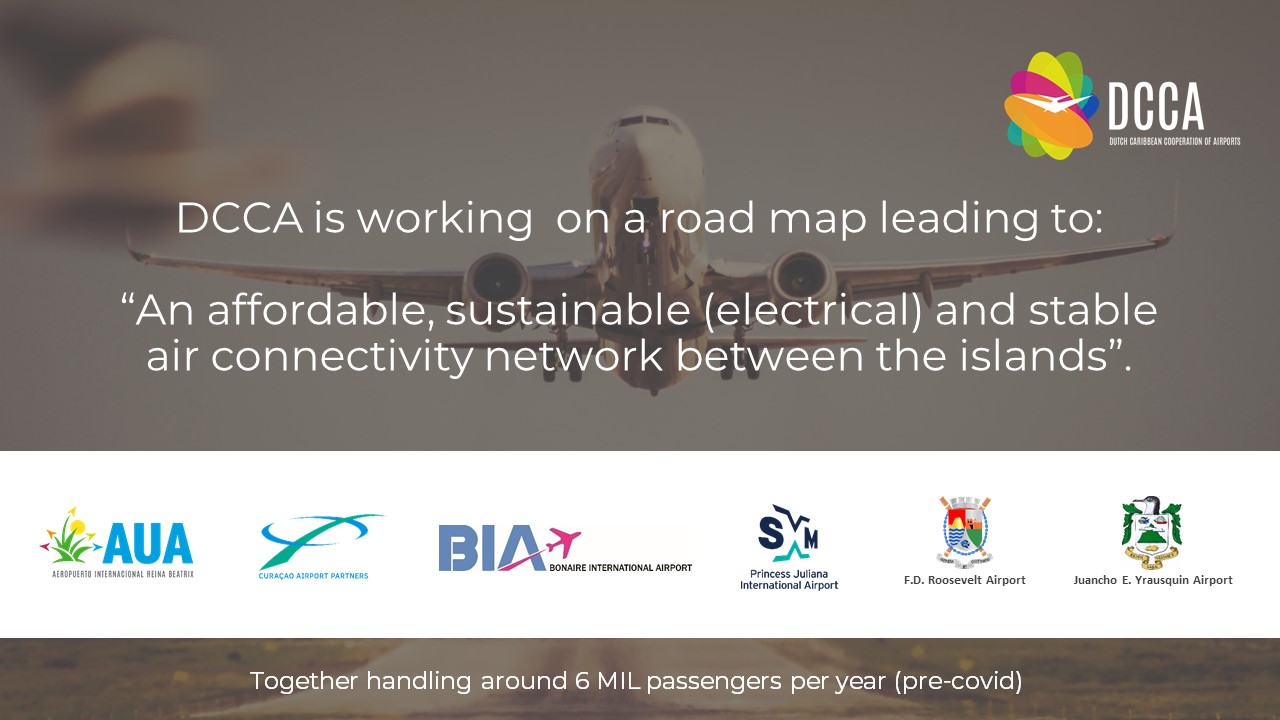 ---
Papiamento
Pa promove Transporte Aereo Sostenibel y Accesibel entre e islanan di Caribe Hulandes:
Dutch Caribbean Cooperation of Airports (DCCA) ta organisa e prome "Sustainable Air Transportation Event" internacional na Aruba na November 2022
ORANJESTAD - Un di e metanan mas importante di e Acuerdo di Cooperacion firma na April 2021 door di tur e Chief Executive Officers y Managing Directors di e 6 aeropuertonan comercial di Caribe den Reino Hulandes, ta pa colabora pa mas trafico aereo sostenibel, stabil y economico entre e aeropuertonan di Caribe.
Basa riba e meta aki, Aruba Airport Authority N.V. den nomber di DCCA, lo organisa un evento internacional di 1 siman yama "Sustainable Air Transportation Event" na Aruba na November 2022. Durante e siman aki, DCCA lo presenta alternativanan di transporte aereo enfoca riba futuro pa asina mehora coneccion entre e islanan di Caribe Hulandes. E obhetivo di esaki ta pa informa y familiarisa e comunidad en general cu e solucionnan cu tin actualmente y pa cuminsa combersa riba e diferente opcionnan pa aviacion sostenibel cu representante di compania-, partner-, den aviacion, instituto-, den educacion, instituto di estudionan, gobierno-, consultante- y inversionistanan y cu tur cu ta interesa den e topico aki.
Conhuntamente cu Royal Netherlands Aerospace Centre (NLR), DCCA lo trece e "NLR two-seater electric aircraft" for di Europa pa e evento aki pa ehecuta diferente "test flights" for di Aeropuerto di Aruba. Un grupo di studiante den region y companianan local cu ta interesa, lo tin e oportunidad pa traha riba e preparacionnan, armamento y desarmamento di e avion y na mes momento e comunidad lo tin e oportunidad di bishita e avion pa asina ricibi un splicacion riba e operacion-, beneficio-, y retonan. DCCA ta den contacto cu autoridadnan corespondiente pa asina realisa e vision den Reino Hulandes, trece conocemento y defini con pa sostene DCCA su iniciativa.

Durante e evento, diferente topico lo wordo trata den seminario-, y workshopnan manera:
Estudionan actual y futuro desaroyonan riba tecnologia rond di mundo relata na aviacion sostenibel, electrico y otro alternativanan pa "fossil-fuel-based aviation"
Oportunidad pa negoshi y retonan pa aeropuerto-, y aerolineanan pa bira mas sostenibel
Posibilidadnan pa conecta e islanan via un sistema di transporte publico
CEO di AAA, Sr. Joost Meijs a indica cu DCCA ta cla pa e evento na November 2022 y ta conta cu e sosten y participacion di diferente stakeholder den Caribe Hulandes y internacional. "Un coneccion aereo mehora, mas sostenibel y economico lo stimula "island hopping tourism", mercado laboral, servicio pa salud y engrandece rednan social".
Si bo organisacion ta interesa pa colabora riba ideanan, participacion of tin otro sugerencia pa e evento na November 2022, por tuma contacto cu DCCA Advisor, Sra. Angeline Flemming na [email protected].