March 10, 2023
ORANJESTAD - "Wingo is an important and valuable partner for Aruba Airport; and since October of last year, they are flying their additional route from Medellin, as a new gateway to Colombia. The flights are full, and at Wingo they are happy and so are we" stressed Barbara Brown, Director of Revenue Development and Communications (CRO) of the Aruba Airport Authority N.V. in recation to the rumors that have been heard in recent days that Wingo would supposedly stop its flights to and from Medellín to Aruba.
It is good to highlight that since October 2022, Wingo is operating a total of five (5) weekly flights from Colombia, which are three (3) from Bogotá and two (2) from Medellín; "And in that there is no change. Flights continue to be full and on schedule" as noted by Barbara Brown.
Biweekly
Since October 2022, the Colombian airline Wingo has two additional flights per week from Medellín. The flights are on Wednesdays and Saturdays, with its B737-800 aircraft with a capacity of 189 seats. On Wednesday, the flight leaves at 2:18 pm from Medellin, the return flight leaves at 5:56 pm from Aruba. On Saturdays, the flight leaves at 10:08 am from Medellin, arriving in Aruba at 1:08 pm, the return flight leaves Aruba at 1:46 pm and arrives in Medellin at 2:30 pm.
About Wingo
Aero República S.A., operating under the trade name Wingo, was founded on October 19, 2016. The company belongs to Copa Holdings and began flying to Aruba in December 2016 as the first low-cost carrier to serve Aruba from Colombia. Giving local and pleasure markets a low fee, a good atmosphere, and a lot of flexibility. Apart from Aruba, it should be noted that Wingo also flies to Colombian cities such as Armenia, Barranquilla, Bogotá, Cali, Cartagena, Medellín, San Andrés and Santa Marta. It has regular flights to Costa Rica, Cuba, Curacao, the Dominican Republic, Ecuador, Guatemala, Mexico, Panama, and Peru.
Wingo started flying 737-700s two years ago, they changed all their planes; today they fly Boeing brand aircraft, model 737-800; they have eight of this type of aircraft, which carry no less than 189 passengers.
---
Papiamento
ORANJESTAD - "Wingo ta un socio importante y valioso pa e aeropuerto di Aruba. Y desde october ultimo, nan ta bulando e ruta adicional for di Medellin, como un porta nobo di entrada pa Colombia. Y vuelonan ta yen, Wingo ta contento y nos tambe", asina Barbara Brown, Chief Revenue Development & Communications Officer (CRO) di Aruba Airport Authority a subraya. El a reacciona riba rumornan di e ultimo dianan aki di cu Wingo lo stop su vuelonan pa y for di Medellin pa Aruba.
Ta bon pa agrega cu desde october 2022, Wingo ta opera en total cinco (5) vuelo semanal for di Colombia, cu ta tres (3) for di Bogota y dos (2) for di Medellin. "Y den esey no tin ningun cambio. Vuelonan ta bulando yen y segun schedule", di acuerdo cu Barbara Brown.
Dos biaha pa siman
Desde october 2022, e aeroliña Wingo di Colombia ta bula dos vuelo adicional pa siman for di Medellin. E vuelonan ta riba diaranson y diasabra, cu nan avion B737-800 cu capacidad di 189 asiento. Riba diaranson e vuelo ta sali 2:18 pm for di Medellin. E buelo di regreso ta sali 5:56 pm for di Aruba. Riba diasabra e vuelo ta sali 10:08 am for di Medellin, yegando Aruba 1:08 pm. E vuelo di regreso ta sali 1:46 pm for di Aruba y yega Medellin pa 2:30 pm.
Tocante Wingo
A funda Aero República S.A., cu ta opera bou di e nomber comercial Wingo, desde 19 di october 2016. E compania ta pertenece na Copa Holdings. El a cuminsa bula pa Aruba na december 2016 como e prome Low-Cost Carrier pa sirbi Aruba for di Colombia. Brindando mercadonan local y di placer tarifa abou, bon ambiente y hopi flexibilidad. Separa di Aruba, ta bon pa bisa cu Wingo ta bula tambe pa ciudadnan Colombiano, manera Armenia, Barranquilla, Bogota, Cali, Cartagena, Medellin, San Andres y Santa Marta. Ta bula vuelonan regular pa Costa Rica, Cuba, Corsou, Republica Dominicana, Ecuador, Guatemala, Mexico, Panama y Peru.
Wingo a cuminsa bula avionnan 737-700 pero dos aña pasa a cambia tur nan avionnan. Awendia nan ta bula avionnan marca Boeing, modelo 737-800. Nan tin ocho di e avionnan aki, cu ta carga no menos di 189 pasahero.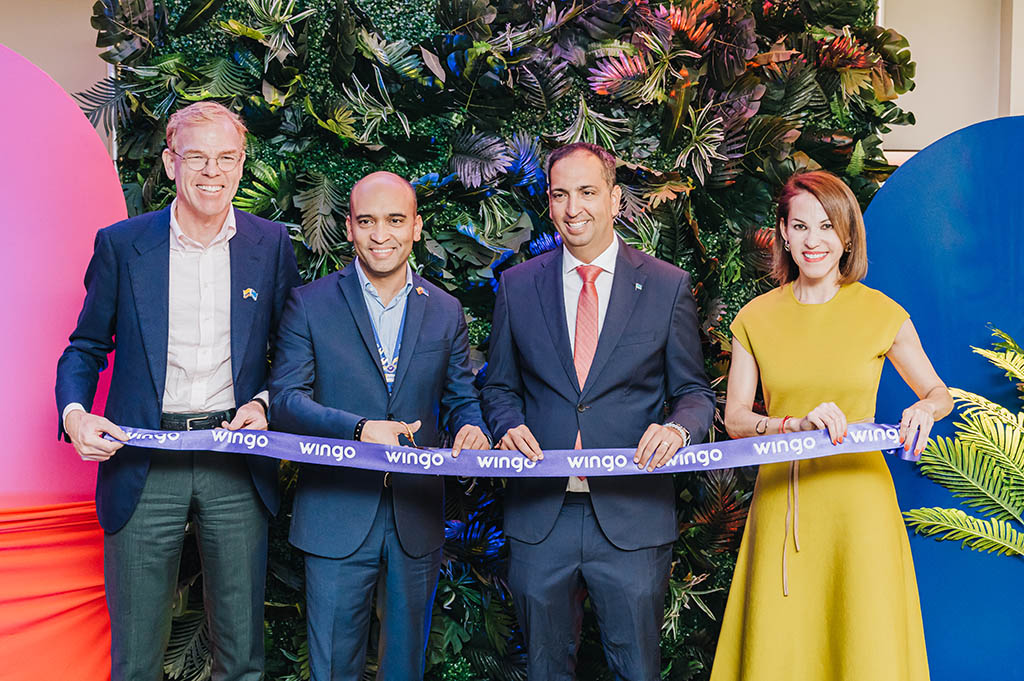 ---
Español
Vuelo de Wingo desde Medellín es exitoso
ORANJESTAD - "Wingo es un socio importante y valioso para el Aeropuerto de Aruba; y desde octubre del año pasado, ellos están volando su ruta adicional desde Medellín, como una nueva puerta de entrada para Colombia. Los vuelos están llenos, en Wingo están contentos y nosotros también" así lo subrayó Barbara Brown, Directora de Comunicaciones y Desarrollo de Ingresos (CRO) de la Autoridad Aeroportuaria de Aruba. Ella reaccionó a los rumores que en los últimos días se han oido de que supuestamente Wingo detendría sus vuelos para y desde Medellín hacia Aruba.
Es bueno resaltar que desde el mes de octubre 2022, Wingo esta operando en total cinco (5) vuelos semanales desde Colombia, los cuales, son tres (3) desde Bogotá y dos (2) desde Medellín; "y en eso no hay ningún cambio. Los vuelos continuan llenos y según su programación" según lo señalado por Barbara Brown.
Dos veces por semana
Desde octubre 2022, la aerolínea Wingo de Colombia tiene dos vuelos adicionales por semana desde Medellín. Los vuelos son los miércoles y los sábados, con su avión B737-800 con una capacidad de 189 asientos. El miércoles, el vuelo sale a las 2:18 pm desde Medellín, el vuelo de regreso sale a las 5:56 pm desde Aruba. Los sábados, el vuelo sale a las 10:08 am desde Medellín, llegando Aruba 1:08 pm, el vuelo de regreso sale a la 1:46 pm desde Aruba y llega a Medellín a las 2:30 pm.
Acerca de Wingo
Se fundó Aero República S.A., que opera bajo el nombre comercial de Wingo el 19 de octubre de 2016. La compañía pertenece a Copa Holdings y comenzó a volar hacia Aruba en diciembre del 2016 como el primer transporte de bajo costo para servir a Aruba desde Colombia. Brindándole a los mercados locales y de placer una tarifa baja, un buen ambiente y mucha flexibilidad. Aparte de Aruba, cabe resaltar que Wingo también vuela a ciudades Colombianas como Armenia, Barranquilla, Bogotá, Cali, Cartagena, Medellín, San Andrés y Santa Marta. Tiene vuelos regulares para Costa Rica, Cuba, Curacao, República Dominicana, Ecuador, Guatemala, México, Panamá y Perú.
Wingo empezó a volar aviones 737-700 hace dos años ellos cambiaron todos sus aviones; hoy en día ellos vuelan aviones de marca Boeing, modelo 737-800; ellos tienen ocho de este tipo de aviones, que cargan no menos de 189 pasajeros.
Sobre el Aeropuerto de Aruba Reina Beatrix
El Aeropuerto de Aruba (AUA) es uno de los aeropuertos mas ocupados en la región Caribe, con mas de 22 diferentes aerolíneas operando para Aruba que contribuyen a mas de 2.5 millones de pasajeros por año (antes del Covid19) y con diferentes vuelos para los 28 diferentes destinos alrededor del mundo. El Aeropuerto de Aruba (AUA) opera de una forma estable con mas del 95% de sus visitantes que vienen de vacaciones de los cuales el 76% vienen desde los Estados Unidos y Canada, el 9% desde Latinoamérica, el 8% desde Europa y el 4% de las Antillas Holandesas, hasta junio del 2022.
El Aeropuerto de Aruba (AUA) reconoce que esto es gracias a la economía estable, al clima política, la hospitalidad, nuestra diversidad en la población y la seguridad en general de nuestra isla. El Aeropuerto de Aruba (AUA) sigue expandiéndose y seguirá mejorando sus facilidades para mantener su posición como uno de los aeropuertos mas innovadores en la region.
Para conocer mas de lo que esta pasando con el Aeropuerto de Aruba (AUA) podrán visitar la pagina web www.airportaruba.com o también conectándose con el Aeropuerto de Aruba (AUA) en twitter.com/Aruba_Airport en facebook.com/ArubaAirport en instagram.com/arubaairport y linkedin.com/ArubaAirport