July 17, 2023
ORANJESTAD – Aruba Airport is proud to extend its warmest congratulations to WINAIR on the successful launch of their inaugural flight to Curacao and Aruba using their new ATR-500 series aircraft. Starting from July 14, 2023, WINAIR will now operate service between Curacao-Aruba, Curacao-Bonaire, and vice versa, setting a significant milestone for the airline.
To support this route expansion, WINAIR has announced the addition of a second ATR aircraft to its fleet in the upcoming months. This exciting development showcases WINAIR's commitment to growth and connectivity within the Caribbean region. The airline's new ATR-500 series aircraft is the first owned by the carrier, as they previously leased DHC-6 Twin Otter aircrafts from Air Antilles for a period of six years to serve the ABC islands and the Dominican Republic.
The introduction of the new ATR aircraft, now the largest in the carrier's fleet, not only expands WINAIR's operational capabilities but also sets a new standard for travel in the Caribbean region. With its brand-new interior and 48 seats on board, the aircraft offers a heightened level of comfort and luxury to travelers. The service from Sint Maarten to Aruba, with an intermediate stop in Curacao, will be operated with the ATR aircraft three times a week on Monday, Wednesday, and Friday.
Aruba Airport recognizes WINAIR as a valued partner and congratulates the team on this milestone. "The addition of the new aircraft to WINAIR's fleet reflects the shared commitment to enhancing connectivity between the Dutch Caribbean islands. We congratulate WINAIR on this significant milestone and are proud to work alongside the WINAIR team in advancing connectivity and strengthening relationships within the region. We look forward to continuing our partnership and providing exceptional travel experiences for passengers in the Caribbean" said Aruba Airport's Aviation Business Development Executive, Mrs. Jo-Anne Meaux-Arends.
About WINAIR
Windward Islands Airways International (WINAIR) N.V. is a premier airline serving the Windward Islands of the Caribbean. Since its establishment in 1961, WINAIR has been a trusted provider of safe, reliable, and efficient air transportation services in the region. With a strong commitment to customer satisfaction, WINAIR ensures a seamless travel experience fostering economic growth and connectivity among the Caribbean islands.
---
Español
El vuelo inaugural de Winair a Curaçao y Aruba con un nuevo avión de la serie ATR-500 marca un hito en los viajes por el Caribe
ORANJESTAD – El Aeropuerto de Aruba se enorgullece de extender sus más sinceras felicitaciones a WINAIR por el exitoso lanzamiento de su vuelo inaugural a Curaçao y Aruba utilizando su nueva aeronave de la serie ATR-500. A partir del 14 de julio de 2023, WINAIR operará servicios entre Curaçao-Aruba, Curaçao-Bonaire y viceversa, marcando un hito importante para la aerolínea.
Para apoyar esta expansión de rutas, WINAIR ha anunciado la incorporación de un segundo avión ATR a su flota en los próximos meses. Este emocionante acontecimiento pone de manifiesto el compromiso de WINAIR con el crecimiento y la conectividad en la región del Caribe. El nuevo avión de la serie ATR-500 es el primero en propiedad de la aerolínea, que anteriormente alquiló aviones DHC-6 Twin Otter a Air Antilles durante un periodo de seis años para prestar servicio a las islas ABC y a la República Dominicana.
La introducción del nuevo avión ATR, ahora el mayor de la flota de la compañía, no sólo amplía las capacidades operativas de WINAIR, sino que también establece un nuevo estándar para los viajes en la región del Caribe. Con su flamante interior y sus 48 asientos a bordo, el avión ofrece un mayor nivel de confort y lujo a los viajeros. El servicio de Sint Maarten a Aruba, con escala intermedia en Curaçao, se operará con el avión ATR tres veces por semana, los lunes, miércoles y viernes.
El Aeropuerto de Aruba reconoce a WINAIR como un socio valioso y felicita al equipo por este hito. "La incorporación de la nueva aeronave a la flota de WINAIR refleja el compromiso compartido de mejorar la conectividad entre las islas holandesas del Caribe. Felicitamos a WINAIR por este importante hito y nos sentimos orgullosos de trabajar junto al equipo de WINAIR en el avance de la conectividad y el fortalecimiento de las relaciones dentro de la región. Esperamos continuar nuestra colaboración y ofrecer experiencias de viaje excepcionales a los pasajeros del Caribe", declaró Jo-Anne Meaux-Arends, Ejecutiva de Desarrollo de Negocio de Aviación del Aeropuerto de Aruba.
Acerca de WINAIR
Windward Islands Airways International (WINAIR) N.V. es una compañía aérea de primer orden que presta servicio a las Islas de Barlovento del Caribe. Desde su creación en 1961, WINAIR ha sido un proveedor de confianza de servicios de transporte aéreo seguros, fiables y eficientes en la región. Con un fuerte compromiso con la satisfacción del cliente, WINAIR garantiza una experiencia de viaje sin interrupciones, fomentando el crecimiento económico y la conectividad entre las islas del Caribe.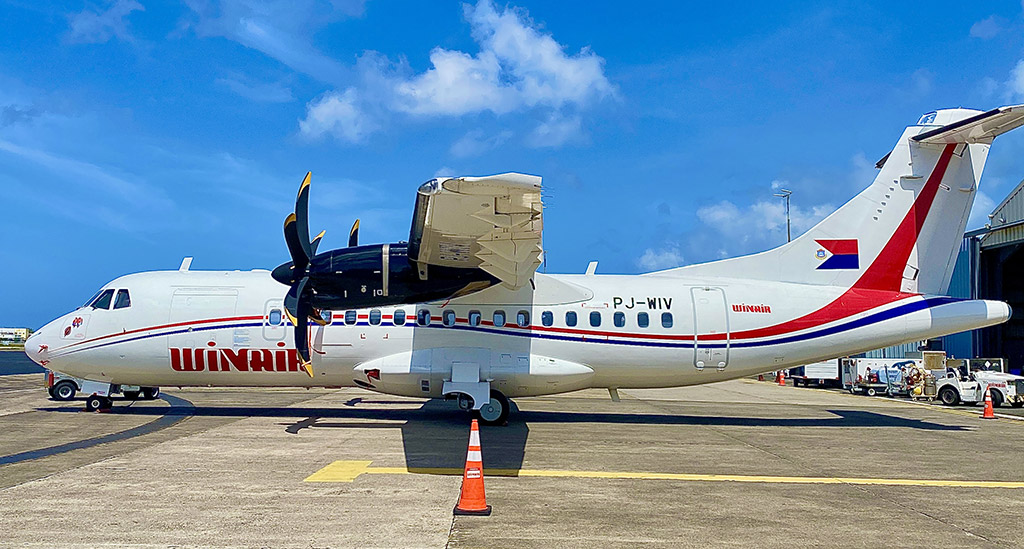 ---
Papiamento
Vuelo Inaugural di WINAIR pa Corsou cu e ATR nobo a marca un logro den e biahenan pa Caribe
ORANJESTAD – Ta cu masha orguyo Aeropuerto di Aruba ta felicita WINAIR pa e lansamento exitoso di nan vuelo inaugural pa Corsou y Aruba haciendo uzo di nan avion nobo cu ta un ATR-500. Desde 14 di juli di e aña aki, WINAIR lo opera e servicio entre Corsou-Aruba, Corsou-Bonaire y vice versa marcando un milestone significativo pa e aerolinea.
Pa sostene e expansion di ruta WINAIR a anuncia e incorporacion di un di dos avion ATR na su flota den e siguiente lunanan. E desaroyo emocionante aki ta demostra WINAIR su compromiso cu crecemento y e conectividad den region Caribe. E ATR-500 nobo di e aerolinea ta e prime como propiedad di e aerolinea mirando cu anteriormente nan tabata lease e DHC-6 Twin Otter for di Air Antilles pa un periodo di seis aña pa sirbi e islanan ABC y Republica Dominicana.
E introduccion di e ATR nobo, awo e avion mas grandi di e flota, no solamente ta amplia e WINAIR su capacidadnan operacional sino e ta pone un standard nobo pa biaha den e region Caribe. Cu su interior nobo y 48 asiento e avion ta ofrece un miho nivel di comodidad y luho na su pasaheronan. Lo opera e servicio di Sint-Maarten pa Aruba cu un escala na Corsou cu e avion ATR tres biaha pa siman riba diaranson y diabierna.
Aeropuerto di Aruba ta reconoce WINAIR como un socio valioso y ta pa e motibo ey nan ta felicita e aerolinea pa e milestone aki. "E incorporacion di e avion nobo na e flota di WINAIR ta refleha e compromiso comparti pa mehora e conectividad entre e islanan di Caribe Hulandes. Nos ta felicita WINAIR pa e echo importante aki y nos ta orgulloso di por traha conhuntamente cu e team di WINAIR pa asina avansa e conectividad y fortalece e relacionnan den region. Nos ta spera di por sigui traha hunto pa brinda experiencia excepcional di biahe pa e pasaheronan di Caribe", asina Aruba Airport Aviation Business Development Executive Jo-Anne Meaux-Arends a duna di conoce.
Tocante WINAIR
Windward Islands Airways International (WINAIR) N.V. ta un di e aerolineanan principal cu ta sirbi e Windward Islands of the Caribbean. Desde su establecimento na aña 1961, WINAIR ta un compania di confiansa cu ta provee serivicio di transport aereo cu ta confiabel, sigur y eficiente. WINAIR tin un compromiso fuerte cu e satisfaccion di e cliente. WINAIR ta garantisa un experiencia di biahe perfecto promoviendo e crecemento economico y conectividad entre e islanan den Caribe.