Aeropuerto di Aruba nomina pa "World Routes Marketing Award 2016"
Willemstad, November 7, 2023 – Taking place from November 5 through November 8, 2023, the annual conference by the Dutch Caribbean Cooperation of Airports (DCCA), this year hosted by CUR | Curaçao International Airport at the Curaçao Marriott Beach Resort, started with great enthusiasm. This second edition of the innovative conference continues the cooperation's focus on International Sustainable Air Transportation.
Preceded by a nice Sunset Welcome Reception for all participants and invitees on Sunday, the first day of the conference started early on Monday with the Honourable Minister Ruisandro Cijntje of Economic Development addressing everyone present, followed by welcome remarks of Mrs. Brigit Gijsberg, representative of I&W, the CEO of Curaçao Airport Partners (CAP), operator of CUR, Mr. Jonny Andersen and Mr. Joost Meijs, CEO of Queen Beatrix Airport Aruba and Chairman of DCCA.
CUR is honoured and excited with the full-house audience turnout that shows that the cooperation is already reaping the fruits of the previous conference. The successful 1st edition of this conference which took place last year and was hosted by member Queen Beatrix Airport Aruba, created much anticipation for participants returning to this event.
"The interest has been overwhelmingly high. Industry stakeholders, key players, and partners whom we are pleased to work with have all joined us during this important event which brings us together to learn from one another and to connect, fortifying collaborations. These are the moments that provide an opportunity for all present to network among territories, engaging with industry peers, while sharing and exchanging valuable knowledge", said Jonny Andersen.
This 'Flight to the Future' conference continues the journey on International Sustainable Air Transportation, discussing interesting aspects related to this – exploring this broadly through insightful presentations by local and international speakers and panel discussions providing valuable insights provided by industry stakeholders.
Monday's program contained a CEO Roundtable, the Joint Strategic Plan Handover (JSP), an interesting presentation on the Testing of Hybrid Aviation in the Dutch Caribbean, a Local Airline Panel addressing Connectivity & a look at the Future as well as Q&A sections.
Thus, a very engaging program for the two (2) main days was carefully created to ensure all attendees will walk away empowered for what the future holds on the topic, and with great visions of further cooperation between airports of the sister islands so they are all duly prepared.
Many were those who joined the event virtually as the location was completely full of not only DCCA members and stakeholders, but also peers from the region and beyond.
Day one concluded with a spectacular offsite networking event, Taste of Curaçao' with attendees eagerly looking forward to what the next day, Tuesday, day two (2) of the conference would hold.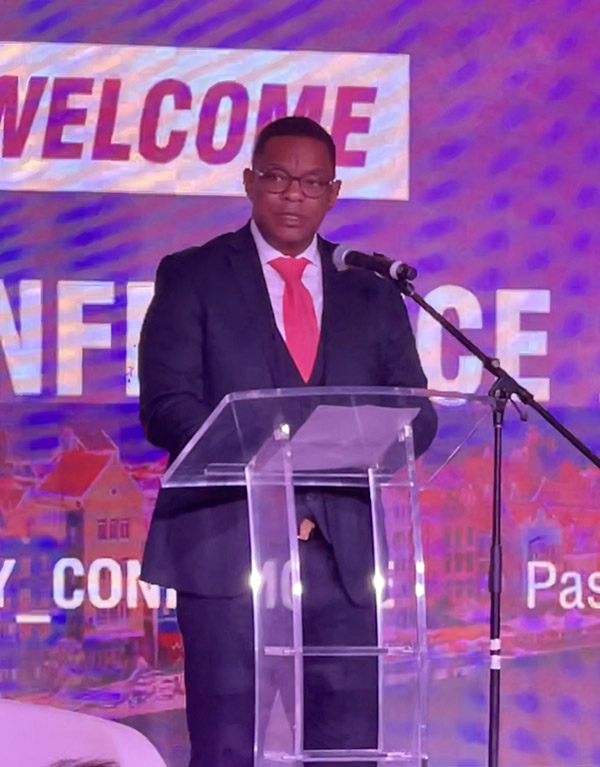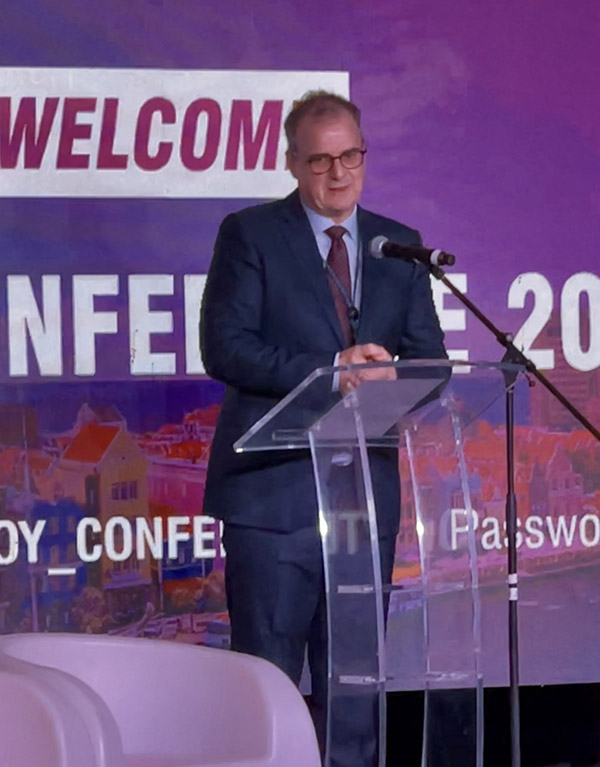 ---
Español
CUR se enorgullece de ser el anfitrión de la segunda edición de la conferencia "DCCA Vuelo al futuro"
Exitoso primer día del evento sobre Transporte Aéreo Sostenible Internacional
Willemstad, Noviembre 7, 2023 – Del 5 al 8 de noviembre de 2023 se esta llevando a cabo la conferencia anual de la Cooperación de Aeropuertos del Caribe Holandés (DCCA), este año organizada por CUR | El Aeropuerto Internacional de Curazao en el Curaçao Marriott Beach Resort, el cual comenzó con gran entusiasmo. Esta segunda edición de la innovadora conferencia continúa el enfoque de la cooperación en el transporte aéreo internacional sostenible.
Precedido por una agradable recepción de bienvenida al atardecer para todos los participantes e invitados el domingo, el primer día de la conferencia comenzó temprano el lunes con el Honorable Ministro de Desarrollo Económico Ruisandro Cijntje dirigiéndose a todos los presentes, seguido de las palabras de bienvenida de la Sra. Brigit Gijsberg, representante de I&W, el director ejecutivo de Curaçao Airport Partners (CAP), operador de CUR, el Sr. Jonny Andersen y el Sr. Joost Meijs, director ejecutivo del Aeropuerto Internacional Reina Beatrix de Aruba y presidente de DCCA.
CUR se siente honrado y entusiasmado con la asistencia de un gran público, que demuestra que la cooperación ya está cosechando los frutos de la conferencia anterior. El éxito de la 1ª edición de esta conferencia, que tuvo lugar el año pasado y fue acogida por los miembros del Aeropuerto Reina Beatrix de Aruba, el cual creó mucha expectativa entre los participantes que regresaron a este evento.
"El interés ha sido abrumadoramente alto. Las partes interesadas de la industria, los actores clave y los socios con los que tenemos el placer de trabajar se han unido a nosotros durante este importante evento que nos reúne para aprender unos de otros, para conectar y fortalecer las colaboraciones. Estos son los momentos que brindan a todos los presentes la oportunidad de establecer contactos entre territorios, relacionarse con colegas del sector, al tiempo que comparten e intercambian valiosos conocimientos", afirmó Jonny Andersen.
Esta conferencia "Vuelo hacia el futuro" prosigue el viaje hacia un transporte aéreo internacional sostenible, debatiendo aspectos interesantes relacionados con este tema, explorándolo ampliamente a través de presentaciones interesantes a cargo de oradores locales e internacionales y mesas redondas que aportan valiosas ideas proporcionadas por las partes interesadas del sector.
El programa del lunes incluía una mesa redonda de consejeros delegados, la entrega del Plan Estratégico Conjunto (PEC), una interesante presentación sobre las pruebas de la aviación híbrida en el Caribe Holandés, un panel de aerolíneas locales que abordó la conectividad y una mirada al futuro, así como secciones de preguntas y respuestas.
Por lo tanto, se creó cuidadosamente un programa muy atractivo para los dos (2) días principales para garantizar que todos los asistentes salgan capacitados para lo que depara el futuro sobre el tema y con grandes visiones de una mayor cooperación entre los aeropuertos de las islas hermanas para que todos estén debidamente preparados.
Muchos fueron los que se unieron al evento virtualmente ya que el lugar estaba completamente lleno no solo de miembros y partes interesadas de la DCCA, sino también de pares de la región y fuera de ella.
El primer día concluyó con un espectacular evento de redes de conexión en los exteriores al lugar, Taste of Curaçao, en el que los asistentes esperaban ansiosamente lo que sucedería el día siguiente, martes el cual fue el segundo (2) día de la conferencia.
---
Papiamento
Un prome dia di evento exitoso riba International Sustainable Air Transportation
Corsou tabata anfitrion di e di dos edicion di e conferencia
"DCCA Flight to the Future"
E conferencia anual di Dutch Caribbean Cooperation of Airports (DCCA), tumando luga for di 5 te cu 8 di november 2023 y e aña aki ta organisa pa CUR | Curaçao International Airport, a tuma luga na Curaçao Marriott Beach Resort. E conferencia a cuminsa cu masha entusiasmo. E di dos edicion di e conferencia innovativo aki a sigui cu e enfoke riba cooperacion di un transporte aereo internacional sostenibel.
Sigui pa un recepcion di bonbini masha agradabel cu e bahada di solo pa tur e participantenan y e invitadonan diadomingo, e prome dia di conferencia a cuminsa dialuna trempan cu presencia di Minister di Desaroyo Economico, Ruisandro Cijntje, kende a dirigi su mes na tur esnan presente, sigui pa palabra di bonbini di Brigit Gijsberg, representante di I&W, Jonny Andersen, CEO di Curaçao Airport Partners (CAP) operado di CUR y Joost Meijs, CEO di Queen Beatrix Airport Aruba y alabes presidente di DCCA.
CUR ta honra y entusiasma cu e asistencia di e publico cu a demostra cu e cooperacion ya caba ta cosechando e frutonan di e conferencia anterior. Aña pasa tabatin e prome edicion cu a resulta di ta exitoso y tabata organisa pa Queen Beatrix Airport Aruba cu ta miembro di DCCA. E prome edicion a genera hopi anticipacion entre e participantenan cu a bolbe e evento aki.
"E interes ta sumamente halto. E stakeholders den e industria, e personanan clave y e socionan di cual nos tin placer pa traha cu nan a uni cu nos durante e evento importante aki cu a reuni nos pa siña un for di otro y conecta otro, haciendo e colaboracion mas fuerte. Esaki ta e momentonan cu ta duna oportunidad pa tur esnan presente establece contacto entre teritorio, interactuando cu e coleganan den industria, mientras cu ta comparti y intercambia conocemento valioso", asina Jonny Andersen a duna di conoce.
E conferencia "Flight To The Future" ta continua cu e biahe riba transporte aereo sostenibel internacional, comentando riba e aspectonan interesante relaciona cu esaki, explorando e tema ampliamente a traves di diferente presentacion interesante di diferente orador local y internacional pero tambe a traves di panel discussions cu a brinda varios idea valioso di parti di e stakeholders den e industria.
E programa di dialuna a inclui un CEO Roundtable, entrega di e Joint Strategic Plan, un presentacion di interesante riba e Testing of Hybrid Aviation den Caribe Hulandes, un panel di aerolinea local cu a trata conexion y un bista riba futuro como tambe un seccion di pregunta y contesta.
Pues, a traha un programa masha atractivo pa e dos dianan principalmente pa garantisa cu tur esnan cu a asisti na e conferencia ta sali bek capacita pa loke bin den futuro y ademas bay bek cu vision di mas cooperacion entre e aeropuertonan entre e islanan ruman pa nan por ta miho prepara.
Ta hopi ta esnan cu a uni virtualmente na e conferencia, mirando cu e luga tabata completamente yen, no unicamente di e miembronan y stakeholders di DCCA, pero tambe di parti di e miembronan den region y mas.
E prome dia a termina cu un evento masha especular di contacto social, Taste Of Curaçao, caminda esnan cu a atende e evento tabata spera ansiosamente riba kico lo sosode riba e di dos dia di evento.