CUR concludes DCCA's 'A Flight to the Future' conference with spectacular blood plasma transportation via drone
Willemstad, November 9, 2023 – DCCA's Flight to the Future conference, hosted by CUR, continued with unwavering enthusiasm in a full ballroom of Curaçao Marriott Beach Resort on Tuesday (second and last day), further focusing on the International Sustainable Air Transportation through its elaborate program. A much-anticipated press conference with the CEOs of DCCA took place on Wednesday, November 8, 2023, where CUR added a ground-breaking demonstration on the Future of Aviation, to completely wrap up this grand event in a grand way.
"We have discussed and shown the endless possibilities. Innovation is unmissable and we will continue to pursue this in our daily business. This event was created by and for industry experts who know which topics are high on all our agendas. As the industry evolves, so does the way we need to see it, learn, and adapt as quickly as possible. We are excited with the outcomes of this conference and look forward to actioning soon on items discussed during this conference", said Jonny Andersen, CEO of Curaçao Airport Partners, operator of CUR.
Participants enjoying the ongoing conference, were treated to a variety of sessions with local and international industry players as the conference progressed. International partner airlines JetBlue, KLM and TUI contributed to the conversation with their respective outlooks on the future through a panel discussion led by a IATA representative. The extensive day program also included a discussion with aircraft manufacturers Unified International, Ampaire, and Surf Air who focused on their development branch and the operations around this.
The results of a conducted research on the Dutch Caribbean inter-island connectivity were broadly elaborated on during a presentation and discussed further in a following Q&A session as this is a high priority for the six (6) member islands of DCCA.
Financial experts of renowned organizations Rijksdienst Caribisch Nederland, MCB and The Curaçao Financial Group N.V. also dived into the financial challenges airport operators are or could be confronted with during these times and in the future, while utility companies of some participating territories addressed common thoughts on alternative outlooks as they weighed into the program with a focus on their perspectives and expectations to what the future holds as important contributors to the aviation industry. Thus, a full program which left everyone satisfied with the high-level of content presented.
As mentioned initially, a press conference followed on Wednesday at the Jet Centre Curaçao. The CEOs gave a recap on the event, their personal takeaways, and their thoughts and what can be expected from DCCA as a whole. This event also counted on great media and stakeholders' presence as CUR brought a surprising highlight; a blood plasma transportation via drone which left everyone in awe as it truly showed the Future of Aviation and what it holds and could mean for the islands.
This one-of-a-kind execution started in Otrobanda where the drone was equipped with the blood plasma and carefully transported all the way to the Jet Centre Curaçao at the airport. Present Ministers, Mr. Cijntje and Mr. Cooper joined Mr. Andersen to receive the drone and they gladly assisted in removing the blood from the drone to hand over to Mr. Felix Greving (Unitleider Technische Beheers Organisatie (TBO) of Fundashon Mariadal Bonaire). Mr. Sille, representative of the Blood Bank as well as invited industry partners and stakeholders for this historic moment.
Through this demonstration, CUR showed live, in immediate action, the endless possibilities through innovation when it comes to aviation and all that could be achieved in the very near future. This form of unmanned transportation of blood/blood plasma could be lifesaving and a gamechanger in the health industry of our territories. Transportation of pharmaceutical items could be done much faster when time is of the essence and could be a matter of life or death.
CUR looks back with great satisfaction on this successful edition of the Flight to the Future which it was honored to host and concludes with a special thanks to the entire team that organized this, but also to valued partners. A special thanks to Mrs. Krishna Doll-Oedjaghir, management of CATS, the operator of the Jet Centre Curaçao, for her warm hospitality in hosting the press conference and providing all support needed for a safe and seamless demo with all guests.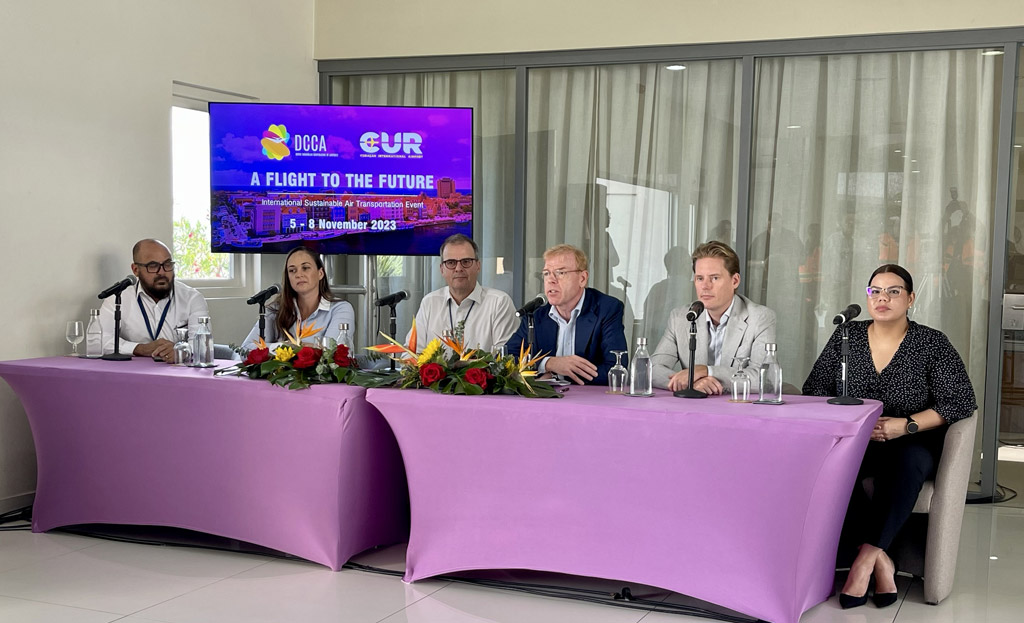 ---
Español
CUR concluye la conferencia "Un vuelo hacia el futuro" de la DCCA con un espectacular transporte de plasma sanguíneo mediante un dron
Willemstad, Noviembre 9, 2023 – La conferencia Vuelo hacia el futuro de DCCA, organizada por CUR, continuó con un gran entusiasmo en un salón lleno en el Curaçao Marriott Beach Resort este martes (segundo y último día), centrándose aún más en el transporte aéreo internacional sostenible a través de su extenso programa. El miércoles 8 de noviembre de 2023 tuvo lugar una conferencia de prensa muy esperada con los directores ejecutivos de DCCA, donde CUR agregó una demostración innovadora sobre el futuro de la aviación, para concluir este mega evento a lo grande.
"Hemos hablado y mostrado las infinitas posibilidades. La innovación es ineludible y seguiremos persiguiéndola en nuestra actividad diaria. Este evento ha sido creado por y para expertos del sector que saben qué temas son prioritarios en todas nuestras agendas. A medida que el sector evoluciona, también lo hace nuestra forma de verlo, aprender y adaptarnos lo antes posible. Estamos entusiasmados con los resultados de esta conferencia y esperamos poner pronto en práctica los temas tratados en ella", declaró Jonny Andersen, Director General de Curaçao Airport Partners, operador de CUR.
A medida que avanzaba la conferencia, los participantes disfrutaron de diversas sesiones con agentes locales e internacionales del sector. Las aerolíneas internacionales asociadas JetBlue, KLM y TUI contribuyeron a la conversación con sus respectivas perspectivas de futuro a través de una mesa redonda dirigida por un representante de la IATA. El extenso programa del día incluyó también un debate con los fabricantes de aviones Unified International, Ampaire y Surf Air, que se centraron en su rama de desarrollo y las operaciones en torno a ella.
Los resultados de una investigación realizada sobre la conectividad entre islas del Caribe Holandés se detallaron ampliamente durante una presentación y se discutieron más a fondo en una sesión de preguntas y respuestas posterior, ya que esta es una alta prioridad para las seis (6) islas miembros de DCCA.
Los expertos financieros de las renombradas organizaciones Rijksdienst Caribisch Nederland, MCB y The Curaçao Financial Group N.V. también hicieron énfasis en los desafíos financieros a los que se enfrentan o podrían enfrentarse los operadores aeroportuarios en estos tiempos y en el futuro, mientras que las empresas de servicios públicos de algunos territorios participantes abordaron reflexiones comunes sobre perspectivas alternas a medida que se adentraban en el programa, centrándose en sus perspectivas y expectativas de lo que les depara el futuro como importantes contribuyentes a la industria de la aviación. Así pues, un programa completo que dejó a todos satisfechos con el alto nivel de los contenidos presentados.
Como se mencionó inicialmente, el miércoles siguió una conferencia de prensa en el Jet Center Curaçao. Los directores ejecutivos resumieron el evento, sus conclusiones personales, sus pensamientos y lo que se puede esperar de DCCA en su conjunto. Este evento también contó con gran presencia de medios y partes interesadas ya que CUR trajo un momento sorprendente; un transporte de plasma sanguíneo mediante drones que dejó a todos asombrados ya que realmente mostró el futuro de la aviación, lo que depara y podría significar para las islas.
Esta ejecución única en su género comenzó en Otrobanda, donde el dron fue equipado con el plasma sanguíneo y transportado cuidadosamente hasta el Jet Center de Curaçao en el aeropuerto. Los Ministros presentes, el Sr. Cijntje y el Sr. Cooper, se unieron al Sr. Andersen para recibir el dron y ayudaron gustosamente a extraer la sangre del dron para entregársela al Sr. Felix Greving (Unitleider Technische Beheers Organisatie (TBO) de la Fundashon Mariadal Bonaire). El Sr. Sille, representante del Banco de Sangre, así como los socios de la industria invitados y las partes interesadas en este momento histórico.
A través de esta demostración, CUR mostró en vivo, en acción inmediata, las infinitas posibilidades a través de la innovación en materia de aviación y todo lo que se podría lograr en un futuro muy cercano. Esta forma de transporte no tripulado de sangre/plasma sanguíneo podría salvar vidas y cambiar las reglas del juego en la industria de la salud de nuestros territorios. El transporte de artículos farmacéuticos podría realizarse mucho más rápido cuando el tiempo es esencial y podría ser una cuestión de vida o muerte.
CUR recuerda con gran satisfacción esta exitosa edición del Vuelo hacia el Futuro que tuvo el honor de albergar y concluye con un agradecimiento especial a todo el equipo que lo organizó, pero también a sus valiosos socios. Un agradecimiento especial a la Sra. Krishna Doll-Oedjaghir, gerencia de CATS, el operador del Jet Center Curaçao, por su cálida hospitalidad al organizar la conferencia de prensa y brindar todo el apoyo necesario para una demostración segura y fluida con todos los invitados.
---
Papiamento
CUR a termina e conferencia di DCCA "A Flight to the Future" cu un transportacion di "blood plasma" via drone
E conferencia di DCCA "Flight to the Future", organisa pa CUR, a sigui cu masha entusiasmo diamars (e di dos y ultimo dia) den un ballroom di Curaçao Marriott Beach Resort completamente yen y enfocando su mes ainda mas riba transporte aereo internacional sostenibel a traves di su programa elabora. Diaranson 8 di november 2023, a tuma luga un conferencia di prensa cu tur CEO di DCCA, caminda CUR a haci un demostracion innovativo tocante e futuro di aviacion p'asina termina cu e evento aki den gran forma.
"Nos a combersa y demostra e cantidadnan infinito di oportunidad. Innovacion no ta cos di perde y nos lo sigui persigui e den nos manera di haci negoshi tur dia. A crea e evento aki di y pa experto den e industria cu ta na altura riba cua tema tin un luga destaca den nos agenda. Segun cu e industria ta evoluciona, ta pone cu nos mester mira, siña y adapta nos mes mas pronto cu ta posibel. Nos ta entusiasma cu e resultadonan di e conferencia aki y nos ta spera pa actua lihe riba e temanan discuti durante e conferencia", asina Jonny Andersen, CEO of Curaçao Airport Partners, operator of CUR a duna di conoce.
E participantenan cu a disfruta di e conferencia aki a disfruta di un variedad di sesion cu personanan clave den e industria local como tambe internacional segun cu e conferencia a avansa. E aerolineanan internacional cu ta asocia ta JetBlue, KLM y TUI y nan a contribui na e combersacion tocante nan perspectiva riba futuro a traves di un panel discussion dirigi pa un representante di IATA. E programa extenso a inclui un combersacion cu esnan encarga pa fabrica e avionnan Unified International, Ampaire y Surf Air kende ta concentra riba nan area di desaroyo y e operacionnan rond di dje.
E resultadonan di un investigacion realisa riba e conexion entre e islanan di Caribe Hulandes a bay den detaye durante un presentacion y a conversa mas durante un sesion di pregunta y respuesta despues, ya cu esaki ta di hopi prioridad pa e seis islanan cu ta miembro di DCCA.
E expertonan financiero di e organisacionnan renombra manera Rijksdienst Caribisch Nederland, MCB y The Curaçao Financial Group N.V. tambe a profundisa riba e retonan financiero cu e operadornan di aeropuerto ta enfrenta of lo por enfrenta den e temponan aki y den futuro, mientras cu e companianan di servicio publico di algun teritorio participando a papia riba ideanan mutuo riba alternativa y perspectiva, mientras cu nan a papia riba nan perspectiva y alternativa pa futuro. Pues, un programa completo cu a laga tur esnan cu a atende e conferencia satisfecho.
Manera menciona inicialmente, diaranson a continua cu un conferencia di prensa den Jet Center Curaçao. Tur director ehecutivo a resumi e evento, nan conclusion personal, nan pensamento y kico por spera di DCCA den conhunto. E evento aki a conta cu presenta di medionan di comunicacion y stakeholders ya cu CUR a trece un momento soprendente: un transport di blood plasma pa medio di drone cu a laga tur hende asombra mirando cu asina a demostra e futuro di aviacion y loke esaki por nifica pa e islanan.
E ehecucion unico aki a cuminsa na Otrobanda, caminda a ekipa e drone cu blood plasma y transporta cu masha cautela pa Jet Center Curaçao na aeropuerto. Minister Cijntje y Cooper a uni na Andersen pa ricibi e drone y cu placer a yuda saca e sanger pa entrega esaki na Felix Greving (Unitleider Technische Beheers Organisatie (TBO) di Fundashon Mariadal Bonaire). Sille, representante di Bloed Bank, como tambe demas socio den e industria y stakeholders a ricibi invitacion pa e momento historico aki.
Pa medio di e demostracion aki, CUR a demostra bibo y directo e cantidad di posibilidad a traves di innovacion y tur loke por logra den un futuro no mucho leu. E forma di transporte sin humano di sanger/plasma lo por salba bida y cambia e reglanan di wega den e industria di salud den nos area. E transport di articulo farmaceutico por ta realisa hopi mas lihe na momento cu tempo ta esencial y den caso di bida of morto.
CUR ta wak bek cu hopi satisfaccion e di dos edicion exitoso di "A Flight to the Future" cu nan tabatin e honor di organisa y ta termina cu un gradicimento special na tur esnan cu a organis'e pero tambe na tur su socionan. Un gradicimento special na Krishna Doll-Oedjaghir, gerencia di CATS, operador di Jet Center Curaçao, pa su hospitalidad na momento di organisa e conferencia di prensa y brinda tur e apoyo necesario pa un demostracion sigur y cu fluidez cu tur e invitadonan.