September 14, 2023
ORANJESTAD - Aruba Airport Authority N.V. (AAA) recently hosted the 1st official ACI-LAC Airport Day Aruba 2023 on behalf of Airports Council International of the Latin America & Caribbean region (ACI-LA) on Tuesday September 12, 2023.
ACI-LAC and AAA welcomed a total of 100 delegates from around the world including Germany, Colombia, Costa Rica, Panama, and Miami for a one-day ACI-LAC Airport Day event that took place at the Hilton Aruba Caribbean Resorts & Casino. With the theme of "Catering to the next 100 years of traveling", the program included presentations from worldwide partners and airport professionals focusing on the future and the four main pillars of AAA's corporate strategy which are People & Development, Quality of Service, Innovation & New Opportunities, and Sustainability & Social Responsibility.
The event commenced with a welcome video by the Minister of Tourism and Public Health, Mr. Dangui Oduber, and welcome remarks by AAA's CEO Mr. Joost Meijs and the Director General of ACI-LAC Mr. Rafael Echevarne. To open the presentations section, Mr. Eliseo Llamazares from KPMG presented on balancing aviation traffic growth and sustainable small island state economies, the current challenges small island states are facing including island capacity, and how sustainable initiatives can balance negative impacts aviation can have on the community. Mr. Daniel Gumberger from Munich International Airport shared emerging trends in changing traveler needs and expectations of airport concessionaires, authenticity of destination, art, and experiences that should be considered for future airport developments. As part of innovative technologies, Ms. Sevda Fevzi from Modalis shared her expert views on technological developments that can ease travel including the use of Artificial Intelligence whilst Mr. Yuri Feliciano from SITA shared valuable insights on collaborations between stakeholders that can enhance passenger experience including the Aruba One Happy Pass recently launched in March 2023. Mr. Luis Soto from El Dorado International Airport focused on how to attract future aviation leaders, guarantee talent and growth development for a rapidly changing aviation industry and attract a gender-balanced workforce. To finalize the program, a panel discussion moderated by Ms. Minerva Flemming from AAA and including Mr. Daniel Muñoz from GCG Group, Mr. Sebastian Pinchinatti from Amadeus, Mr. Erick Barboza from AERIS Costa Rica, and Mr. John-Henry Palacios from Dufry discussed the importance of airports' balancing act for future concession revenue generation.
"Being able to meet the ever-changing demands of travelers requires a strong collaboration between airport service providers, civil authorities, and key stakeholders to guarantee a smooth airport operation and positive impact on the passenger experience. As an airport, investing in diverse commercial offerings, innovative technological developments, and authentic experiences inside and outside of the airport terminal can favorably position the airport for future demands and needs of travelers. Sustainability needs to be embedded in all our decision making because that is what we want and the customers of the future require", said AAA CEO Mr. Joost Meijs.
AAA would like to thank ACI-LAC for the opportunity of hosting the 1st official ACI-LAC Airport Day in Aruba, all speakers for their valuable contribution and insights provided, and all 100 delegates for attending the event.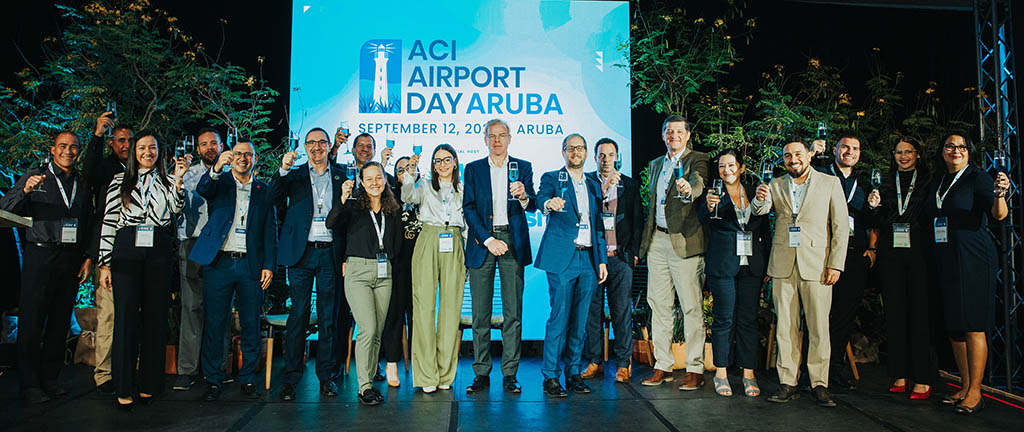 ---
Español
Día del Aeropuerto ACI LAC 2023:
Atendiendo a los próximos 100 años de viajes
ORANJESTAD - La Autoridad Aeroportuaria de Aruba N.V. (AAA) organizó recientemente el 1er Día Oficial del Aeropuerto ACI-LAC Aruba 2023 en nombre del Consejo Internacional de Aeropuertos de la región de América Latina y el Caribe (ACI-LA) el martes 12 de septiembre de 2023.
ACI-LAC y AAA le dieron la bienvenida a un total de 100 delegados de todo el mundo, incluidos Alemania, Colombia, Costa Rica, Panamá y Miami, para un evento que se llevo a cabo durante un día, bajo el nombre del Día del Aeropuerto de ACI-LAC que tuvo lugar en el Hilton Aruba Caribbean Resorts & Casino. Con el tema "Atendiendo a los próximos 100 años de viajes", el programa incluyó presentaciones de socios de todo el mundo y profesionales aeroportuarios centrándose en el futuro y los cuatro pilares principales de la estrategia corporativa de AAA, que son personas y desarrollo, calidad de servicio, innovación y Nuevas Oportunidades y Sostenibilidad y Responsabilidad Social.
El evento comenzó con un video de bienvenida del Ministro de Turismo y Salud Pública, Sr. Dangui Oduber, y palabras de bienvenida del Sr. Joost Meijs, CEO de AAA, y el Sr. Rafael Echevarne, Director General de ACI-LAC. Para abrir la sección de presentaciones, el Sr. Eliseo Llamazares de KPMG habló sobre cómo equilibrar el crecimiento del tráfico aéreo y las economías sostenibles de los pequeños estados insulares, los desafíos actuales que enfrentan los pequeños estados insulares, incluida la capacidad de las islas, y cómo las iniciativas sostenibles pueden equilibrar los impactos negativos que la aviación puede tener en el comunidad. El Sr. Daniel Gumberger del Aeropuerto Internacional de Munich compartió las tendencias emergentes en las cambiantes necesidades de los viajeros y las expectativas de los concesionarios de aeropuertos, la autenticidad del destino, el arte y las experiencias que deben considerarse para futuros desarrollos aeroportuarios. Como parte de las tecnologías innovadoras, la Sra. Sevda Fevzi de Modalis compartió sus opiniones expertas sobre los desarrollos tecnológicos que pueden facilitar los viajes, incluido el uso de la Inteligencia Artificial, mientras que el Sr. Yuri Feliciano de SITA compartió ideas valiosas sobre colaboraciones entre partes interesadas que pueden mejorar la experiencia de los pasajeros, incluido el Aruba One Happy Pass que se lanzó recientemente en marzo de 2023. El Sr. Luis Soto del Aeropuerto Internacional El Dorado se centró en cómo atraer futuros líderes de la aviación, garantizar el talento y el desarrollo del crecimiento para una industria de la aviación que cambia rápidamente y atraer una fuerza laboral con equilibrio de género. Para finalizar el programa, se llevó a cabo un panel de discusión moderado por la Sra. Minerva Flemming de AAA y en el que participaron el Sr. Daniel Muñoz de GCG Group, el Sr. Sebastian Pinchinatti de Amadeus, el Sr. Erick Barboza de AERIS Costa Rica y el Sr. John-Henry Palacios de Dufry analizó la importancia del acto de equilibrio de los aeropuertos para la futura generación de ingresos por concesiones.
"Poder satisfacer las demandas siempre cambiantes de los viajeros requiere una fuerte colaboración entre los proveedores de servicios aeroportuarios, las autoridades civiles y las partes interesadas clave para garantizar una operación aeroportuaria fluida y un impacto positivo en la experiencia de los pasajeros. Como aeropuerto, invertir en diversas ofertas comerciales, desarrollos tecnológicos innovadores y experiencias auténticas dentro y fuera de la terminal del aeropuerto puede posicionar favorablemente al aeropuerto para las demandas y necesidades futuras de los viajeros. La sostenibilidad debe estar integrada en toda nuestra toma de decisiones porque eso es lo que queremos y lo que los clientes del futuro requieren", afirmó el Sr. Joost Meijs, director ejecutivo de AAA.
AAA desea agradecer a ACI-LAC por la oportunidad de organizar el primer Día Oficial del Aeropuerto ACI-LAC en Aruba, a todos los oradores por sus valiosas contribuciones y conocimientos proporcionados, y a los 100 delegados por asistir al evento.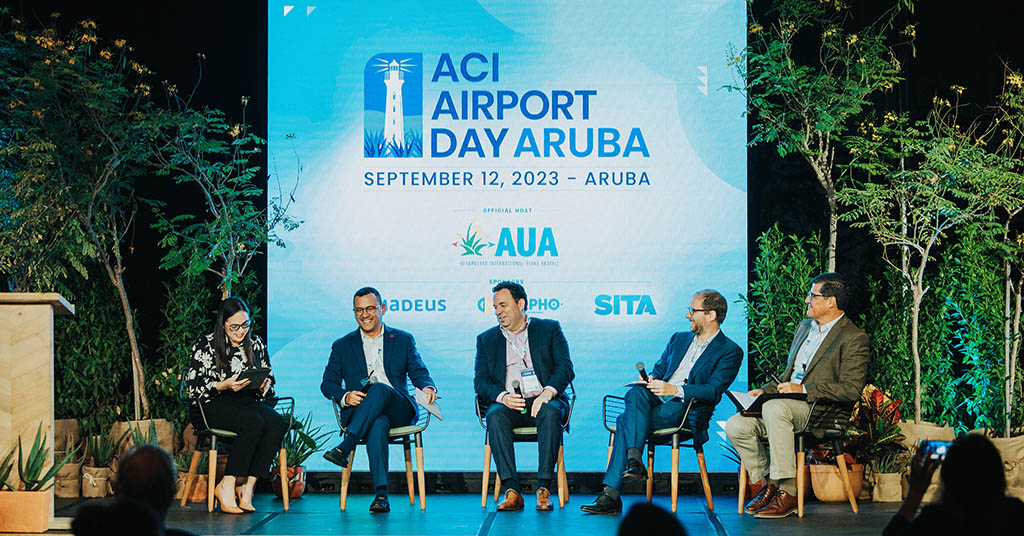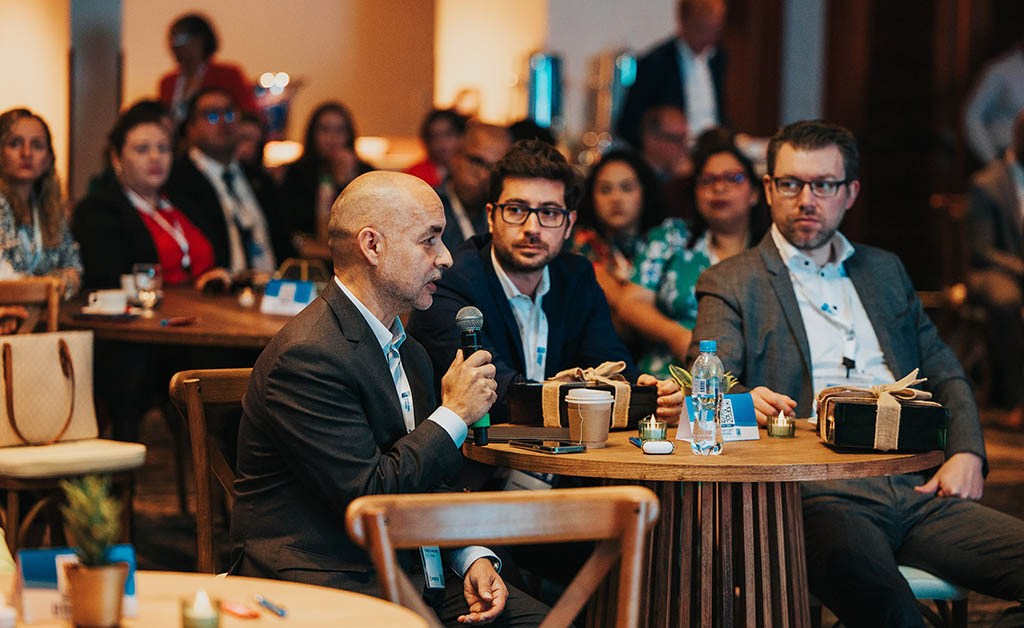 ---
Papiamento
ACI LAC Airport Day 2023:
Tema principal tabata "Catering to the next 100 years of traveling"
ORANJESTAD - Aruba Airport Authority N.V. (AAA) a organisa riba diamars 12 di september 2023, e prome reunion oficial di ACI-LAC Airport Day Aruba 2023, bou encargo di Airports Council International di Latino America y Caribe.
ACI-LAC y AAA a yama bonbini na un total di 100 delegado fo'i rond mundo, incluyendo Alemania, Colombia, Costa Rica, Panama y Miami, pa un evento di un dia ACI-LAC Airport Day cu a tuma luga na Hilton Aruba Caribbean Resort & Casino.
Cu e tema ""Catering to the next 100 years of traveling", e programa a inclui presentacion di varios socio for di rond mundo y diferente profesional di aeropuerto cu enfoke riba futuro y e cuater pilarnan principal di e strategia corporativo di AAA cu ta Hende y Desaroyo, Calidad di Servicio, Innovacion & Oportunidad Nobo y Sostenibilidad & Responsabilidad Social.
E evento a inicia cu un video di bonbini bou encargo di Minister di Turismo y Salud, Dangui Oduber y palabra di bonbini di CEO di AAA, Joost Meijs como tambe di e director general di ACI-LAC, Rafael Echervarne. Pa inicia cu e seccion di presentacion Elizeo Llamazares di KPMG a haci un presentacion di con pa balansa e crecemento di trafico aereo y un economia sostenibel di e islanan chikito, e desafionan actual cu e islanan insular ta enfrentando incluyendo e capacidad di e islanan y con iniciativanan sostenibel por balansa e impactonan negativo cu aviacion por tin pa comunidad.
Daniel Gumberger di Munich International Airport a comparti e tendencianan creciente den e cambio di e necesidadnan di e biahero y e expectativanan di e airport concessionaires, autenticidad di e destinacion, arte y experiencia cu mester considera pa e futuro desaroyo di aeropuerto. Como parti di tecnologia innovativo, Sevda Fevzi di Modalis a comparti su opinion cu experticio riba riba desaroyo tecnologico cu por facilita biahe, incluyendo e uzo di Artificial Intelligence mientras cu Yuri Feliciano di SITA a comparti conocemento valioso tocante colaboracion entre stakeholders cu por mehora e experiencia di e pasaheronan, incluyendo Aruba One Happy Pass, cu a lansa na maart 2023.
Luis Soto di Aeropuerto Internacional El Dorado a enfoca riba con pa atrae futuro lidernan den aviacion, talento garantisa y desayoro den crecemento pa un industria di aviacion cu ta cambia rapidamente y atrae un forsa laboral cu ta "gender-balanced". Pa finalisa e programa, tabatin un panel discussion modera pa Minerva Flemming di AAA incluyendo Daniel Muñoz di GCG Group, Sebastian Pinchinatti di Amadeus, Erick Barboza di AERIS Costa Rica y John-Henry Palacios di Dufry, caminda a discuti e importancia di acto di ekilibrio di e aeropuertonan pa un futuro generacion pa concession revenue.
"Pa por satisface e demandanan cu semper ta cambia di e biahero, ta rekeri un colaboracion fuerte entre e proveedornan di servicio di aeropuerto, e autoridadnan civil y e stakeholders clave pa garantisa un operacion di aeropuerto cu fluidez y un impacto positivo den e experiencia di e pasaheronan. Como aeropuerto, inverti den diferente oferta comercial, desarroyo tecnologico innovador y experiencia autentico denter di y pafo di e terminal di aeropuerto por posiciona aeropuerto pa e futuro demandanan y necesidad di e pasaheronan. Sostenibilidad mester ta integra den tur nos desicionnan pasobra esey ta loke nos kier y loke e futuro clientenan kier", tabata e palabranan di Joost Meijs kende ta CEO di AAA.
AAA ta gradici ACI-LAC p'e oportunidad di por organisa e prome ACI-LAC Airport Day na Aruba, na tur e oradornan pa nan contribucion valioso y e conocemento brinda y na tur e 100 delegadonan pa asisti na e evento.