March 17, 2023
As part of AUA Airport's corporate strategy and commitment to create more sustainable airport operations:
Aruba Airport receives Airport Carbon Accreditation Level 3
ORANJESTAD – In Aruba Airport Authority N.V. (AAA)'s vision, goals, and objectives, sustainability is defined as one of the most important strategic pillars of the company. AAA has the ambition to be the most sustainable airport in the region and proudly announces its latest achievement, the Airport Carbon Accreditation Level 3.
In 2018, AUA Airport entered Airports Council International's (ACI) Airport Carbon Accreditation (ACA) program, which is the only global, airport-specific carbon management certification program for airports. It provides airports with a common framework and assesses and recognizes the efforts of airports to manage and reduce their carbon emissions through 6 levels of certification: 'Mapping', 'Reduction', 'Optimisation', 'Neutrality', 'Transformation' and 'Transition'.
By achieving the Airport Carbon Accreditation Level 3 – Optimisation, AUA Airport engaged its third parties in carbon footprint management and widened the scope of its carbon footprint to include a range of Scope 3 emissions. Third parties include airlines and various service providers, such as independent ground handlers, catering companies, fueling company, and others working on the airport site. Actions taken to measure, manage and reduce its carbon footprint included data collection, inspections, auditing, and calculations of GHG emissions, amongst other efforts.
"We congratulate Aruba for being the first airport in the Eastern Caribbean to achieve Level 3 "Optimisation" in the Airport Carbon Accreditation program. The management and employees of Queen Beatrix Airport have demonstrated once again their leadership and commitment towards a sustainable aviation industry", were the words expressed by ACI-LAC's Director General, Rafael Echevarne.
AAA's Director Health, Safety and Sustainability, Angeline Flemming, indicated that "this achievement solidifies the efforts and commitment of our staff, airport community, partners, and stakeholders towards making AUA Airport the most sustainable airport in the region. This certification is part of the airport's long-term strategy, and we hope to encourage other organizations to also embrace sustainable practices in their daily operations and pursue certifications that contribute to a better more sustainable way of doing business."
Joost Meijs, CEO of AAA stated "as part of our sustainability goals and objectives, we aim to reach certain levels of certifications in the upcoming two years. ACA program provides a unique common framework and tool for airports to properly manage its carbon footprint and guide and support airports though the process of continual improvement and partnership with stakeholders. Reaching Level 3 shows the commitment of our staff and other partners to conduct business with respect to our environment."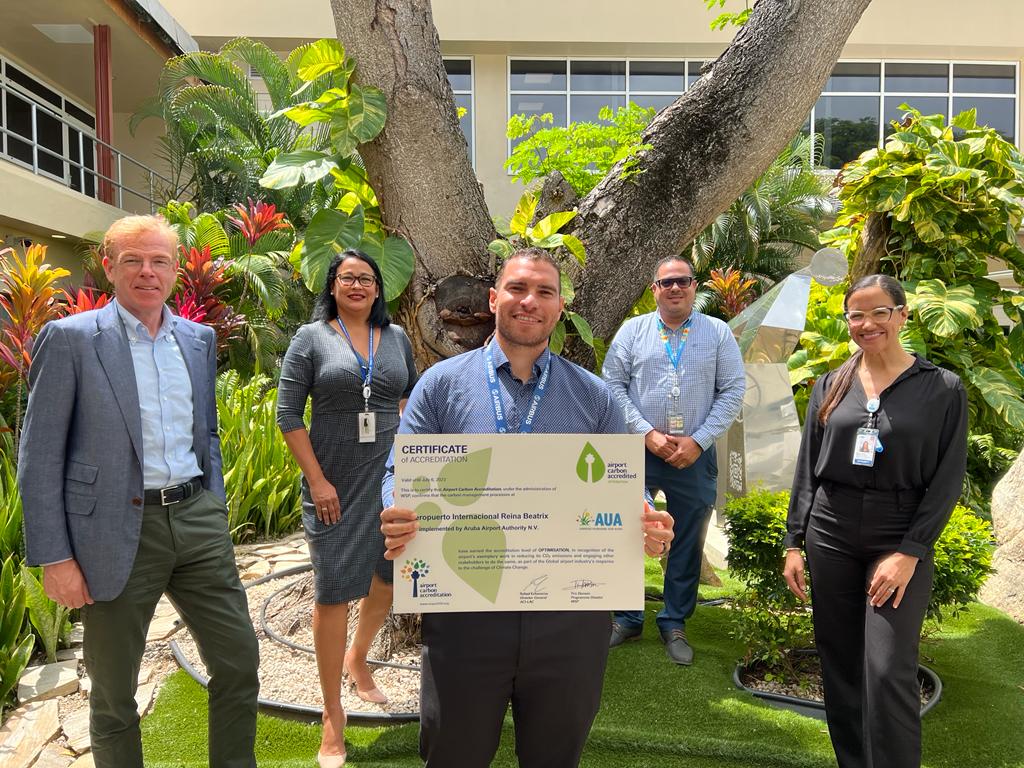 ---
Español
Como parte de la estrategia corporativa y el compromiso del Aeropuerto de Aruba para crear operaciones aeroportuarias más sostenibles:
Aeropuerto de Aruba recibe Acreditación de Carbono Aeroportuario Nivel 3
ORANJESTAD - En la visión, metas y objetivos de la Autoridad aeroportuaria de Aruba N.V. (AAA), la sostenibilidad se define como uno de los pilares estratégicos más importantes de la compañía. AAA tiene la ambición de ser el aeropuerto más sostenible de la región y anuncia con orgullo su último logro la Acreditación de Carbono Aeroportuario Nivel 3.
En 2018, el Aeropuerto de Aruba ingresó al programa Acreditación del carbono aeroportuario(ACA) de Consejo Internacional de Aeropuertos(ACI), que es el único programa global de certificación de gestión de carbono específico para aeropuertos. Proporciona a los aeropuertos un marco común, evalúa y reconoce los esfuerzos de los aeropuertos para gestionar y reducir sus emisiones de carbono a través de 6 niveles de certificación: 'Mapeo', 'Reducción', 'Optimización', 'Neutralidad', 'Transformación' y 'Transición' '.
Al conseguir el nivel 3 de optimización de la acreditación del carbono aeroportuario, el Aeropuerto de Aruba AUA involucró a sus terceros en la gestión de la huella de carbono y amplió el alcance de su huella de carbono para incluir una serie de emisiones de Alcance 3. Entre los terceros se incluyen aerolíneas y diversos proveedores de servicios, como empresas independientes de asistencia en tierra, empresas de catering, empresas de abastecimiento de combustible y otras que trabajan en las instalaciones del aeropuerto. Las medidas adoptadas para medir, gestionar y reducir su huella de carbono incluyen la recopilación de datos, inspecciones, auditorías y cálculos de las emisiones de GEI, entre otros esfuerzos.
"Felicitamos a Aruba por ser el primer aeropuerto del Caribe Oriental en alcanzar el Nivel 3 de "Optimización" en el programa de Acreditación de Carbono Aeroportuario. La dirección y los empleados del Aeropuerto Reina Beatrix han demostrado una vez más su liderazgo y compromiso hacia una industria de la aviación sostenible", fueron las palabras expresadas por el Director General de ACI-LAC, Rafael Echevarne.
La Directora de Salud, Seguridad y Sostenibilidad del AAA, Angeline Flemming, indicó que "este logro consolida los esfuerzos y el compromiso de nuestro personal, la comunidad aeroportuaria, los socios y las partes interesadas para hacer del Aeropuerto de Aruba AUA el más sostenible de la región. Esta certificación forma parte de la estrategia a largo plazo del aeropuerto, y esperamos animar a otras organizaciones a que también adopten prácticas sostenibles en sus operaciones diarias y persigan certificaciones que contribuyan a una forma de hacer negocios más sostenible."
Joost Meijs, Director Ejecutivo de AAA, declaró: "Como parte de nuestras metas y objetivos de sostenibilidad, pretendemos alcanzar determinados niveles de certificación en los próximos dos años. El programa ACA ofrece un marco común único y una herramienta para que los aeropuertos gestionen adecuadamente su huella de carbono y les sirva de guía y apoyo en el proceso de mejora continua y colaboración con las partes interesadas. Alcanzar el nivel 3 demuestra el compromiso de nuestro personal y otros socios para llevar a cabo una actividad empresarial respetuosa con nuestro medio ambiente".
---
Papiamento
Como parti di e strategia pa crea un operacion mas sostenibel
A acredita Aruba cu "Airport Carbon Level 3"
Den e vision, meta y obhetivonan di Aruba Airport Authority N.V. (AAA), ta defini sostenibilidad como un di e pilarnan strategico mas importante di e compania. AAA tin e ambicion pa ta e aeropuerto mas sostenibel den e region y cu orguyo ta anuncia nan ultimo logro, Airport Carbon Accreditation Level 3.
Na 2018, aeropuerto di Aruba a drenta e Airports Council International's (ACI) Airport Carbon Accreditation (ACA) program, cu ta e unico programa global, specificamente pa aeropuerto, di maneho di carbon pa aeropuerto. Ta ekipa e aeropuertonan cu un structura y ta evalua y reconoce e esfuersonan di e aeropuertonan pa maneha y reduci su carbon emissions a traves di 6 nivel di certificacion: Mapping, reduccion, optimalisacion, neutralidad, transformacion y transicion.
Door di logra e Airport Carbon Accreditation Level 3 – Optimisation, AAA a involucra demas partidonan den carbon footprint management y amplia e alcance di su carbon footprint pa inclui un calidad di emision di Scope 3. E partidonan ta inclui aerolinea y demas cu ta brinda servicio manera ground handlers, compania di catering, compania di combustibel y demas cu ta traha na aeropuerto. Accion realisa pa midi, maneha y reduci e carbon footprint a inclui recopilacion di data, inspeccion, auditing y calculacion di emision GEI entre otro esfuersonan.
"Nos ta felicita Aruba pa ta e prome aeropuerto den Caribe Oriental pa alcansa e Level 3
"Optimisation" den e Airport Carbon Accreditation program. Un biaha mas management y trahadonan di Aeropuerto Internacional Reina Beatrix a demostra nan liderazgo y compromiso pa un industria di aviacion mas sostenibel", tabata palabra di Rafael Echevarne, director general di ACI-LAC.
Angeline Flemming, Director Health, Safety and Sustainability di AAA, a indica cu: "e logro aki ta concentra e esfuersonan y compromiso di nos personal, comunidad di aeropuerto, socio y stakeholderspa haci AAA e aeropuerto mas sostenibel den e region. E certificacion aki ta parti di e strategia a largo plaso di aeropuerto y nos ta spera di curasha demas organisacion pa adopta practica sostenibel den nan operacion diario y pa busca certificacion cu lo contribui na un manera miho y mas sostenibel di haci negoshi."
Joost Meijs, CEO di AAA, a comenta cu "como parti di nos meta y obhetivo di sostenibilidad, nos meta ta pa alcansa cierto nivel di certificacion den e proximo añana. E programa ACA ta brinda un oportunidad unico y alabes ta brinda e herment pa asina e aeropuertonan maneha nan carbon footprint di un manera apropia. Tambe pa guia y sostene e aeropuertonan durante e proceso pa mehora cu sosten den e partidonan interesa. Pa por a yega e nivel 3, ta demostra e compromiso di aeropuerto y stakeholder pa negosha cu respet pa nos medio ambiente."