September 7, 2023
The Dutch Caribbean Cooperation of Airports is currently conducting an innovative travel survey focusing on interisland travel within the Dutch Caribbean
ORANJESTAD – The Dutch Caribbean Cooperation of Airports (DCCA), representing six Caribbean airports within the Kingdom of the Netherlands (Aruba, Bonaire, Curaçao, Saba, Sint Maarten, and Sint Eustatius), is thrilled to announce its first of a kind travel survey, which was rolled out during the summer months across all member islands of the DCCA. This survey was meticulously crafted to unearth valuable insights and discern travel patterns between the Dutch Caribbean islands, aiming to enhance the affordability, accessibility, and efficiency of interisland travel for our residents.
The travel and airline industries are ever evolving, and DCCA recognizes the significance of staying at the forefront of these changes. Through the comprehensive survey, the DCCA seeks to gain crucial data that will enable the Dutch Caribbean islands and airports to make informed decisions, drive innovation, and achieve sustainable success.
A Successful Media Tour Highlighted the Survey's Importance
Recently, representatives from DCCA in Aruba and Curaçao concluded a highly successful media tour in Curaçao to promote the survey among the island's residents. This tour included appearances on prominent platforms such as the TV Direct morning show "Mainta," Radio Direct hosted by Ruvette Dirksz, and "Moru Bondia" at TeleCuracao. During these appearances, the DCCA's representatives effectively conveyed the survey's significance to the local community. The survey results will be presented during the upcoming DCCA conference taking place in Curaçao in November. Representatives from Aruba included, Mrs. Jo-Anne Meaux-Arends, Aviation Business Development Executive, and Mrs. Joanne Christiaans, DCCA Program Manager. Curaçao was represented by Ms. Peggy Croes, Senior Vice President Aviation Market Development.
Calling All Aruban Residents to Participate
The DCCA cordially invites the local Aruban community to actively participate to actively participate in this landmark survey. Your insights are invaluable, and your perspectives play a vital role in the overall understanding of travel within the region.
The survey is accessible and can be completed online at http://s.alchemer.com/s3/AUADCCA
Upon completion of the survey, participants will have the opportunity to participate in a raffle to win a gift card valued at $400,00.
About the DCCA
The Dutch Caribbean Cooperation of Airports (DCCA) is a cooperation between all six Caribbean Airports within the Kingdom of the Netherlands. DCCA's objective is to improve the general quality of each individual airport by facilitating mutual assistance and efficient exchange of information, transfer of knowledge and sharing of expertise with the goal of achieving economies of scale. DCCA aims to present future focused alternative air transportation options to improve interisland connectivity between the Dutch Caribbean Islands.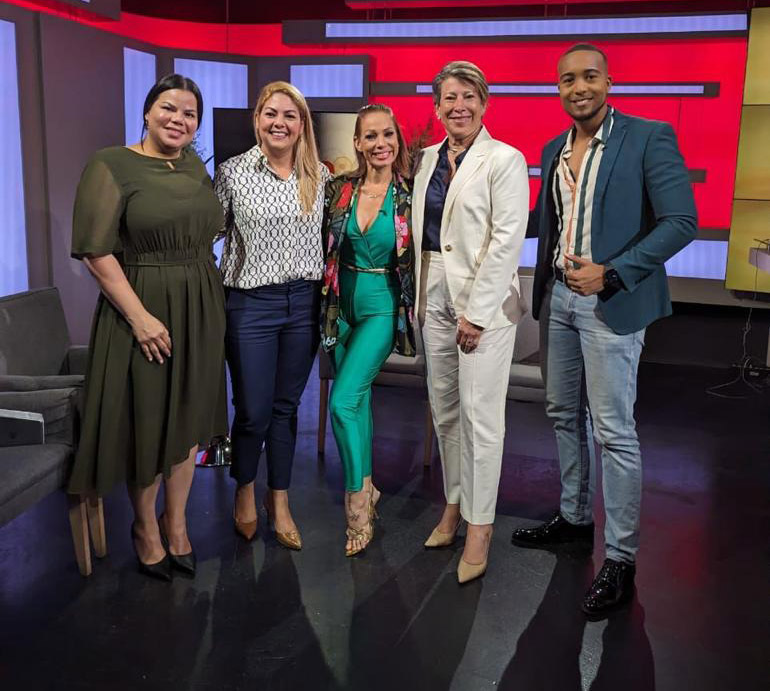 ---
Español
La Cooperación de Aeropuertos del Caribe Holandés está llevando a cabo una innovadora encuesta sobre viajes, centrada en los viajes entre islas dentro del Caribe Holandés.
ORANJESTAD – La Cooperación Holandesa de Aeropuertos del Caribe (DCCA), que representa seis aeropuertos caribeños dentro del Reino de los Países Bajos (Aruba, Bonaire, Curazao, Saba, Sint Maarten y Sint Eustatius), se complace en anunciar su primera encuesta de viajes de este tipo, que se implementó durante los meses de verano en todas las islas miembros de la DCCA. Esta encuesta fue elaborada meticulosamente para descubrir información valiosa y discernir patrones de viaje entre las islas del Caribe Holandés, con el objetivo de mejorar la asequibilidad, accesibilidad y eficiencia de los viajes entre islas para nuestros residentes.
Las industrias de viajes y aerolíneas están en constante evolución y DCCA reconoce la importancia de mantenerse a la vanguardia de estos cambios. A través de esta encuesta integral, la DCCA busca obtener datos cruciales que permitirán a las islas y aeropuertos del Caribe holandés tomar decisiones informadas, impulsar la innovación y lograr un éxito sostenible.
Una exitosa gira de medios destacó la importancia de la encuesta
Recientemente, representantes de DCCA en Aruba y Curazao concluyeron una exitosa gira de prensa en Curazao para promover la encuesta entre los residentes de la isla. Esta gira incluyó apariciones en plataformas destacadas como el programa matutino "Mainta" de TV Direct, Radio Direct presentado por Ruvette Dirksz y "Moru Bondia" en TeleCuracao. Durante estas apariciones, los representantes de la DCCA transmitieron efectivamente la importancia de la encuesta a la comunidad local. Los resultados de la encuesta se presentarán durante la próxima conferencia de DCCA que se llevará a cabo en Curazao en noviembre. Entre los representantes de Aruba se encontraban la Sra. Jo-Anne Meaux-Arends, Ejecutiva de Desarrollo de Negocios de Aviación, y la Sra. Joanne Christiaans, Gerente del Programa DCCA. Curazao estuvo representada por la Sra. Peggy Croes, Vicepresidenta Senior de Desarrollo del Mercado de Aviación.
Llamando a todos los residentes de Aruba a participar
La DCCA invita cordialmente a la comunidad local de Aruba a participar activamente en esta encuesta histórica. Sus conocimientos son invaluables y sus perspectivas juegan un papel vital en la comprensión general de los viajes dentro de la región.
La encuesta es accesible y se puede completar en línea en http://s.alchemer.com/s3/AUADCCA
Al completar la encuesta, los participantes tendrán la oportunidad de participar en un sorteo para ganar una tarjeta de regalo valorada en $400,00.
Acerca de la DCCA
La Cooperación Holandesa de Aeropuertos del Caribe (DCCA) es una cooperación entre los seis aeropuertos del Caribe dentro del Reino de los Países Bajos. El objetivo de DCCA es mejorar la calidad general de cada aeropuerto individual facilitando la asistencia mutua y el intercambio eficiente de información, la transferencia de conocimientos y el intercambio de experiencia con el objetivo de lograr economías de escala. DCCA tiene como objetivo presentar opciones de transporte aéreo alternativas enfocadas en el futuro para mejorar la conectividad entre islas entre las islas del Caribe holandés.
---
Papiamento
Dutch Caribbean Cooperation of Airports cu encuesta tocante innovacion den biahe interinsular
Dutch Caribbean Cooperation of Airports (DCCA), cu ta representa seis aeropuerto den Caribe dentro di Reino Hulandes (Aruba, Boneiro, Corsou, Saba, Sint Maarten y Sint Eustatius), tin e placer di anuncia nan prome encuesta di biahe di e tipo aki implementa durante e lunanan di zomer pa tur e islanan cu ta miembro di DCCA. A elabora e encuesta aki cuidadosamente pa descubri informacion valioso y pa distingui e patronchinan di biahe entre e islanan di Caribe Hulandes, cu e meta pa mehora e accesibilidad y eficiencia di e biahenan entre e islanan pa e localnan.
E industria di biahe y e aerolineanan ta den un evolucion continuo y DCCA ta reconoce e importancia di mantene na altura di e cambionan aki. A traves di e encuesta DCCA ta en busca di dato crucial cu lo permiti e islanan y e aeropuertonan di Caribe Hulandes pa tuma desicion basa riba informacion, impulsa innovacion y logra un exito sostenibel.
Un "media tour" exitoso a destaca e importancia di e encuesta
Recientemente, e representantenan di DCCA di Aruba y Corsou a termina cu un media tour exitoso na Corsou p'asina promove e encuesta entre e residentenan di e isla. E media tour aki a inclui bishita na diferente plataforma destaca manera "Mainta" di TV Direct, Ruvette Dirksz na Radio Direct y "Moru Bondia" na TeleCuraçao.
Durante nan bishita, e representantenan di DCCA a enfatisa riba importancia di e encuesta pa e comunidad local. Lo presenta e resultadonan di e encuesta durante e siguiente conferencia di DCCA cu lo tuma luga na Corsou den luna di november.
Representando Aruba tabata t'ey presente Jo-Anne Meaux-Arends, kende ta Business Development Executive na Aruba Airport Authority y Joanne Christiaans kende ta e Program Manager di DCCA. Di otro banda, Corsou tabata representa pa Peggy Croes, Senior Vice-President Aviation Market Development.
Un invitacion pa tur Arubiano participa
DCCA ta invita comunidad di Aruba pa participa activamente na e encuesta historico aki. Bo aporte ta importante pa asina conoce e perspectivanan cu lo tin un rol importante den e proceso general di aviacion den e region. E encuesta ta disponibel online riba: http://s.alchemer.com/s3/AUADCCA
Na momento cu termina cu e encuesta e participantenan tin chens di participa den un sorteo pa gana un "gift card" balora na 400 dollar.
Tocante DCCA
E Dutch Caribbean Cooperation of Airports (DCCA) ta un cooperacion entre e seis aeropuertonan di Caribe denter di Reino Hulandes. E obhetivo di DCCA ta pa mehora e calidad general di cada aeropuerto individual pa medio di facilita asistencia mutuo y intercambio eficiente di informacion, transferencia di conocemento y intercambio di experiencia cu e obhetivo di logra economia di escala. DCCA tin como obhetivo pa presenta diferente opcion di transporte aereo alternativo cu enfoke riba futuro, p'asina mehora e conexion entre e islanan di Caribe Hulandes.