November 22, 2021
ORANJESTAD – Aruba Airport Authority N.V. (AAA) in the presence of Aruba's Minister of Tourism and Health Dangui Oduber, ATA CEO Ronella Croes, Frontier Airlines' International and Domestic Sales Manager Alfredo Gonzalez and other partners and stakeholders welcomed Frontier's inaugural flight out of Miami (MIA) to AUA Airport.
Headquartered in Denver, Colorado, Frontier Airlines' slogan reads 'Low Fares Done Right'. The company operates more than 100 A320 family aircraft and has the largest A320neo fleet in the US, which offers a higher level of noise reduction and fuel efficiency when compared to previous models. This weekly flight out of Miami to Aruba will be a welcome addition to their approximately 120 destinations served in the U.S., Caribbean, Mexico, and Central America. With over 140 new Airbus planes on order, Frontier Airlines will continue to grow to deliver on its mission of providing affordable and greener travel options, connecting Aruba with over 100 destinations across America.
"Today a long-anticipated effort to add Frontier Airlines has finally crystalized with this first flight out of Miami. 2021 has proven to be a stronger recovery year than expected and Frontier Airlines being one of the most popular U.S. low-cost carriers, will surely be a valuable addition to the continuation of this recovery. This 1st step in our relationship will provide additional traveling options for both local and U.S. travelers just like Frontier Airlines' motto states: "The sky is for everyone." As a growing and environmentally conscious airline, the airline perfectly fits AUA Airport's vision for the future. Expansion plans and becoming the most sustainable airport in the region are applicable for both AUA Airport and Frontier Airlines", said AAA CEO Joost Meijs.
"We're very excited to launch service in Aruba today with nonstop Miami flights," said Alfredo Gonzalez, International and Domestic Sales Manager, Frontier Airlines. "Frontier's 'Low Fares Done Right' approach to flying focuses on affordability and convenience to make it easier for more people to create unforgettable vacation memories. We look forward to welcoming many new tourists to the Caribbean Island known for its happiness, hospitality and countless fun adventures."
The airline continues to focus on adding service to markets where its 'Low Fares Done Right' approach benefits customers and stimulates demand with affordable fares and convenient service. To make use of the great travel deals please visit https://www.flyfrontier.com/.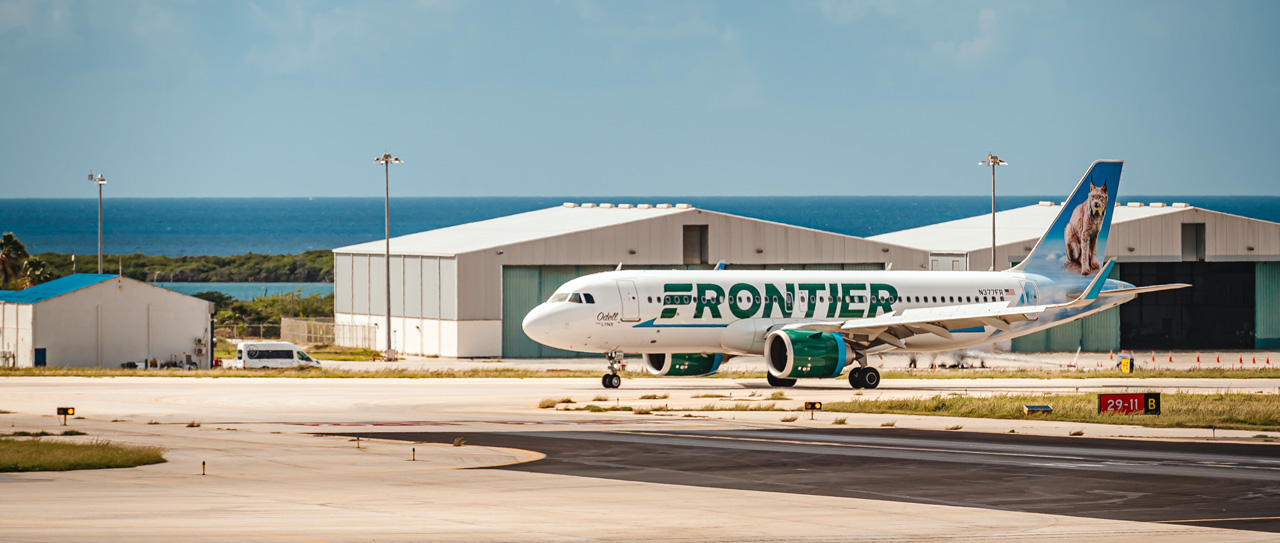 ---
Papiamento
AUA Airport a yama bonbini na servicio adicional for di Miami:
Frontier Airlines ta expande su network cu buelo pa Aruba
ORANJESTAD – Aruba Airport Authority N.V. (AAA) den presencia di Aruba su Minister di Turismo y Salubridad Dangui Oduber, CEO di ATA Ronella Croes, Frontier Airlines su "International and Domestic Sales Manager" Alfredo Gonzalez y otro partner y stakeholder a yama bonbini na Frontier su buelo inaugural for di Miami (MIA) pa Aeropuerto Internacional Reina Beatrix (AUA Airport).
Cu su oficina principal na Denver, Colorado, Frontier Airlines su slogan ta: 'Low Fares Done Right'. E compania ta opera mas di 100 avion tipo A320 y tin e cantidad mas grandi di avionnan A320neo na Merca, ofresiendo un nivel mas halto di reduccion di zonido y eficiencia di fuel compara cu modelonan anterior. E buelo semanal aki for di Miami pa Aruba lo ta un adicion spera na nan 120 destinacionnan den Merca, Caribe, Mexico y Centro America. Cu mas di 140 avion Airbus den bestelling, Frontier Airlines lo sigui traha pa cumpli cu su mision pa brinda opcionnan di biahe mas economico y sostenibel, conectando Aruba cu mas di 100 destinacion na Merca.
"Awe, un esfuerso anticipa pa agrega Frontier Airlines finalmente a cristaliza cu e prome buelo for di Miami. 2021 a mustra di ta un anja mas fuerte di recuperacion y Frontier Airlines, siendo un di e "low-cost carriernan" mas popular na Merca, sigur lo ta un adkisicion valioso na e continuacion di e recuperacion. E prome paso aki den nos relacion lo brinda opcionnan di biahe adicional pa tanto pasahero local y for di Merca, mescos cu e motto di Frontier Airlines ta bisa: "The sky is for everyone." Como un aeroline creciente y hopi conciente di medio ambiente, e aerolinea ta cuadra perfectamente cu AUA Airport su vision pa futuro. Plannan di expansion y pa bira e aeropuerto mas sostenibel den e region ta aplicabel pa tanto AUA Airport y Frontier Airlines", asina CEO di AAA Joost Meijs a bisa.
"Nos ta hopi ansioso cu awe a lansa e servicio aki pa Aruba cu buelo nonstop pa Miami," asina Alfredo Gonzalez, "International and Domestic Sales Manager" di Frontier Airlines a bisa. "Frontier Airlines su approach 'Low Fares Done Right' ta enfoca riba prijsnan economico y ta brinda e facilidad pa crea memorianan di vakantie memorabel na mas hende. Nos ta spera di por yama bonbini na hopi turista nobo na e isla di Caribe conosi pa su alegria, hospitalidad y un sin fin di aventura nobo."
E aerolinea lo sigui enfoca pa agrega mas mercado unda nan approach di 'Low Fares Done Right' lo beneficia tur cliente y ta stimula demanda cu prijsnan economico y bon servicio. Pa probecha di tur e bon dealnan por bishita https://www.flyfrontier.com/.