November 24, 2021
Oranjestad- For AAA, the company that manages and operates Aeropuerto Internacional Reina Beatrix it was a pleasure to host a press conference given by SARPA, a new commercial airline operating flights between Colombia and Aruba.
SARPA will operate 4 weekly flights as of December 15 from Medellin to Aruba and returning to Baranquilla and then also flights from Baranquilla to Aruba returning to Medellin. These triangular flights will create an additional 200 weekly seats from Colombia to Aruba. SARPA was known already to AAA for its medical, ambulance and charter flight operations and now recently launched its commercial operations. SARPA will operate its flights out of its base in Medellin with an Embraer 145-LR with 50 seats on board and will operate these weekly triangular flights on Wednesdays and Sundays. SARPA has flights out of Medellin to other Colombian cities such as Pasto, Riohacha, Valledupar y Villavicencio. They will also operate flights out of Medellin to Curacao.
AAA accompanied Mr. Carlos Andres Mesa, President & CEO of SARPA, together with Minister of Tourism and Heath Danguillaume Oduber and the CEO of Aruba Tourism Authority Mrs. Ronella Croes during the official announcement of SARPA on the start of their commercial operations into Aruba this coming December.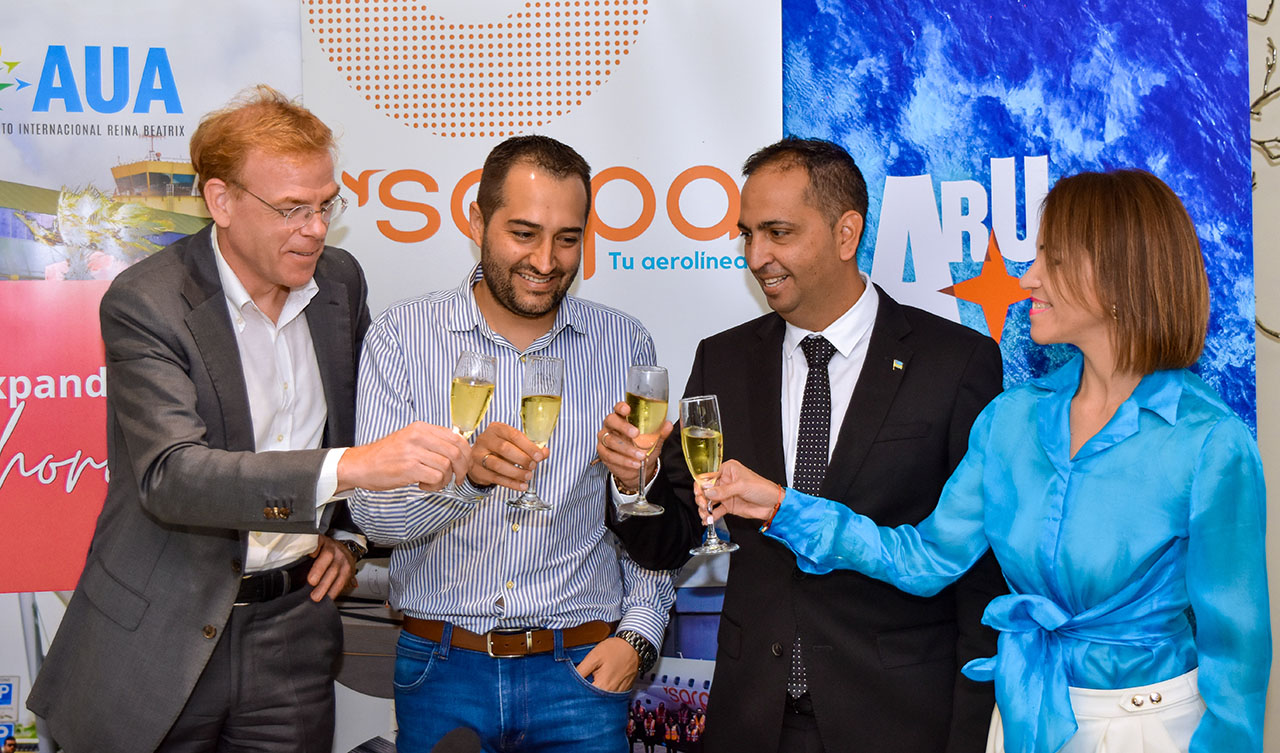 ---
Papiamento
Aruba Airport Authority N.V. anfitrion pa conferencia di prensa pa SARPA:
SARPA lo cuminsa cu buelo commercial for di Colombia pa Aruba
Oranjestad- AAA, e compania cu ta maneha y ta opera Aeropuerto Internacioal Reina Beatrix ta sumamente contento di por tawata e afitrion di un conferencia di prensa duna dor di SARPA, un aerolineo commercial nobo cu lo opera entre Colombia y Aruba.
SARPA lo bai opera 4 vuelo semanal desde 15 di december entre Medellin y Aruba, regresando pa Baranquilla y tambe vuelonan for di Baranquilla pa Aruba regresando pa Medellin. E vuelonan triangular aki lo crea un 200 asiento mas semanal for di Colmbia pa Aruba.
SARPA tawata conoci caba pa AAA pa su buelonan medico, di ambulancia y charter cu e tawata ejecuta caba y recientemente a lanza nan operashon commercial.
SARPA lo opera e vuelonan for di nan base principal na Medellin cu nan Embraer 145-LR cu 50 asiento y lo ta operando semanalmente riba diaranson y diadomingo. SARPA tin vuelonan for di Medellin pa otro ciudadnan Colombiano tambe manera, Pasto, Riohacha, Valledupar y Villavicencio. Tambe nan lo opera vuelonan for di Medellin pa Corsow.
Sr. Carlos Andres Mesa, Presidente & CEO di SARPA, hunto cu Minister di Turismo y Salubridad Danguillaume Oduber, CEO di AAA Sr. Joost Meijs, y CEO di ATA, Sra Ronella Croes a anuncia officialmente e comienso di SARPA su operashon commercial December binidero.