April 14, 2023
ORANJESTAD – Aruba Airport Authority N.V. (AAA) is extremely excited to announce the start of operations by SKY Airline in the second half of 2023 with flights out of South America to Aruba. AAA had the pleasure of hosting SKY Airline's team this morning at the airport.
AAA has been in talks with SKY Airline for several years now and has been working with the airline in exploring the start of new routes into the Caribbean. SKY Airline is a Chilean airline based at Comodoro Arturo Merino Benitez International Airport (SCL) in Santiago, Chile. It's the second-largest airline in Chile, providing passenger, postal and cargo air transport services since 2001. When it first launched, SKY Airline initially operated to key cities of Chile and was the first airline to operate under a low-cost model in Chile. It serves international routes to Argentina, Brazil, Peru, and Uruguay. It also operates charter flights in Chile and South America and domestic flights within Peru.
During today's visit, the SKY Airline team was hosted on behalf of AAA by our Chief Executive Officer, Mr, Joost Meijs, Chief Operations Officer, Mr. Jurgen Benschop, Chief Revenue Development and Communications Officer, Ms. Barbara Brown, Aviation Business Development Executive, Ms. Jo-Anne Meaux Arends, and our Operations Manager, Ms. Marylou v/d Linden. Also present were Aruba Tourism Authority's CEO, Ms. Ronella Croes and CMO, Ms. Sanju Luidens. The SKY Airline team also met with the Director of the Department of Civil Aviation of Aruba, Mr. Edwin Kelly.
SKY Airline's Deputy Director of Strategic Planning, Mr. Julio Solar Berguecio and Network Planning Manager, Mr. Matthieu Selo-Poirier were introduced to all the stakeholders involved and were provided with valuable information about the airport facilities, the certification process for the start of this new route and further in-depth information about the support that the AAA and ATA will provide to make a possible new route a successful one. During the visit, the team received a tour of the airport, including the Terminal and Airside areas.
SKY Airline is getting ready to arrange all the necessary permits to operate in Aruba and making all the needed connections with the stakeholders in support of this intended operation. More details will follow in the coming weeks on the exact route that SKY Airline will want to operate, its start date, its frequency and aircraft type that would be used for this operation.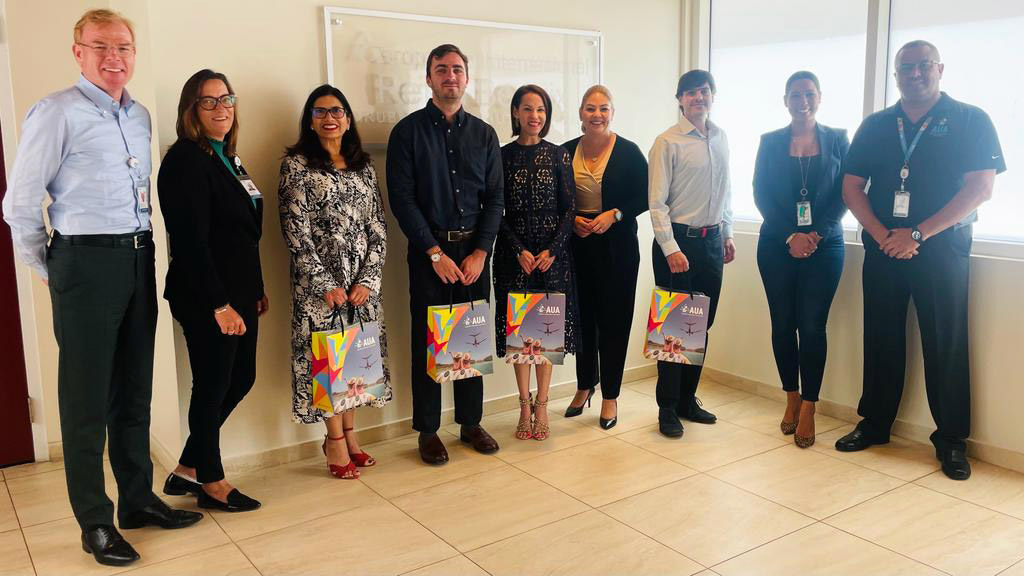 ---
Español
SKY Airlines lista para operar vuelos a Aruba
ORANJESTAD – Aruba Airport Authority N.V. (AAA) se complace en anunciar el inicio de operaciones de SKY Airline en la segunda mitad de 2023 con vuelos desde Sudamérica a Aruba. AAA tuvo el placer de recibir al equipo de SKY Airline esta mañana en el aeropuerto.
AAA ha estado en conversaciones con SKY Airline durante varios años y ha estado trabajando con la aerolínea para explorar el inicio de nuevas rutas hacia el Caribe. SKY Airline es una aerolínea chilena con base en el Aeropuerto Internacional Comodoro Arturo Merino Benitez (SCL) en Santiago, Chile. Es la segunda aerolínea más grande de Chile y brinda servicios de transporte aéreo de pasajeros, postales y de carga desde 2001. Cuando se lanzó por primera vez, SKY Airline operaba inicialmente a las ciudades clave de Chile y fue la primera aerolínea en operar bajo un modelo de bajo costo en Chile. Sirve rutas internacionales a Argentina, Brasil, Perú y Uruguay. También opera vuelos chárter en Chile y Sudamérica y vuelos domésticos dentro de Perú.
Durante la visita de hoy, el equipo de SKY Airline fue recibido en nombre de AAA por nuestro Director Ejecutivo, el Sr. Joost Meijs, Director de Operaciones, el Sr. Jurgen Benschop, Director de Desarrollo de Ingresos y Comunicaciones, la Sra. Barbara Brown, Ejecutiva de Desarrollo de Negocios de Aviación , Sra. Jo-Anne Meaux Arends, y nuestra Gerente de Operaciones, Sra. Marylou v/d Linden. También estuvieron presentes la directora ejecutiva de AAA de la Autoridad de Turismo de Aruba, la Sra. Ronella Croes y la CMO, la Sra. Sanju Luidens. El equipo de SKY Airline también se reunió con el Director del Departamento de Aviación Civil de Aruba, el Sr. Edwin Kelly.
El Subdirector de Planificación Estratégica de SKY Airline, el Sr. Julio Solar Berguecio y el Gerente de Planificación de la Red, el Sr. Matthieu Selo-Poirier fueron presentados a todos los actores involucrados y se les brindó información valiosa sobre las instalaciones aeroportuarias, el proceso de certificación para el inicio de este nueva ruta y más información detallada sobre el apoyo que AAA y ATA brindarán para que una nueva ruta sea exitosa. Durante la visita, el equipo recibió un recorrido por el aeropuerto, incluidas las áreas Terminal y Airside.
SKY Airline se está preparando para tramitar todos los permisos necesarios para operar en Aruba y realizar todas las conexiones necesarias con las partes interesadas en apoyo de esta operación prevista. Más detalles seguirán sobre la ruta exacta que SKY Airline querrá operar, su fecha de inicio, su frecuencia y el tipo de aeronave que se utilizaría para esta operación en las próximas semanas.
---
Papiamento
SKY Airline cla pa opera buelo pa Aruba
ORANJESTAD- Aruba Airport Authority N.V. (AAA) ta sumamente contento di por anuncia comienso di un servicio nobo di SKY Airline pa e di dos mitar di aña aki cu buelonan for di Sur America pa Aruba. AAA tawata tin e placer di ta anfitrion di e bishita di e equipo di SKY Airline awemainta na AUA Airport.
AAA a bin ta conbersa y reuni cu SKY Airline varios biaha den e ultimo añanan y tawata trahando cu e aerolinea explorando un comienso di rutanan nobo den Caribe. SKY Airline ta un aerolinea Chileno basa na Comodoro Arturo Merino Benitez International Airport (SCL) na Santiago, Chile. SKY Airline ta e di dos aerolinea mas grandi na Chile, ofreciendo servicionan di transporte aereo pa pasahero y carga desde 2001. Ora SKY Airline a cuminsa opera inicialmente nan tawata opera for di ciudadnan principal den Chile y tawata e prome aerolinea cu tawata opera riba un modelo di baho costo den Chile. Actualmente SKY Airline ta opera servicionan internacional pa Argentina, Brazil, Peru, y Uruguay. SKY Airline to opera vuelonan charter tambe na Chile y den Sur America y tambe buelonan domestico den Peru.
Durante e bishita di awemainta e equipo di SKY Airline a wordo ricibi pa Srs. Joost Meijs, CEO, Jurgen Benschop, COO, Sra. Barbara Brown, CRDCO, Jo-Anne Meaux Arends ABDE, y Manager di Operacion, Srta. Marylou v/d Linden di AAA. Tambe tawata presente CEO di Aruba Tourism Authority, Sra. Ronella Croes y CMO, Sra. Sanju Luidens. E delegacion di SKY Airline tambe a reuni cu Director di Departamento di Aviacion Civil di Aruba, Sr. Edwin Kelly.
SKY Airline su Deputy Director of Strategic Planning, Sr. Julio Solar Berguecio y su Network Planning Manager, Sr. Matthieu Selo-Poirier a wordo introduci na tur partner envolvi y a ricibi tur e ultimo informacionnan importante referente e logistica operacional di aeropuerto, e proceso di certificacion di e servicio nobo aki y mucho mas informacion detaya en cuanto e sosten cu AAA y ATA lo por brinda pa haci e ruta aki uno exitoso. Durante e bishita, e team di SKY Airline a ricibi un tour di aeropuerto, incluyendo Terminal y Rampa.
SKY Airline ta preparando pa keda cla cu tur requisito pa por cuminsa opera pa Aruba y ta haciendo e coneccionnan necesario cu tur partner envolvi pa por sostene y cuminsa e operacion cu nan tin planea. Mas detaye riba e ruta exacto, e dia exacto cu nan lo cuminsa opera, e frecuencia di nan operacion y e tipo di avion, lo wordo divulga durante e simannan binidero.